When I was planning Colleen's shower, I saw this picture and thought, "I bet I can do that."  Well I was right and it was easy peasy. This is a DIY that is super cheap and pretty quick.  And I find the results to be quite a beauty. I realize that my garland has pink in it and that may scare some people, but keep in mind that this is SO versatile. You can totally do any color combinations or single color you want. I like the idea of doing reds and greens or silver and gold for Christmas.  Or using some pieces of fabric with a pattern.  I am sure that you can find some super fancy instructions for this but I made mine up and it worked just fine.
What you'll need:
– Lightweight fabric to cut into strips (whatever combination of colors your heart desires)- I got about a yard for each color and got REALLY cheap fabric (like $2 a yard).  I wanted fabric that had a sheen.
– A length of ribbon (as long as you want your garland to be end to end).  Medium thickness is probably best.
– Some sort of string.  I used super cute pink striped twine because I had it on hand.  Thread would probably do ya just fine.
That's it!
What you'll do:
1)  Fold the length of your fabric in half.  All of my fabrics were about 44″ across so I folded the two ends together to make 22″ in length that I proceeded to cut.  Cut your fabric into strips.  They don't have to be even in thickness and you can make them as long or short as you want.  Mine were between 1 1/2 to 2 inches in width each.  This is WAY easier if you have fabric scissors.    You probably don't need to cut it all before you have enough strips so don't kill yourself.
2) Hang up your ribbon (not fabric) end to end horizontally on a wall.  This is helpful for seeing what you're working with.
3) Fold the length of your fabric strip over the ribbon.  Mine hung down 22″ or so as previously mentioned.
4) Cut enough string to tie around ribbon and make a bow.  Tie it as tight as you like.
5) Repeat by hanging and tying fabric strips next to each other until your garland is as long as you like.
 TADA!!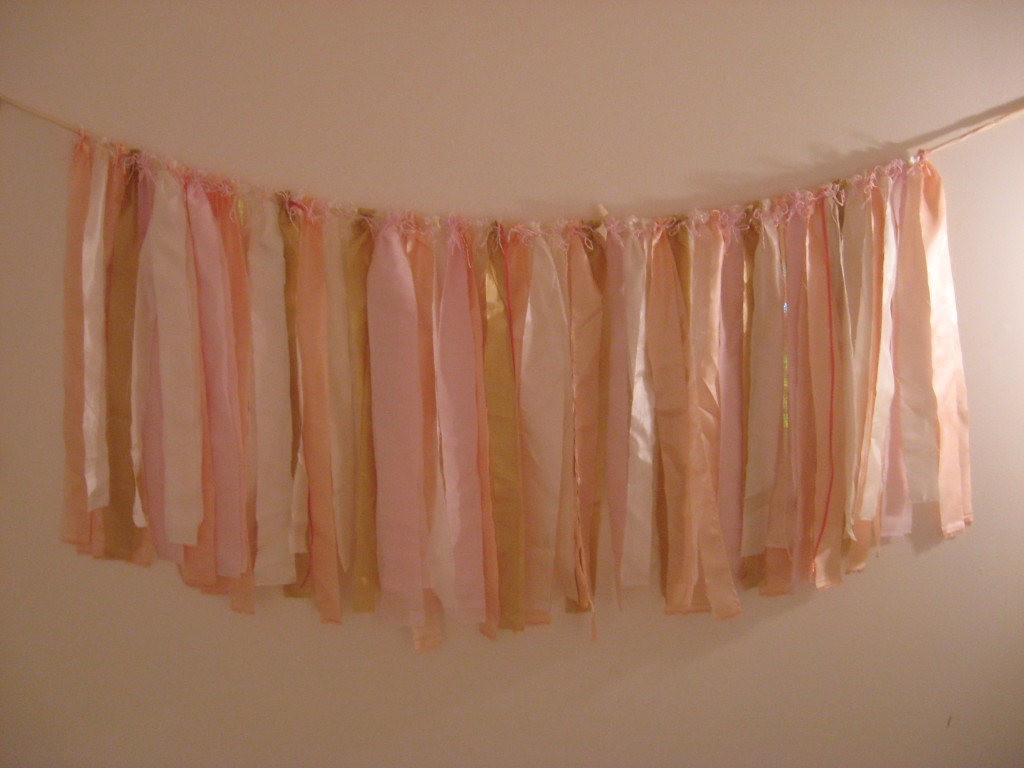 I added some sequin strings and such in spots cause I am WILD.  But you are welcome to keep things nice and simple.
Happy crafting!
Love, Megan