This weekend was a bit of a cluster.  Things started out pretty well – Meg and I finished our Christmas shopping on Saturday morning feeling like we had just won the shopping awards and I replaced a broken strand of Christmas lights that was making our house look lopsided.  Our Saturday night took a quick downturn when Corey got bitten by a dog that he was trying to love on (he really loves animals) and we spent the wee hours of the night in the emergency room.  Luckily he wasn't hurt very badly, but we wanted to check to see if he needed stitches since the bite was on his face.  Then on Sunday after yoga, I bumped another car with my car.  A parked one.  Stupid.
Well if the world wanted to take my Christmas spirit away then they have another thing coming because I decided to remedy the situation with cookies.  Take that world!  And not just any cookies.  Our mom used to make them every holiday season, reading from the worn-out pages of our Betty Crocker cookbook.  It's just not Christmas without them.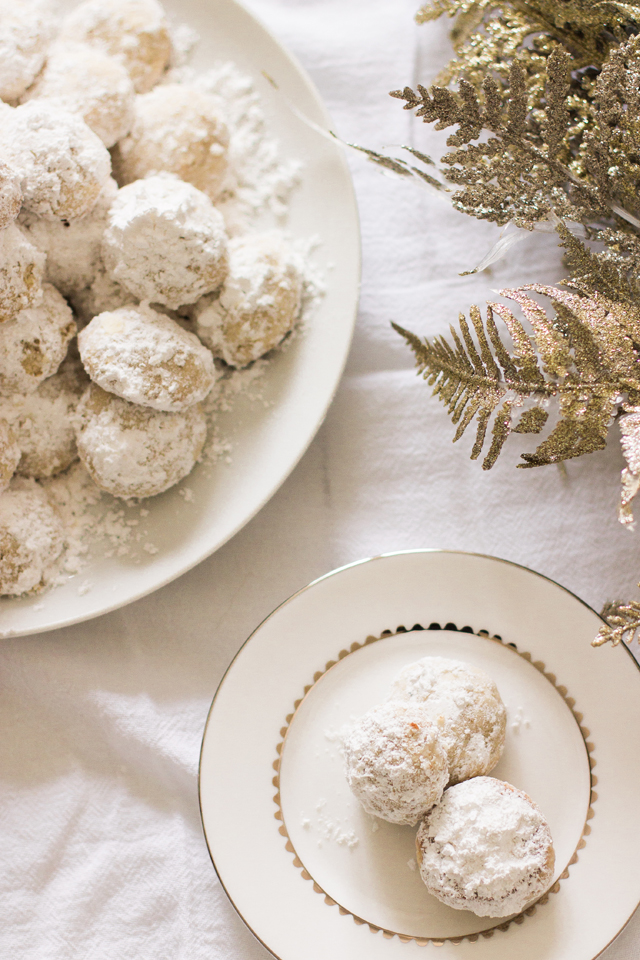 Recipe for Russian Tea Cakes (from the Betty Crocker Cookbook)
Ingredients:
– 1 cup butter or margarine, softened
– 1/2 cup powdered sugar
– 1 teaspoon vanilla
– 2 1/4 cups all purpose flour
– 3/4 cup finely chopped nuts
– 1/4 teaspoon salt
– additional powdered sugar
Directions:
1) Heat oven to 400 degrees.  Mix butter, 1/2 cup powdered sugar, and the vanilla in a large bowl.  Stir in flour, nuts, and salt until dough holds together.
2) Shape dough into 1-inch balls.  Place about 1-inch apart on ungreased cookie sheet.
3) Bake 10 to 12 minutes or until set but not brown.  Remove from cookie sheet and cool slightly on wire rack, just long enough for them to harden a little.  Then roll them in powdered sugar.  A lot of it.