So the deal is this… calligraphy, while a lovely hobby, is also a surprisingly messy one.  It requires that one possess quite a lot of crap.  Namely inks, papers, envelopes, pens, nibs, paint, erasers, etc.  This is all well and fine until you start trying to keep all of your calligraphy supplies in a big box on top of stacks and stacks of pads of paper and you keep it on a chair in your dining area.  Which in my smallish house means smack dab in the middle of everything.  And every time you try to find something in your box, you have to remove all the other things and scatter them about on your table.  The resulting situation is not an attractive one.  Now ideally I would have a special calligraphy desk and area, which I have every intention of getting one day.  However, I have really not felt like spending money on a desk.  I would much rather buy my 30th white ceramic pumpkin which I so desperately need and continue to spread my calligraphy junk all over the downstairs of my house.  And so it has been.  But the other week, I got a little fed up and went searching for a solution that seemed acceptable for now.  Which led me to World Market.  Have you guys checked their furniture out at all lately?  It is really exceptionally good.  I found a pretty cute rolling cart with 3 shelves and the correct dimensions for my pads of paper and declared it a winner.  Then I went to Target and found some cute vases and simple tray inserts (in the bathroom section) that seemed to fit the bill.  So now I am feeling much better about my calligraphy organization.  For now at least.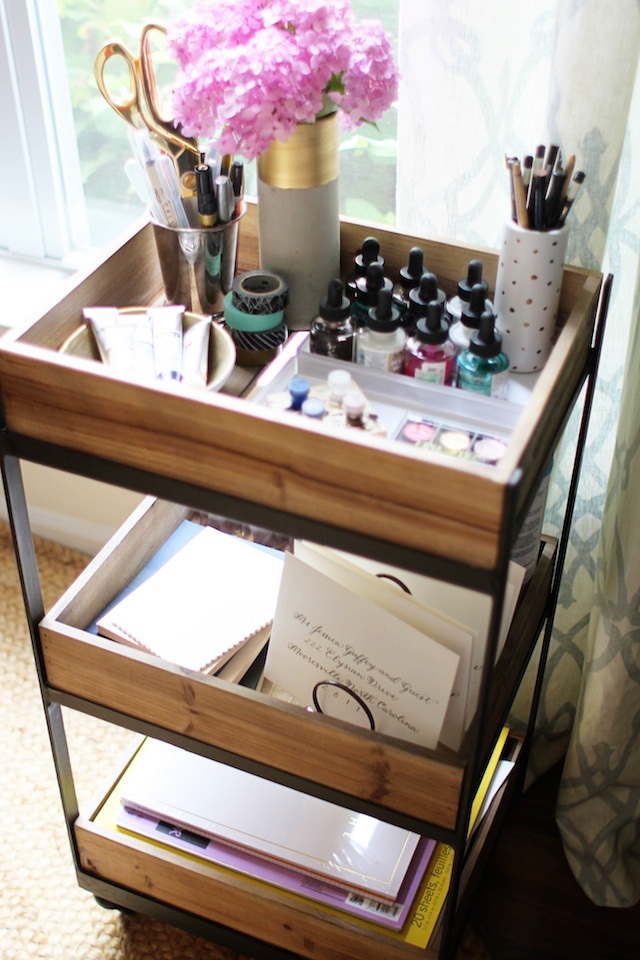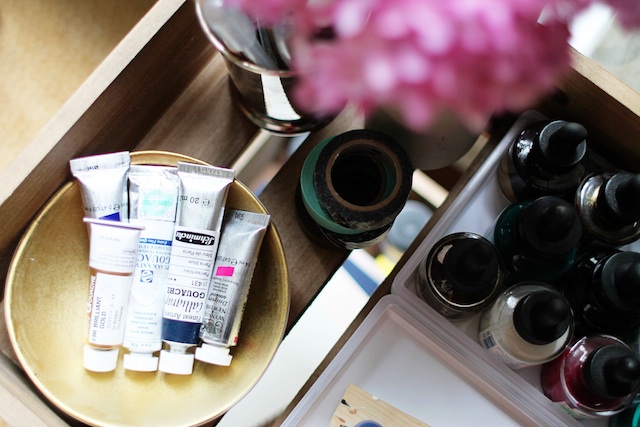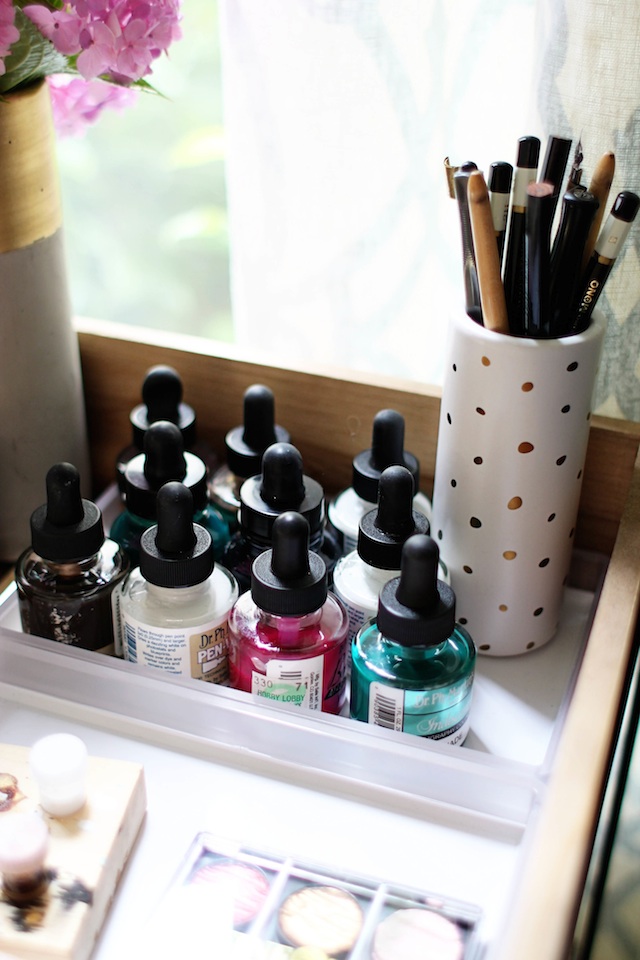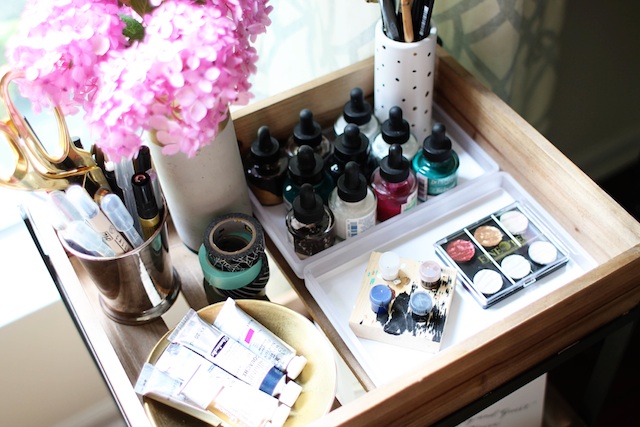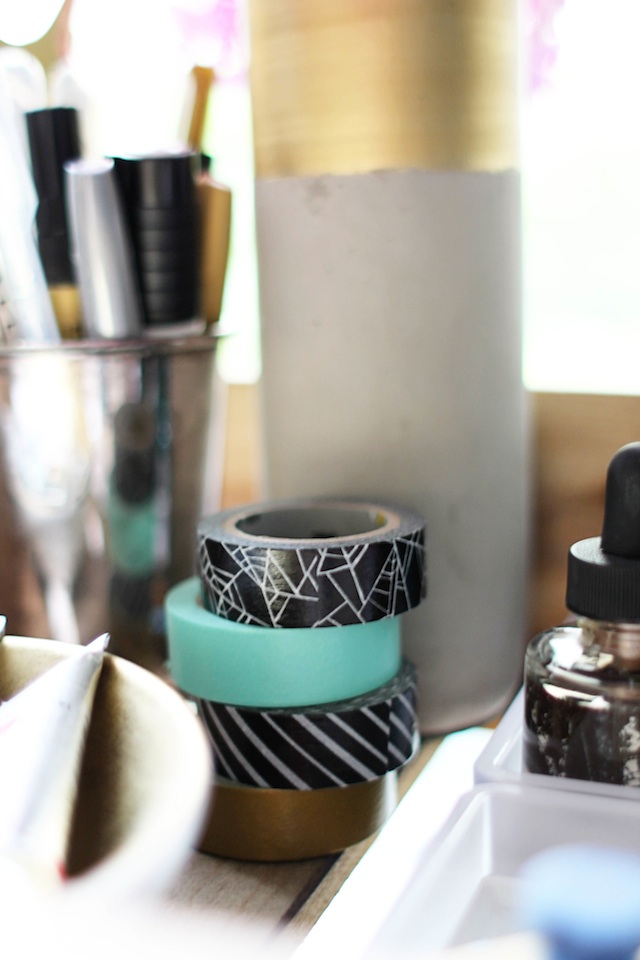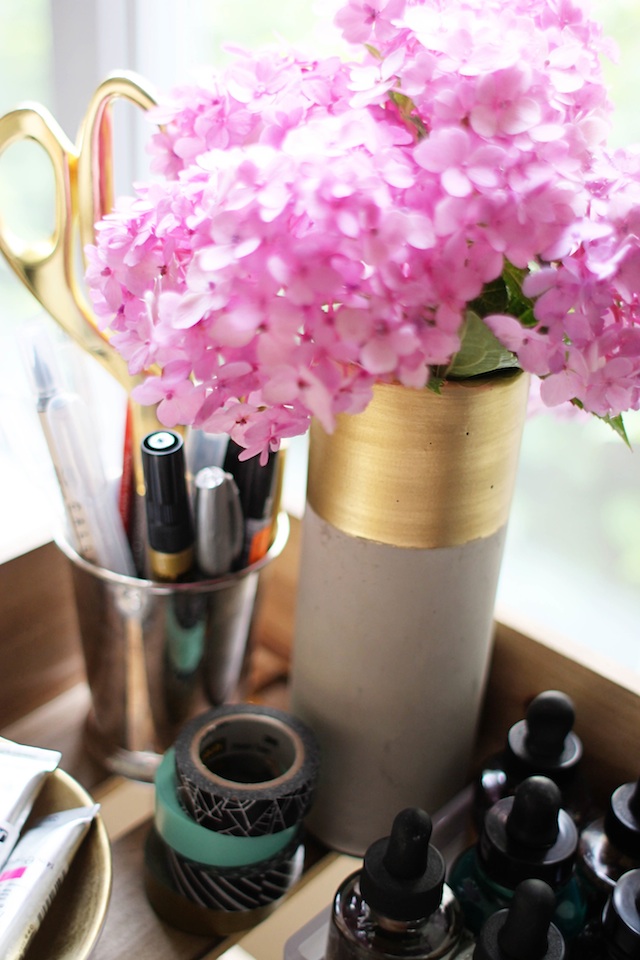 The gold and ceramic bowl, the polka dot vase that holds my pencils and pens, the gold scissors and the gold dipped and concrete (I think) vase are all from Target, along with the clear organizing trays.  I would link them up but Target's website sucks and I had a hard time finding them.  The vases and bowl are in the seasonal home decor area by Threshold.  The washi tape is from Target as well and they have some pretty cute Halloween washi tape there right now that I am obsessed with.  You can see the spider web one here but I also bought some that has little Halloween phrases and some that has presh little jack-o-lanterns.  The julep cup I have had for years and came from an antique mall.  Also as I mentioned, the cart is from World Market and was a little bit of a splurge but I am really happy with it.
It is really amazing how much better I feel when things are easily accessible and more attractive.