Happy Friday everyone!!  I just love this time of year.  We are starting to get a taste of fall and slightly cooler weather and Halloween season is just beginning.  It's just so good I can hardly stand it.  I picked up a new light up ceramic pumpkin and some pretty cheap ($3) but lovely silver and gold leaves and I plan on taking some time this weekend to get the decorating started.  And also enjoy some pumpkin flavored goodies.  Have you guys seen the "25 things all basic white girls do during the fall" Buzzfeed?  I am sad to say I am guilty of almost all of those things.  I guess that means I am a basic white girl.  Oh well.  If the shoe fits.
I have been keeping pretty busy with calligraphy jobs the last few weeks.  Here are some of the things I have been working on…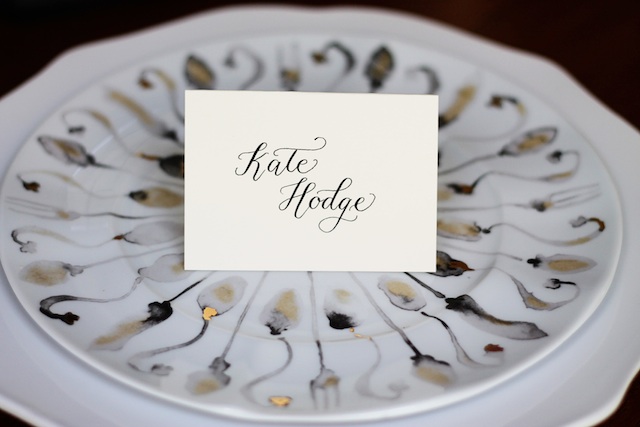 I did some place and escort cards for a late September rehearsal dinner in Charlotte script.
I also did table numbers and calligraphy art for the same event, but I didn't get to take a picture of the art before I mailed it.  Dumb.
I have also been working on some envelopes in classic Cecelia script for a sweet client's save the dates.
And… Here are my new pumpkin and pretty shiny leaves!  The pumpkin is from Homegoods.
Have a wonderful weekend, y'all!