Colleen and I traveled to Seattle for my cousin's wedding this past weekend.  We had never been there and not only was the wedding just lovely but so was the entire trip.  It was one of those trips where everything just seemed to work out perfectly and Seattle is a beautiful and also very friendly city.  I probably didn't take quite as many pictures as I usually do and unfortunately in our effort to be polite to the photographer, we left our cameras and took none of the wedding which we were kicking ourselves for because it was gorgeous.  But I did take some and Colleen took some on film which she will also share when she gets them developed in a few weeks.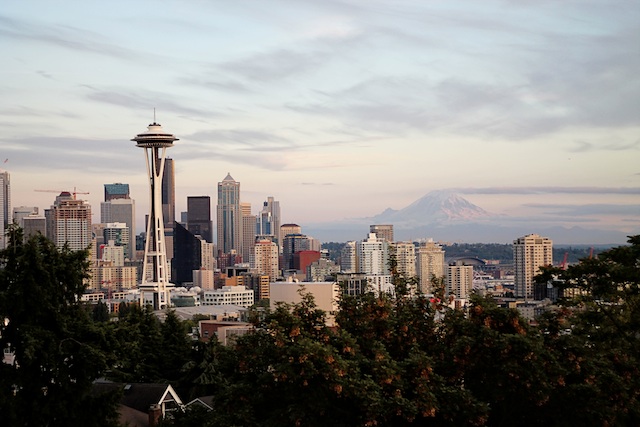 The hotel we stayed in the first night was close to the Queen Anne Hill neighborhood, which is a residential area that contains Kerry Park.  Right before we went to dinner one night, I remembered that I had read there was a good view of the city from here.  Was there ever.  A pencil skirt may not have been the best choice of attire for hiking up the insane hill we had to walk up to get there.  Nevertheless, we made it and the view of Seattle with Mt. Rainier in the distance on a clear day was truly stunning.  If anyone is ever looking for a hotel in Seattle, I highly recommend the Maxwell Hotel for its good location, charming shuttle driver, and free pineapple cupcakes.  It was a real winner.  Colleen and I went running on Friday morning  back up in this area and found some more insane views of the water and the city while running.  Not to mention the drop dead gorgeous houses that we were running by.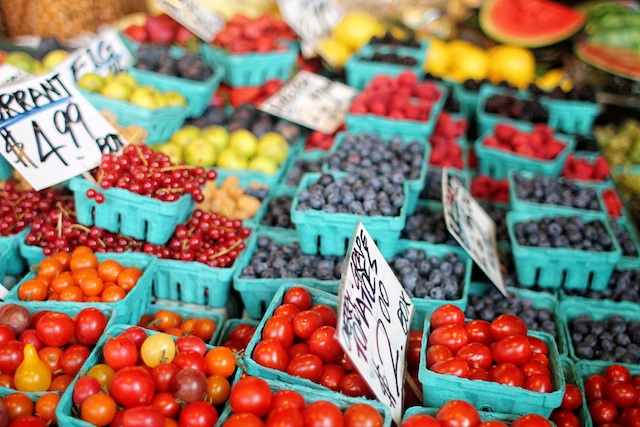 We went to Pike Place Market on Thursday and walked around a bit as well as had a delicious lunch on the patio at The Pink Door thanks to a recommendation from our friend Brynn at Dandy and Fine Parties.  Colleen and Corey also got some gigantic cookies which I should have gotten as well but happily helped myself to.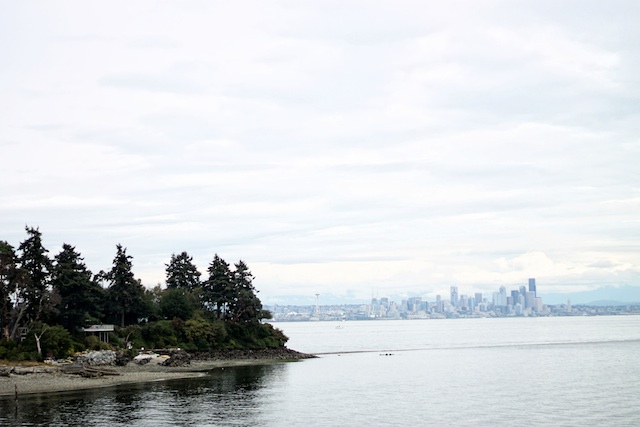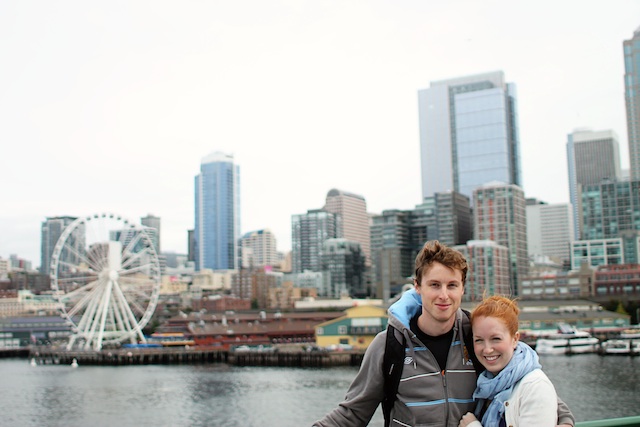 On Friday we took a ferry to Bainbridge Island.  The view of the city from the ferry was amazing.  When we got there, Corey popped into the local police station to trade police patches with them (apparently this is a thing?) and we all got to meet the chief of police and deputy and chit chat for a bit.  I told y'all Seattle was friendly.  They basically offered Corey a job.  So that was nice.  Colleen is strongly considering this as long as she gets to live in a house on the water at Bainbridge Island.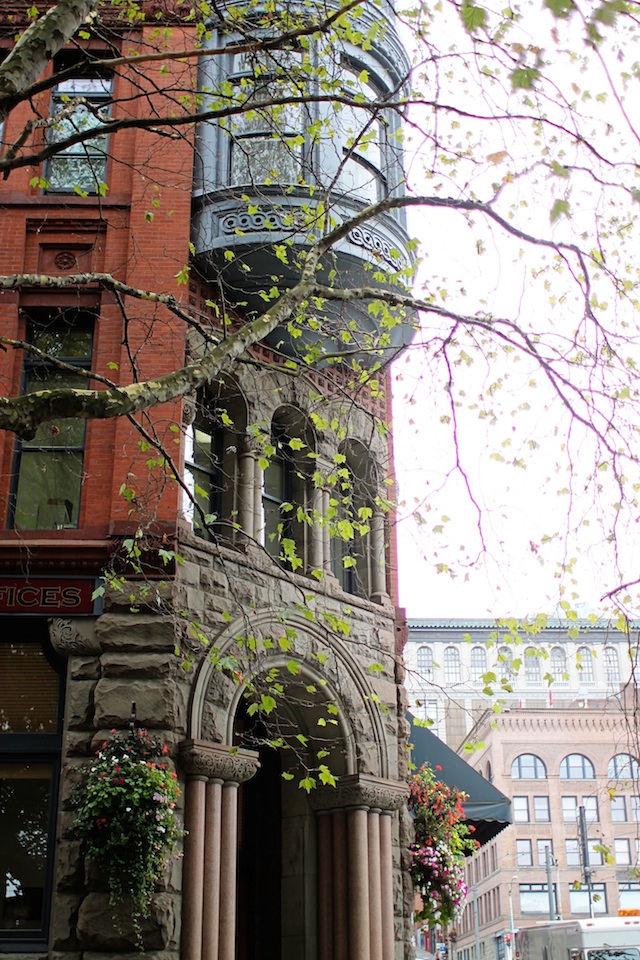 Pioneer Square was another of our favorite areas of town.  We took the Underground Tour and ended up getting a hilarious and very knowledgable guide so it ended up being really great.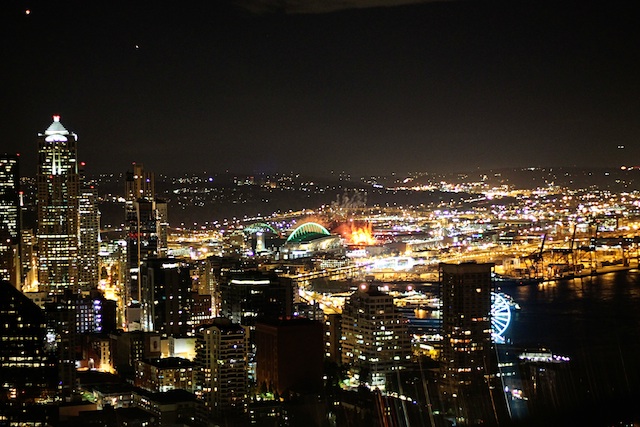 The rehearsal dinner and nightcap was at the space needle and we could ride up and down the elevator to the top at our leisure which was seriously cool.  If you look at the part of this picture that looks like a fire, those are the fireworks from the baseball game.  Probably my best/stupidest comment of the whole weekend was when we were looking out at the city and I asked Chris where the space needle was.  I blame it on the three hour time change.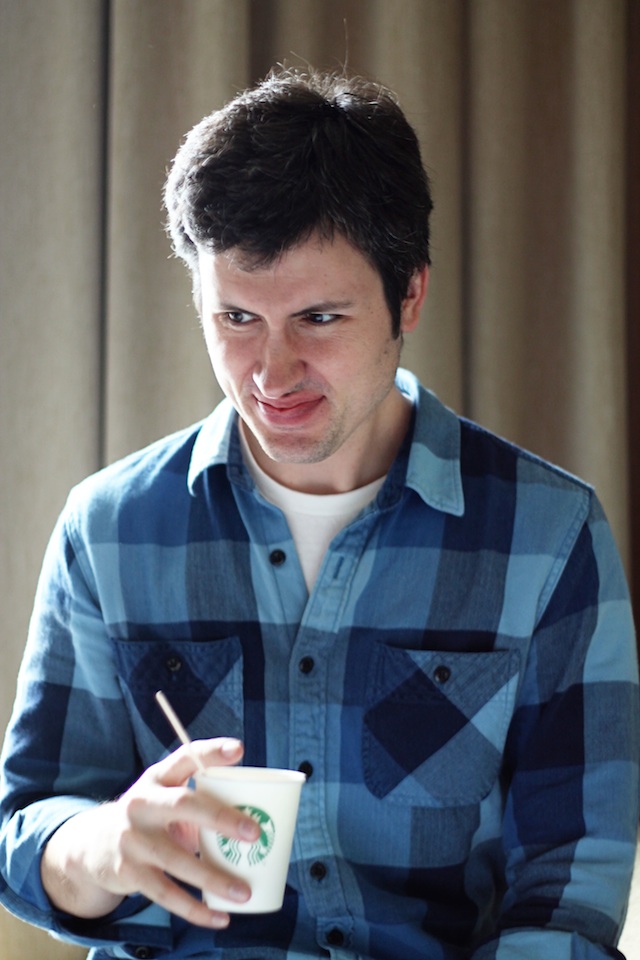 Chris, who is not a coffee drinker, tried his first double shot espresso from Starbucks.  When in Seattle…espresso and flannel. It is safe to say he was not a fan.  I have some pictures with even more hilarious facial expressions but I was laughing so hard that they are blurry.
Colleen and I actually got a pretty good picture of ourselves taken before the wedding.  If you know our history, this was newsworthy.