When I finished my mirror gallery wall, I had one extra little space that felt like it needed something.  So I started trying to think of something I could make quickly with a tiny canvas I had that was the perfect size for the spot.  Immediately I thought of some seriously beautiful cloud art by an amazing artist named Tara Andris that I have been coveting for some time.  Since I just spent a bunch of money on other things for the wall, I didn't really feel like I could buy anything else and furthermore she didn't make a piece small enough for the spot.  I decided I would copy her idea and see what would happen if I tried to make my own.  Now I am not trying to imply that my little DIY in any way compares to the beauty of her art and probably significantly more complicated and sophisticated technique.  If you guys are considering buying any art, you should definitely consider her dreamy clouds.  That being said, here is what I did.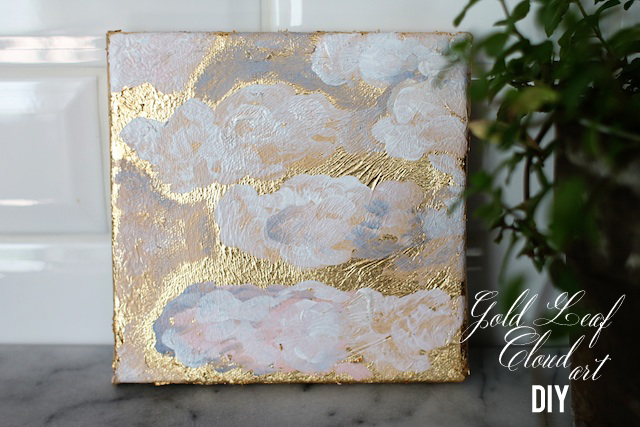 What you'll need:
a little canvas
paint colors of your choice (I chose white and pink and blue for clouds)
a packet of full gold or silver leaf sheets (all of the leaf items can be found at craft stores)
gold leaf adhesive spray
gold leaf sealer spray
paint brush
What you'll do:
(Some of these photos are from another similar DIY I did for Tiny Prints which is why the canvas size changes)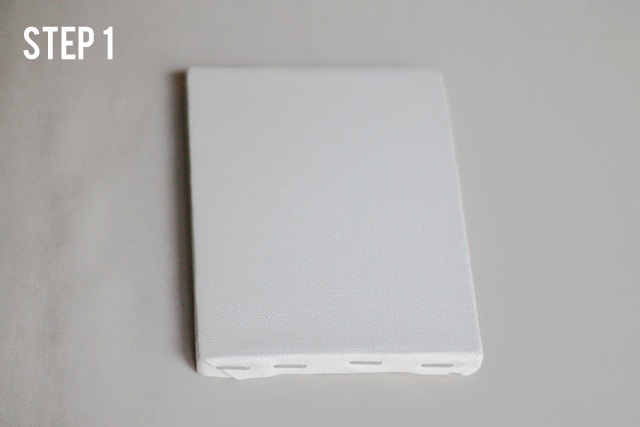 1.  Move your clean white canvas to a well ventilated area and spray your canvas on the front and sides with your adhesive.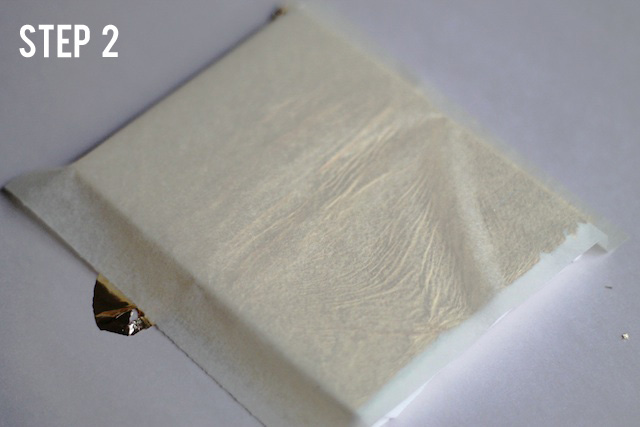 2.  Since the spray adhesive is already sticky, you can go ahead and apply your gold leaf sheet.  I found the easiest way to do this is to peel off a sheet of the gold leaf while still attached to the thin divider papers on each side.  Handle the divider paper only as much as possible.  The gold leaf is so thin that it will stick to your fingers.  Remove the top divider paper and flip everything over so the gold leaf is facing down while laying it directly over your sticky canvas.  I know this sounds complicated but you will understand what I mean as soon as you try to do it.  Use the divider paper still on top of your leaf sheet to smooth it down on the front and sides of the canvas.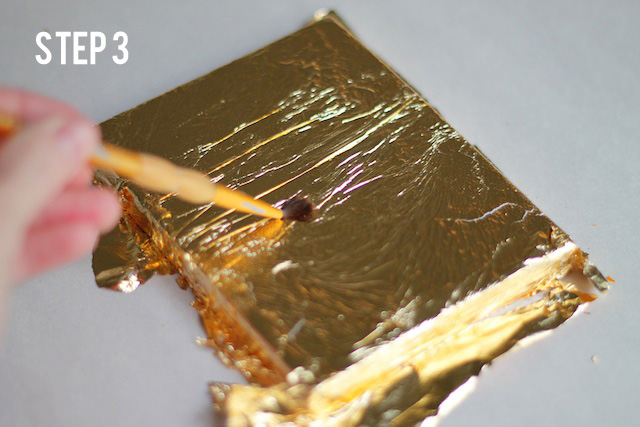 3.  Use a dry paintbrush to smooth down the rest of the gold leaf and make it look lovely.  You want to make sure to mush down any little air bubbles.  Remove excess golf leaf from side and add to places that didn't get covered.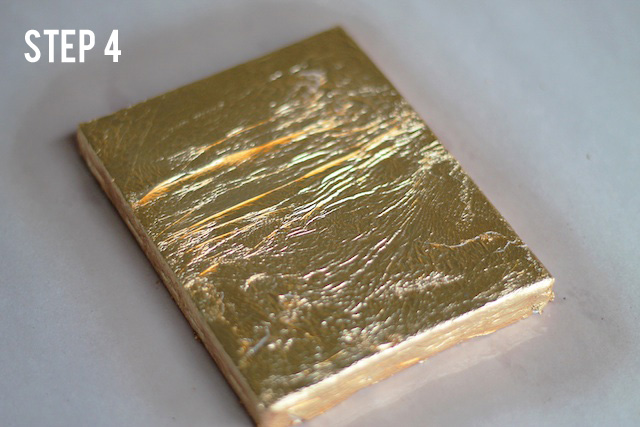 4.  Once your adhesive dries for a bit, spray your canvas with the sealer.  Let dry.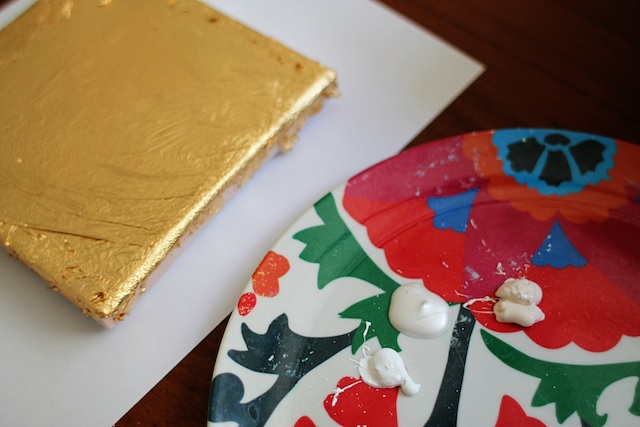 5.  Put your paints on a plate a palate and use your paint brush to start painting puffy little clouds.  I used white primarily but would also mix in a little pink and dark blue.  Just keep painting until it seems like enough, however, remember that the more you paint, the less gold will show.  I tried to keep mine as simple as possible.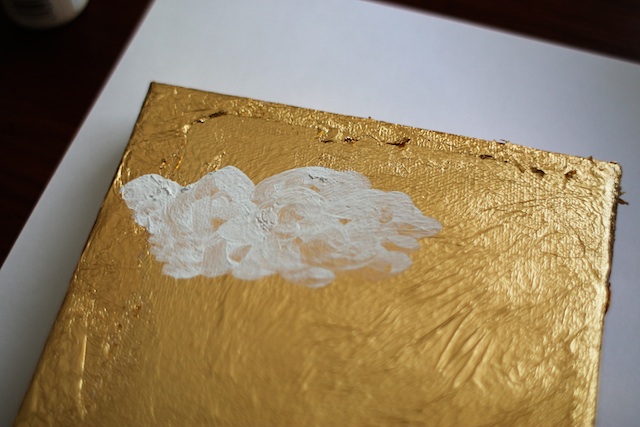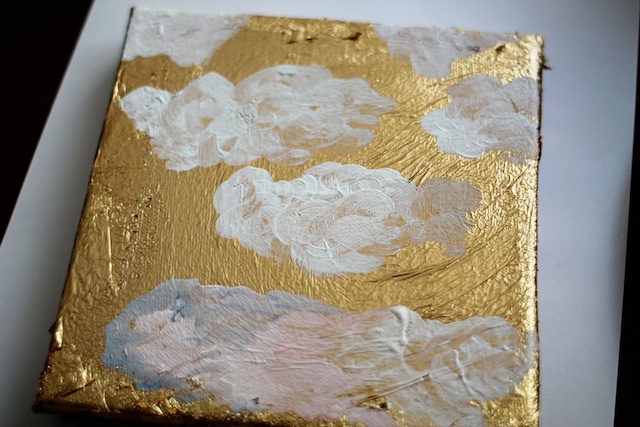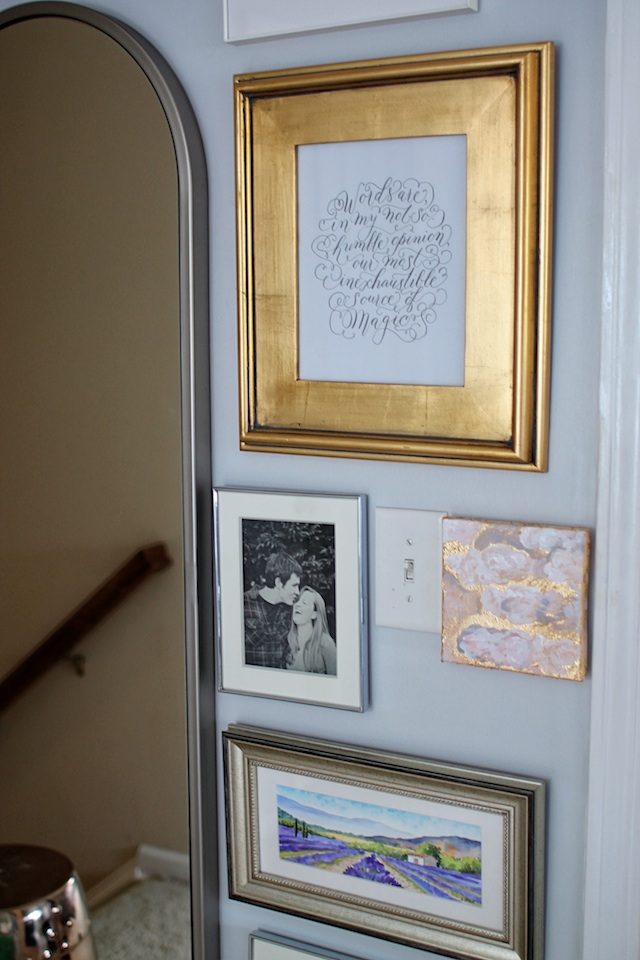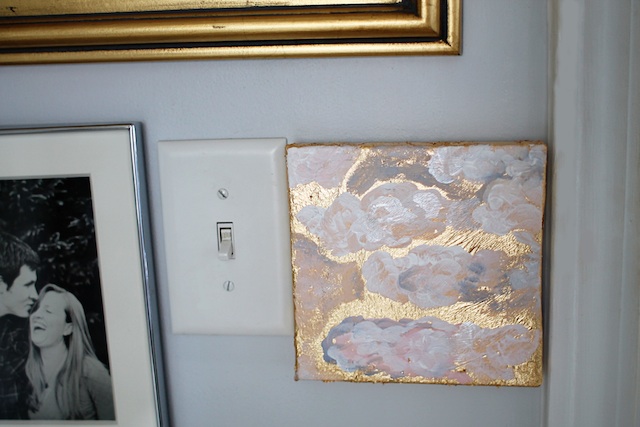 Super simple and really doesn't require much artistic talent but I though it turned out pretty cute.  Let me know if anyone gives it a shot or buys the real thing from Tara Andris so I can be jealous.