We don't do a links post very often but we thought it might be fun today to share some things that we have been thinking/reading about/discussing this week.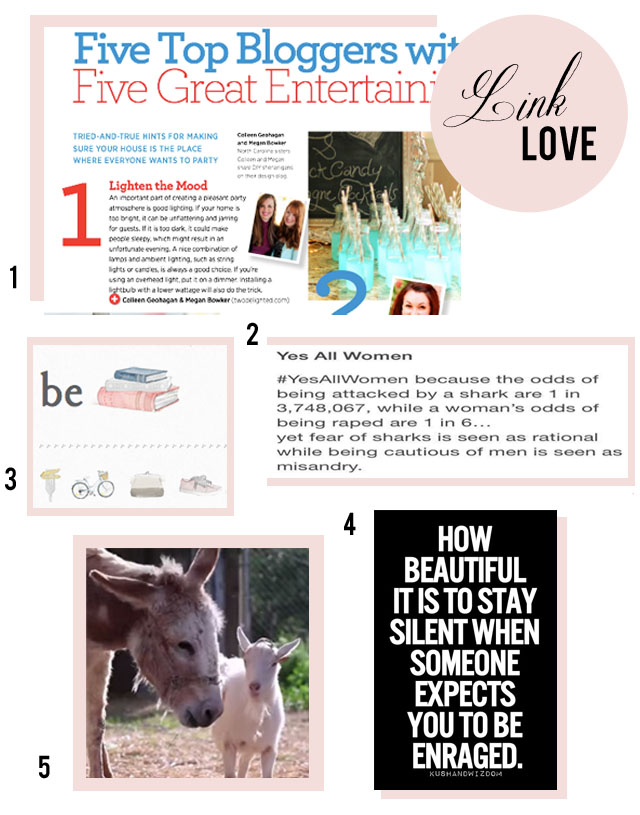 1.  We were honored to share a little entertaining tip in Traditional Home's Great Kitchens online magazine this month.  If you like beautiful kitchens, you should go check out the magazine.
2.  I have been following the #YesAllWomen movement that has been going on on twitter since the tragedy in California.  To be honest, there is so much noise that it is easy to let yourself get swept up in the commotion of it all.  I understand why men start to feel a little defensive when they read all of the tweets.  However, since I have been a girl for the last 32 years and have very frequently witnessed and experienced situations that are similar to the ones these women are sharing, I think it is an important issue to be discussing at the very least.
Here is an article explaining what all the discussion is about.
Here is an article sharing some of the most powerful tweets.  Reading some of these hits pretty close to home.
What are y'alls thoughts?
3.  Good old Gwyneth "Goop" Paltrow has been making some serious waves lately and pissing some people off in the process.  However, she did share some pretty eye opening information about how crappy the US is in our support of working moms.  You can read the whole article if you want but if you want to get right down to the part about maternity leave and working women in the US, scroll down to the segment entitled "Work."
4.  I pinned this quote and it spoke to me today.  There is seriously something powerful about quiet in a moment where someone or something is pushing you for a reaction.
5.  And last but certainly not least, Mr. G and Jelly Bean, best friends forever!!