Okay y'all.  Is it just me or is everyone in the world going on vacation right now?  Colleen is getting ready for go to California for 10 days and it seems like everyone else is going somewhere fantastic right now as well.  It is always just about this time of year that I start seriously itching for a trip and more specifically a lazy few days at the beach.  I find myself being unreasonably jealous of my last year's self who would have been planning for two weeks in England and Ireland.  My this year's self has no vacation plans until the end of August which seems ever so far away.  Now nobody needs to go feeling too sorry for me.  I have to remind myself of all of the blessings my this year's self has.  But even still.  A quick little beach trip sure would be nice.  Especially since it was 90 degrees here yesterday and it will be mid to upper 80s for the rest of the weekend.  Summer is here.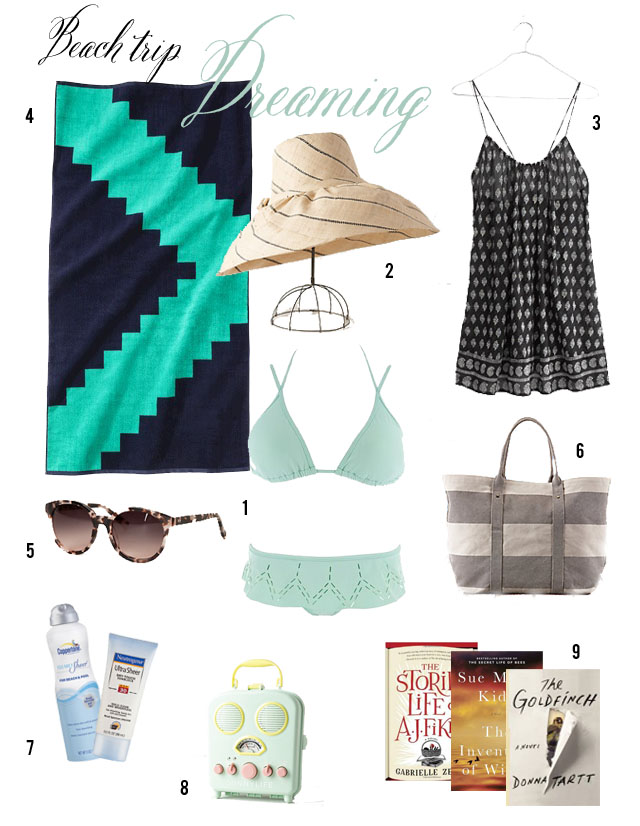 1.  This year I may allow myself the luxury of a nice new swim suit.  The last one I bought was over three years ago and I think it might just be time.  I have been eyeing this one that has a cute little skirt situation and is a lovely minty green blue.
2.  This hat looks like it would trick passers by into thinking I am impossibly chic and while I have considered that it seems to possess a certain vision impairment quality, I figured that the only thing I need to see at the beach is my book anyways.
3.  I like this swingy coverup.  Here is a slightly cheaper option.
4.  Nate Berkus brings it every time and this beach towel for Target is no exception.
5.  I bought these sunglasses with my birthday coupon last month as mine were all scratched up and made it difficult to see whilst driving.  I am a big fan.  They no longer seem to have them on the site but these are pretty close.
6.  A gray striped tote is never a bad idea and I will need something to keep all of my beach snacks and such.
7.  This Neutrogena Ultra Sheer sunscreen has been a favorite of mine for years.  It just feels so nice on my face skins.  I just bought the Coppertone Clearly Sheer spray this year for my body and it smells like angels.
8.  Um…how cute is this little speaker thing for hooking up your iPod?  Definitely a beach necessity.
9.  Last but certainly not least, books.  I like to bring at least 3 because inevitably I become bored with one and want to switch to another and back again.  Right now I am reading The Goldfinch, which I started as a book on tape but because I don't really like the dude's voice, I think I am gonna switch to regular old reading book, as well as The Invention of Wings, which has been excellent so far.  The Storied Life of AJ Fikry is on my radar for future reading possibilities.
Do you guys have any upcoming or current vacations that I can be jealous of?  Hope everyone has a wonderful weekend.