Happy happy Friday!  Spring weather's a comin!  No coat times are almost here!  That means I have to come out of my hibernation and start looking presentable to the world again.  Which can be quite a feat.  I'd like to think there aren't too many things in the world that I am snobby about (although if you ask Colleen she may tell you differently), but one thing I get super picky about is makeup and cosmetic products (probably yoga classes and paint brands should be included in this list as well).  I can't help but feel like the nice (and expensive) stuff just sits better on my skin and looks nicer.  Like I said, call me a snob.  I thought I would share some of the products I really like in case anyone is looking for some recommendations.  I know I always am.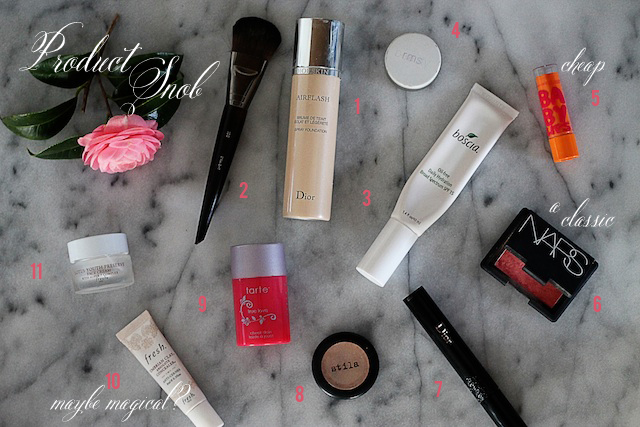 1.  Diorskin Airflash Spray Foundation–  Okay so this one is a serious investment.  Yeesh.  I apologize to my bank account.  But honestly, I bought this in the fall and my bottle still hasn't run out yet.  So at least it lasts a good long while with daily use.  I shake it up and spray it in the lid of the bottle and use #2 to scoop it out and brush it on my face.    Make sure you move it around quickly with good brush action.  It has a flawless but very light coverage that is buildable.  It also doesn't get too greasy after a day of wear.  It is probably my favorite foundation that I have ever used.
2.  Makeup Forever 108 brush– When I bought that foundation, the man at Sephora told me it was pretty much mandatory that I buy this brush too.  He may have been conning me but I listened.  It is a pretty great foundation brush.
3.  Boscia Oil Free Daily Hydration– I have been using this as my daytime moisturizer for years. Although recently I have found that in the winter time I like to add a tiny bit of a heavier moisturizer in, it works great in the summertime for moisturizing but controlling oil.
4.  RMS Beauty Living Luminizer–  This is a new one but I am a pretty big fan.  I have tried out lots of highlighters for my cheek bones and around my eyes and this one is quite nice and looks very natural.  Not glittery like some of them get.
5. Maybelline Baby Lips–   One of my most favorite tinted chapsticks.  Has a really nice color that lasts a pretty long time and makes your lips feel moisturized.  Plus it's only like $3.
6.  Nars Orgasm blush–  Another one I have been using for years and years.  Maybe like 10?!?  I have never really found a blush that I thought was better.  Then again I like this one so much I have never really spent much time looking.
7.  Diorshow Blackout Mascara–  I am SUPER picky about my mascara.  I already have pretty long eyelashes and I like a dramatic look.  I have tried the other formulas for Diorshow including Blackout waterproof and I just don't like them as much as this.  I have also tried plenty of other mascaras including cheap and expensive ones.  I like a formula that stays wet for a long time for optimum application time and that doesn't flake off when dried.  I also like a thick wand.  If you are like me with these preferences, then you should try this.  I will warn you, it is very black.
8.  Stila Kitten eyeshadow–  This is another classic that I have been wearing for years.  It is a great neutral but still pretty color.  A lovely champagny pink gold.  If you haven't tried this yet, you should.  Stila shadows also wear really well and have great pigment.
9.  Tarte True Love Cheek Stain–  I like this cheek stain for applying under my other blush and sometimes just adding a pop of color to my cheeks for otherwise makeupless trips to Target.  For some reason putting a stain under my blush just makes my blush last a bit longer, look a bit dewier, and makes me feel a bit prettier.  This was a tip I got from our buddy Lindsey Regan Thorne who is the queen of beautification.
10. Fresh Umbrian Clay Absolute Concealer–  Although I probably should, I don't wear a lot of concealer.  I think I don't really know how to apply it well and it makes me nervous.  But when I have a blemish, I always put this on it and I know this sounds strange but I think it magically makes zits disappear.  More often than not, the day after I wear this my blemishes are gone or considerably less noticeable.  I can't promise anything.  Maybe it is a magic that only works for me.  Kinda like how wearing my nasty old retainer from when I got my braces off in high school magically whitens my teeth.  I swear it is so despite my dentist boyfriend assuring me that this is most definitely not a remote possibility. Anyways, try the concealer and hopefully it will work for you too.
11.  Fresh Lotus Youth Preserve face cream–  I got this for free with a bonus from my Sephora beauty insider card and I am a big fan.  I don't think it magics face wrinkles, but I do think it smells nice and that my face looks kinda glowy when I wake up in the morning after wearing it.  I am thinking about re purchasing.
Not pictured due to being old and no longer attractive-  My Clarisonic.  I have been using it for 4 years and I swear when I don't use it for awhile, I notice a difference in my overall skin texture and certainly how my foundation sits on my skin.  It is kind of just a must.
Not pictured due to being washed in the washing machine last week and not replaced yet-  Sugar lip treatment in Rose– Stupid expensive for a tinted chapstick but it feels nice on my lips and adds a perfect amount of subtle color.
Y'all have a great weekend and let me know if there is a product I am missing out on.