In trying to come up with something a little different than our usual for our Thanksgiving table this year, this idea popped into my head.  Feathers are not something I typically use when I decorate but after I went to Hobby Lobby and found these chic ones with the black tips, I felt even more inspired.  This was a quick little DIY that was easily accomplished in less than an hour this past Saturday.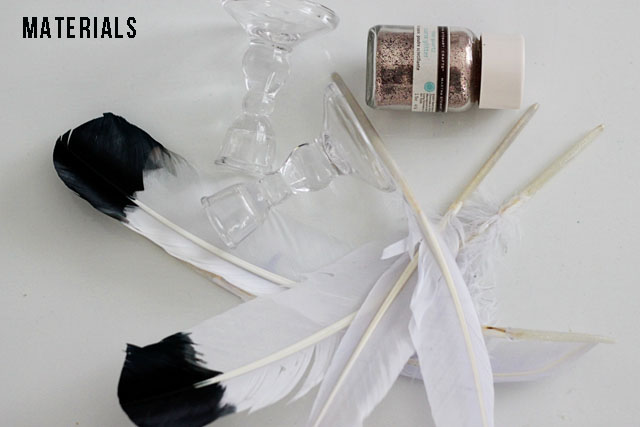 What you'll need:
1.  Feathers (I bought mine at Hobby Lobby and the ones with the black tips came like that)
2.  Plain cheap taper candle sticks or holders (I bought these from Target for $2 each)
3. Glitter- we used Martha glitter in bronze
4. Hot glue gun with glue or other fast drying and heavy duty glue
5. Glittering glue or elmer's glue to put glitter on your feathers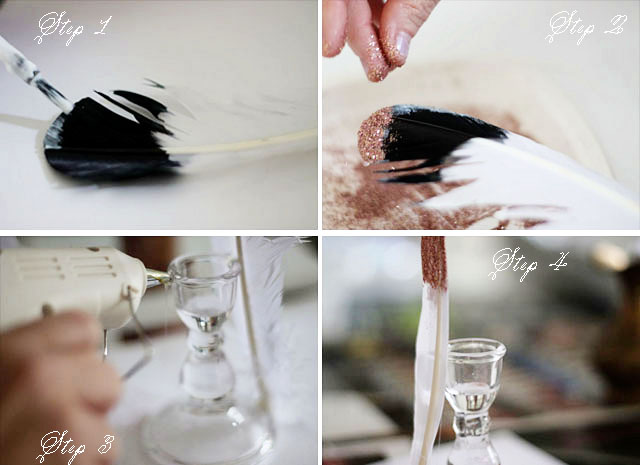 What you'll do:
1.  Use your glittering or elmer's glue to paint the part of the feather you want to be sparkly like angels.
2.  Sprinkle on your glitter over the wet glue.  Let dry.  It helps to do this over a paper plate so you can save the excess glitter.  That stuff ain't cheap.
3.  Clip the stem off your feather (If you'd like.  We did.) and then apply plenty of glue to the spot on the candlesticks where you want to attach the feather.  Do this for each feather one at a time as the glue dries fast.
4.  Press on your feather.  Make sure you let the glue set up for awhile before trying to transport this.  I threw mine in a basket along with alot of other stuff to take home and the jostling made some of my feathers detach.  No big deal since you can just reattach them but I am trying to stay real with y'all.  Perhaps I didn't add enough hot glue.  Super or gorilla glue could be another option if you are having particular difficulty with this.  We put 2 feathers on ours (on opposite sides) cause we liked it that way.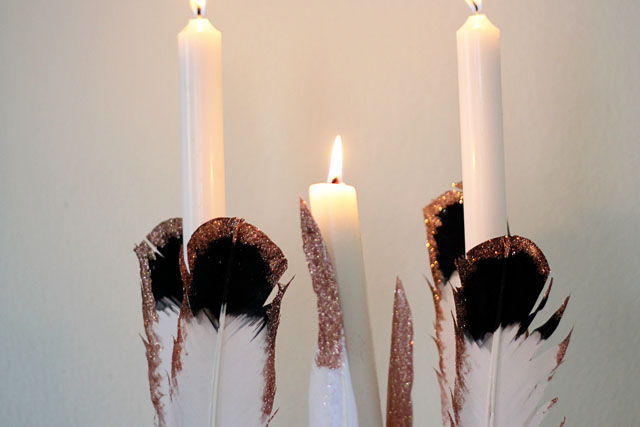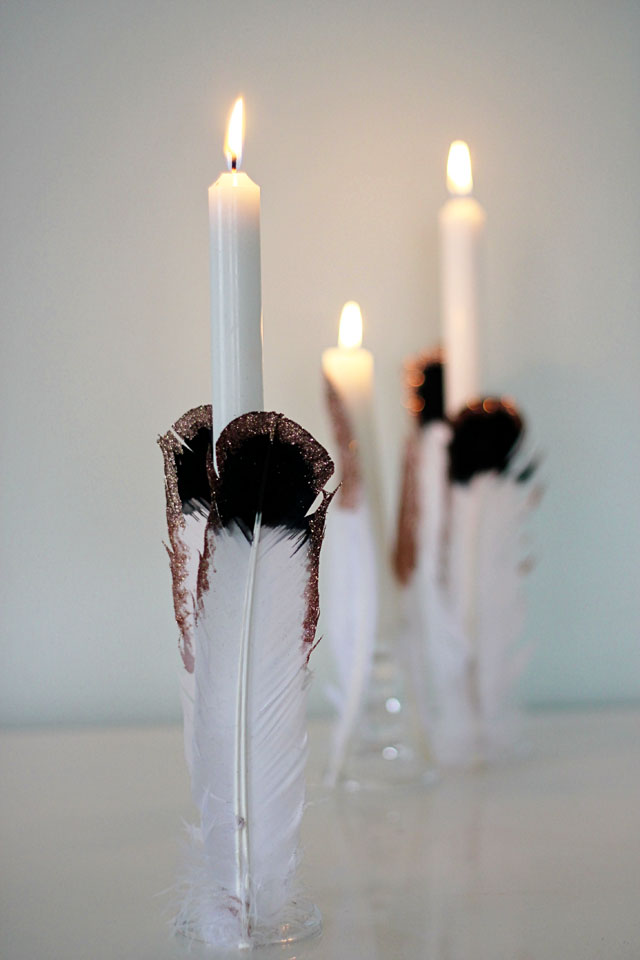 I realize this looks like the feather is going to go up in smoke any second.  But the way the feather actually sits against it, the top of it juts out away from the candle.  Either way, this is definitely the kind of candlestick that needs to be watched.  I think it would be just lovely for a unique touch on your Thanksgiving table.