To be honest with y'all, I wasn't 100% sure this day would ever come.  But I am happy to report that a Halloween/Thanksgiving/Christmas miracle has occurred (we needed the power of all 3 holidays for this undertaking) and as of yesterday, I actually finished painting my house and detached garage.  I want to send a special shout out to my faithful paint team who consisted of my parents and boyfriend.  They spent far more weekend days than I am sure that they would have preferred climbing ladders, battling monster knifey bushes, and covered in sweat and paint.  I surely couldn't have done it without them.  While I am quite happy to have saved my $3000, I will admit that painting a house is not really a delight and is more accurately a massive pain in the butt.  But it is done!  Done done done!  Well, except for painting the white around my front door.  It is all dingy looking and is chipped from power washing.  I will also be painting my front door and shutters but may wait till the spring for that.  We will see.  The outside world is getting a little chilly.
Here is the before: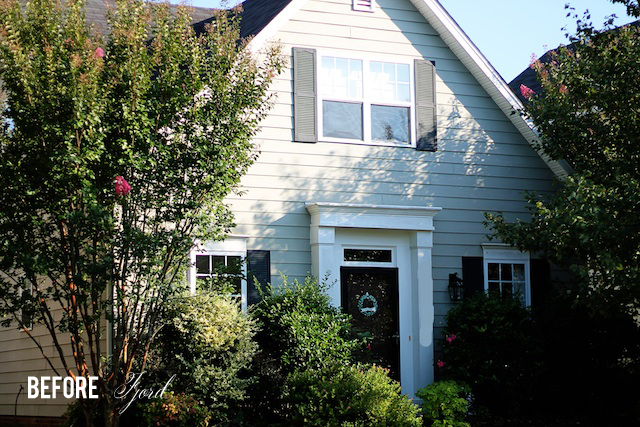 And the after:
Now I am aware that in these pictures, the color difference is subtle.  But that is due to weird lighting and difficulties related to capturing paint colors on camera.  In person it is a night and day difference.  At least in my opinion.  The new color looks so fresh and cheery and the old paint looked so…crappy.  Here are some picture from previous painting posts to remind y'all of the up close difference.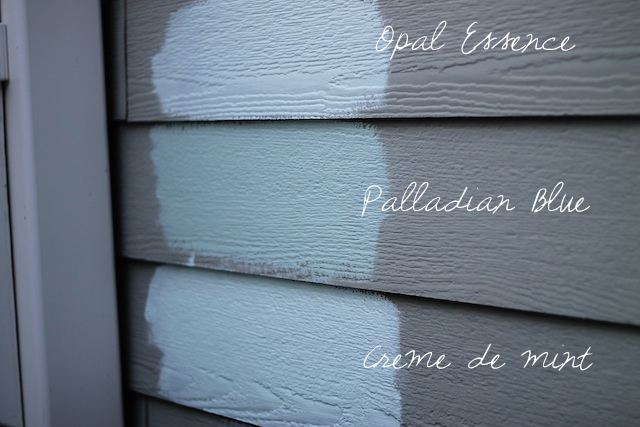 If anyone is thinking about painting their house and want some deets on the process, painting my whole house and detached two car garage took about 8 work sessions total (8 days of working) with some days being just a few hours and some days being the whole dang day.  That is after a full day of power washing and a separate day of sanding and painting the white grates at the top of my house.  So I guess really ten days.  We used paint brushes, rollers, and a paint sprayer with back rolling with a roller after we sprayed (this apparently helps the paint adhere to the surface better).  The issue that we had with the sprayer is that it got clogged up if we let it sit for 30 minutes or more.  Then it sprayed all uneven and wonky.  So that was kind of a pain.  But it covered larger open areas very quickly.  We used brushes for edging and covering under the boards and then rolled with a foam roller primarily.  It wasn't really rocket science but it was pretty tedious.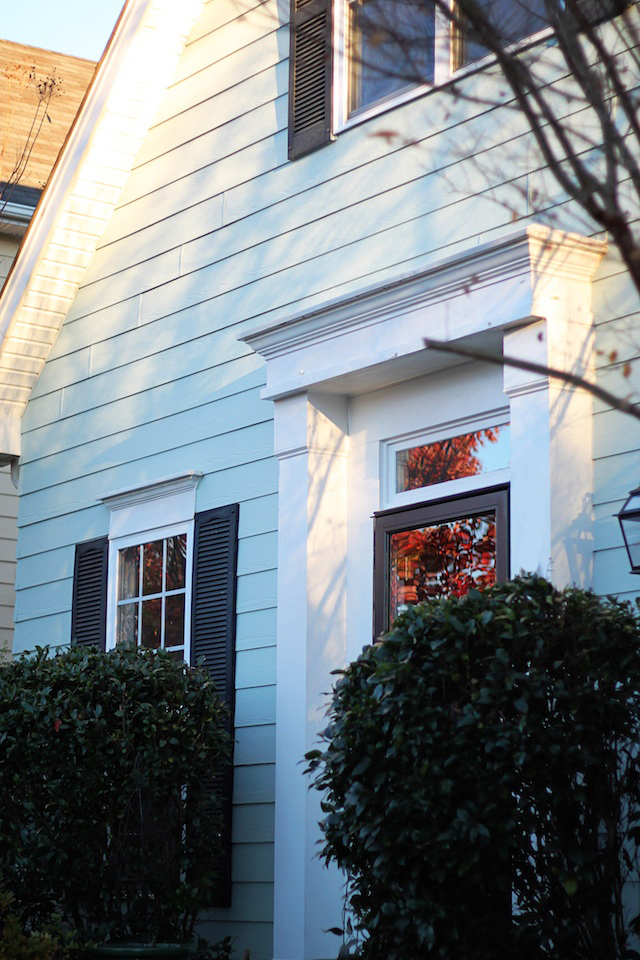 Now on the subject of my front door…Right now it is purple.  I was intending to paint it black so that it will be more of a contrast and just look sharper.  Some people might argue that it is cute being purple.  I am feeling slightly confused.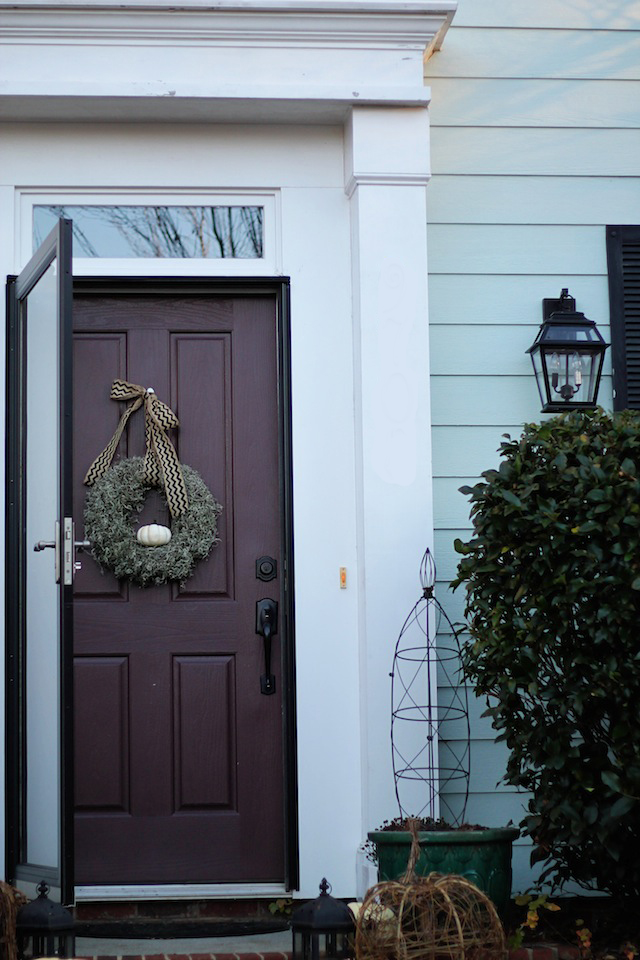 I have a storm door that is staying no matter what all the home decor blogs say about ugliness of storm doors.  Functionality must win over aesthetics in some situations.  Especially when it comes to matters of light and warmness.  And when it is closed, you really can't tell very well that the door is purple anyways.  That is why I am thinking black is the ticket.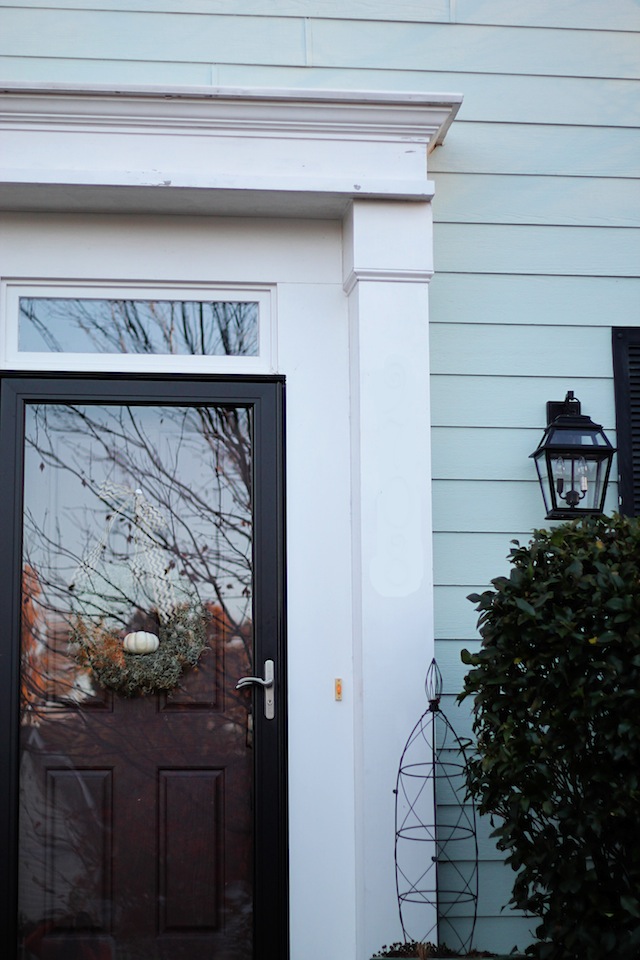 See?  Hmm…
Anyways, I painted a whole house and it is done!  Hallelujah!
Happy Monday!