So, since we bombarded y'all with speakeasy stuff all last week, we actually were considering not doing this post.  But Colleen told me her husband absolutely insisted saying, "Aren't you a DIY blog after all?"  We can't really argue with him I suppose.  So I thought I would take a few minutes today to talk about the "how" of creating the haunted speakeasy.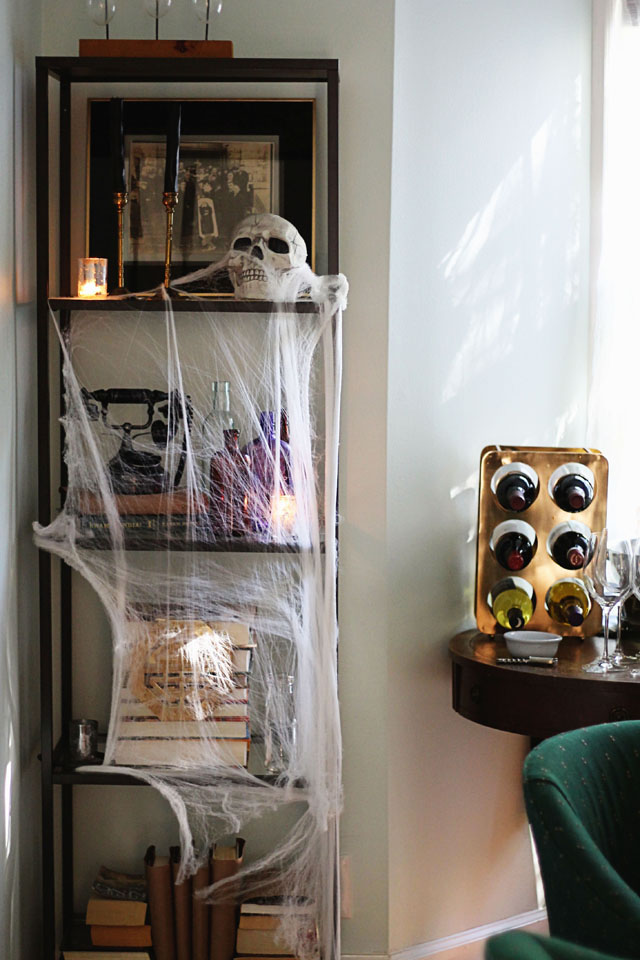 Most of the work we did was related to staging Colleen's house, which was full of lovely and more modern looking trinkets, to look like a house that could have been around in the 20s.  Or at least more like it.  So we replaced most of her decor items with vintage finds that we bought or had along with some other items that were either creepy or passable.  We also collected lots and lots of wine and beer bottles and removed labels so that we could use these in our vignettes.  I even bought a few vintage amber and purple bottles to use in more visible places.  We really did make an effort to keep costs down by not buying too many extra things.  After all, I have flea market finds coming out my ears at my house.  That cool looking phone, I bought at Target in the Halloween section this year.  It says spooky things and I kinda love it.
Another big impact item was our use of washi tape (some black and some gold) to create "moulding" around the house.  We did this because we wanted our speakeasy to have an art deco feel and to us this moulding felt art deco.  The washi tape didn't stay up quite as well as we had hoped so we ended up having to tape up some of the corners so it would stay.  We were pretty thrilled with how this turned out.
We draped white sheets we had over Colleen's furniture (and tv) to serve 2 purposes.  1.  To make things look abandoned and spooky.  2. To protect them from the inevitable spills that would be taking place with all of the speakeasy alcohol consumption.
For a long time, we had this idea about having a chandelier laying on the ground so that it would look like it fell from the ceiling.  We discussed stringing beads from it and then having some spilled on the floor, etc.  But those things just seemed too complicated as the party approached like a freight train, so Colleen decided to buy this old beat up chandelier that she found for $10 at a garage sale.  We dropped that sucker in the middle of her coffee table.  Done and done.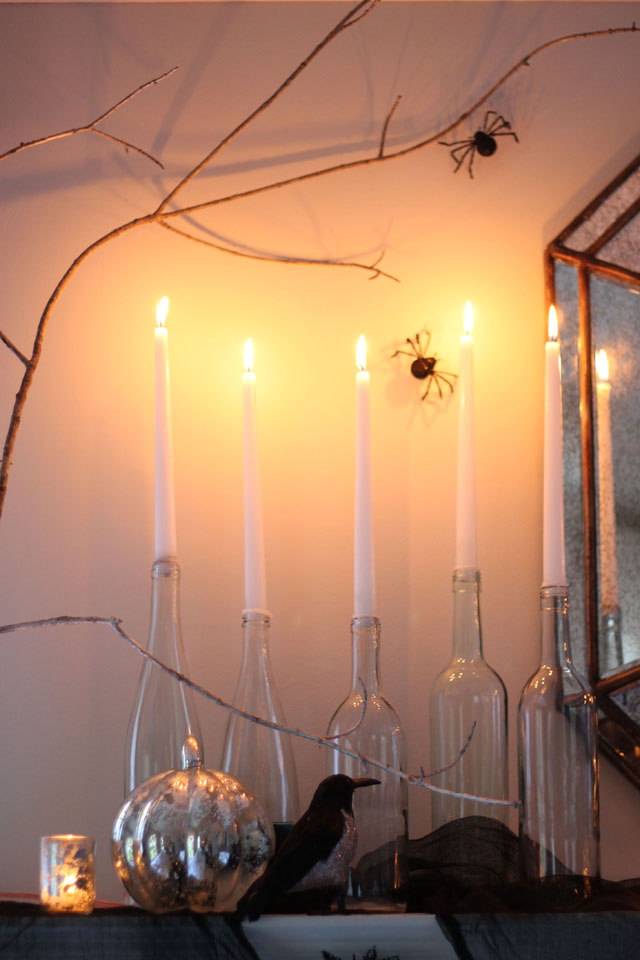 We used some of our collected wine and beer bottles to serve as candle holders on the mantles of Colleen's 2 fireplaces.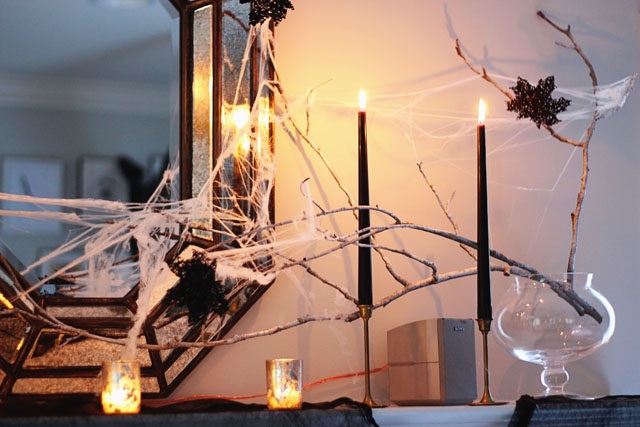 We also brought in sticks from the outside, sprayed them with a little silver paint to make them look older (Can twigs look older??  Oh well) and stuck them around in places of visual interest inside to add to the illusion that our house had been abandoned and the outside world had started to come in.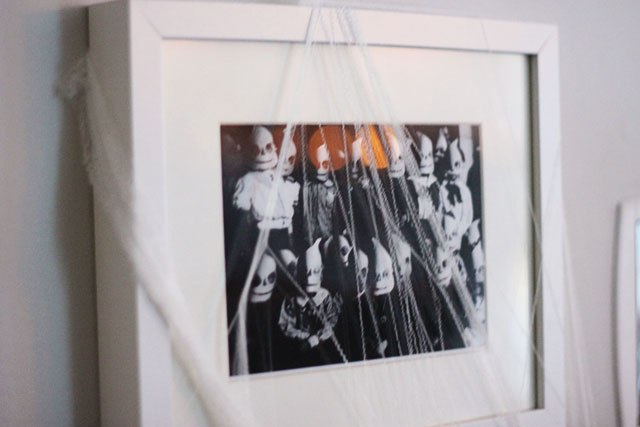 Corey (Colleen's husband and the third party host) spent a ton of time replacing almost all of the photos in Colleen's huge gallery wall with creepy vintage pictures and old speakeasy pictures.  We then covered lots of the frames with spider webs.  He did a pretty awesome job with this, I must say.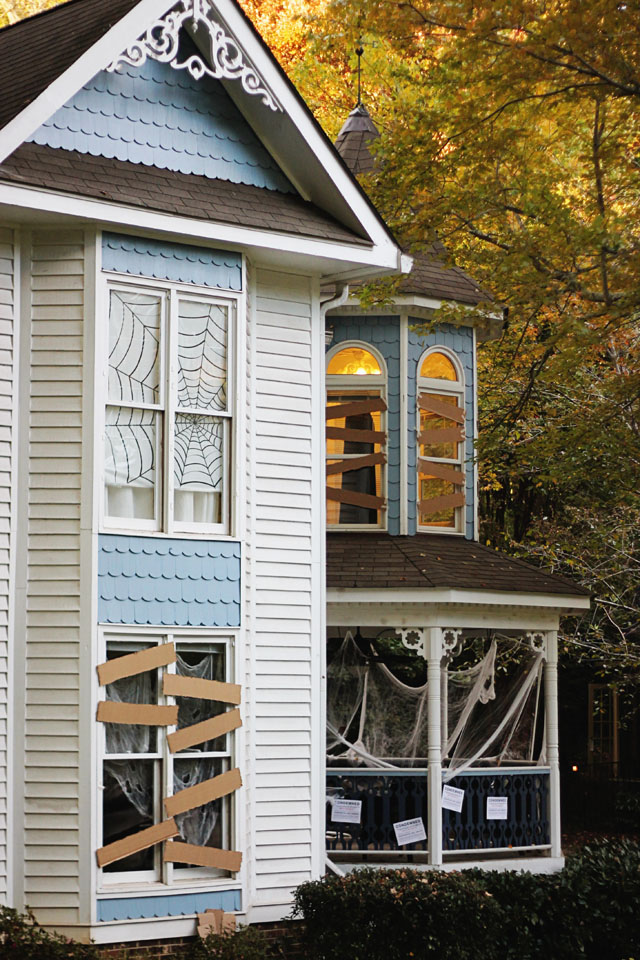 Corey also took a big old cardboard box and cut it into little pieces with a saw to look like boards for the windows.  Then he placed them all using command strips and velcro (I think).  This made a huge impact on the exterior.
Colleen made some pretty great signs for the exterior of the house and the interior as well that she shared printables for here, in case y'all missed them.
Here is a link to part 1 and part 2 of our party.
Here is a link to the invitations.
Okay…now I think we are all ready to move on to Thanksgiving and Christmas.  Y'all let us know if you have any more questions we didn't answer.  Hope everyone has a great week!