A few weeks ago I made some apple bread for a scary movie night we were having in which we watched the movie Insidious.  I had already seen it once but some of our friends hadn't seen it and wanted to so we watched it again.  Have you guys seen it?  If you haven't and enjoy being able to sleep at night, then you probably just shouldn't.  I am not kidding when I tell you all I think it is the scariest scary movie I have ever seen and I do believe it affected me more the second time around.  I still can't lay in bed at night without imagining a creeper standing in the corner of my bedroom.  True story.  Anyways, things are getting a little off topic because the reason I have brought you all here today is to tell you about this bread.  The first time I made it, it got eaten (by me) so fast that I forgot to take any pictures of it at all.  So I decided I was just gonna have to make it again so I could share it with y'all.  Believe me when I tell you it was a task I was happy to tend to.  This bread is just the right amount of sweet and warm and spicy and it stays moist for days.  The perfect introduction of fall to your taste buds.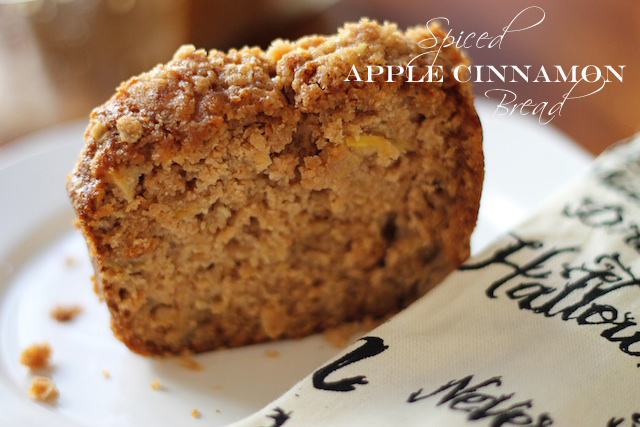 Spiced Apple Cinnamon Bread 
adapted from The Baker Chick
makes 1 regular loaf pan
Ingredients
For bread:
– 1/2 cup vegetable oil
– 1/2 cup brown sugar
– 1/4 cup white sugar plus 1/8 more-  I found that 1/4th was not enough for my liking and even with the additional 1/8 the bread is not excessively sweet
– 2 eggs
– 2 cups all purpose flour- can sub part whole wheat or oatmeal as well to make it healthier.  I didn't
– 1 teaspoon baking sode
– 1/2 teaspoon salt
– 1 1/2 teaspoon vanilla extract
– 1 1/2 teaspoon ground cinnamon
– 1/4 teaspoon nutmeg
– 1/4 teaspoon ginger
– 1/8 teaspoon cloves
-1/2 cup buttermilk-  The second time I did this, I used this method of making buttermilk with things I already had.  Worked perfectly
– 4 medium sized apples peeled and chopped- 2 of them chopped very finely
For crumb topping:
– 1/8 cup flour
– 1/8 cup oatmeal
– 1/4 cup brown sugar
– 1/4 teaspoon cinnamon
– 2 tablespoon cold butter cut up into small bits
Directions
1.  Preheat oven to 350 degrees F (175 degrees C) and grease your loaf pan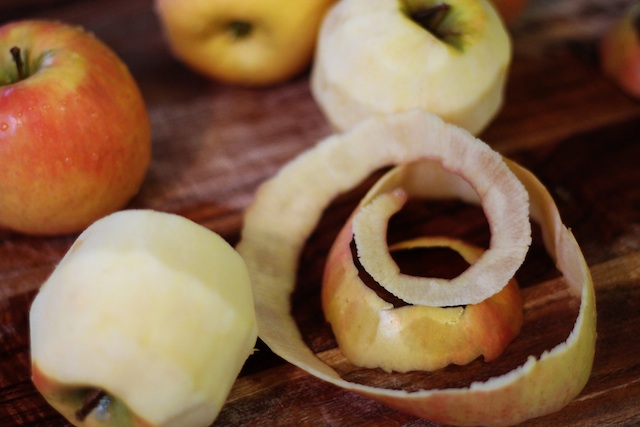 2. Peel and chop up your apples.  Do you guys remember that part from "Sleepless in Seattle" where Tom Hanks is telling the little boy about his mother and he says, "She could peel an apple in one long curly strip."  It was such a sweet moment and I am not sure why it had such an impact on me but it stuck out in my head as something very special to be able to do.  Now whenever I peel apples, my goal is to peel the whole thing at once.  And every once in a while, I am successful.  It surely makes it a more enjoyable task.
Make sure some of your apples are chopped up very finely.  The original recipe calls for them to be grated but that was not working well for me.  Finely chopped is just fine.  Others can be chunkier for big yummy pieces of apple in your bread.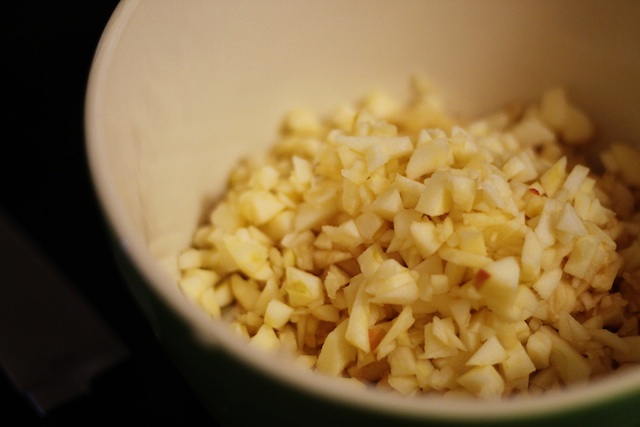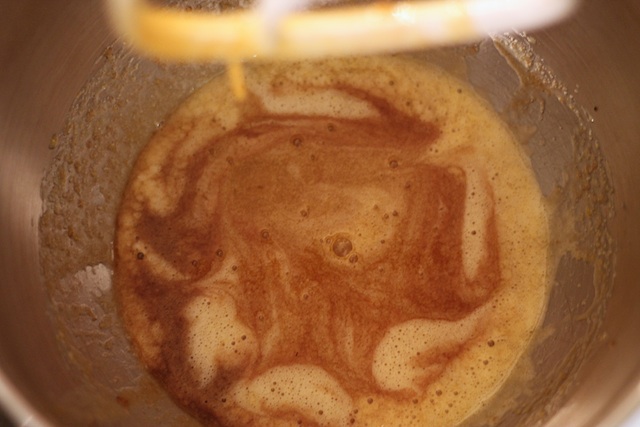 3.  Whisk together oil and sugars then beat in eggs and vanilla.
4.  In a separate bowl, combine flour, baking soda, salt, and spices.  Then gradually add to your sugar mixture.  Pour in buttermilk and and mix until incorporated and then fold in apples.  I did all this in a stand mixer but you could just use a big bowl and a whisk as well.  Pour into your greased loaf pan.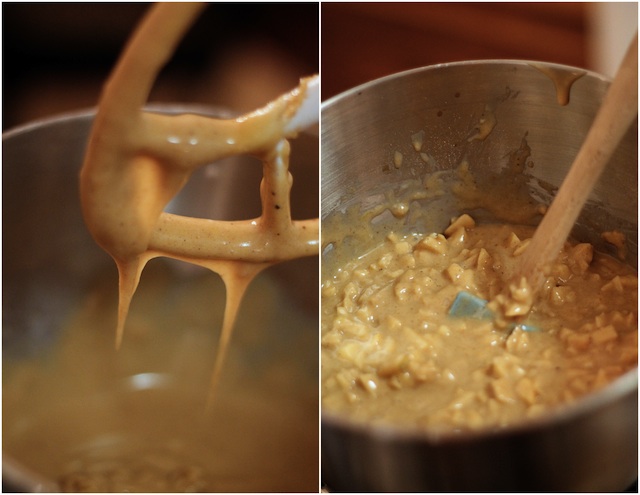 5.  Make crumb topping by combining all dry ingredients and then cutting cold butter pieces in with a knife or fork until it looks crumby.  Sprinkle over the top of your batter.
6.  Bake 60 minutes until a toothpick comes out clean.  The middle of my loaf was actually a tiny bit mushy when I took it out because I am weird and like it that way.  Leave in the pan to let cool for 15 minutes before taking it out if you want to.  This gets pretty large so it may also be a good idea to put a cookie sheet under it in the oven in case it overflows.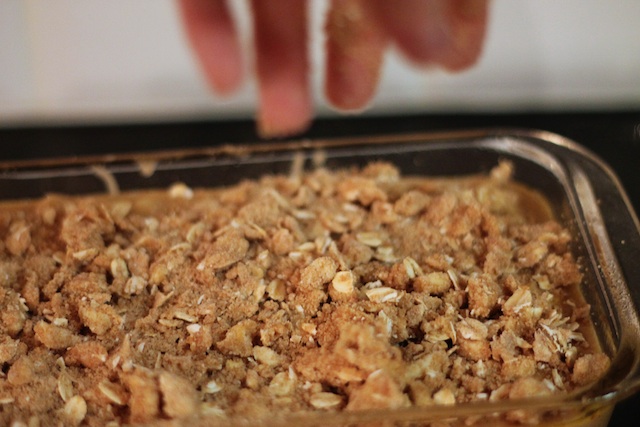 I also like the idea of doubling the crumb topping recipe for even more crusty goodness on top.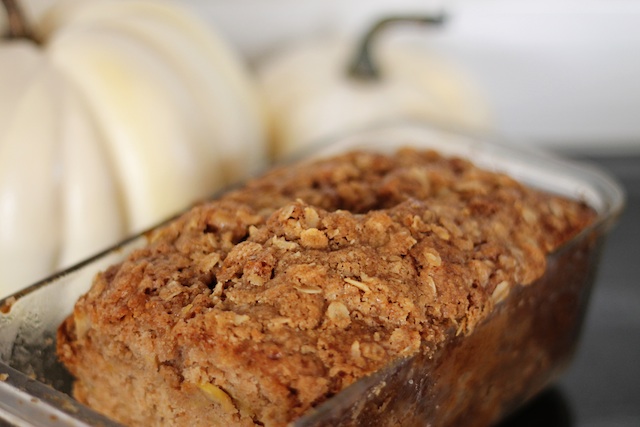 Some tub came and stole a piece out before I could even take the picture.  Surely it couldn't have been me.  I  suspect it was the creeper in the corner.