For some reason, I am not typically drawn to curtains with a big print or a bold color.  I like them simple, and white are usually my favorite.  These curtains for my family/dining rooms were a long time in the making, which was definitely not my original intention.  Our mom is a sewing genius so I figured she could whip me up some curtains in no time.  This is absolutely the truth but it turned out to be quite the undertaking to find the perfect white fabric.  My mom searched high and low (because she's the best) and finally found the perfect white linen that was lovely but still reasonable at Joann's fabrics.  I chose these gorgeous curtain rods from West Elm despite the fact that they are way more expensive than I would normally pay just because I loved them so much.  And now that they are up, I love them.  I hated them a whole lot while we were hanging them.  Total pain the tuckus.  You have to drill in the anchors, then screw in a little plate, and then slide the metal brackets on the plate and then yell at things when you realize you made them lopsided.  Make sure you actually have room to slide the bracket over the plate or you are really screwed.  Oh, and the ring clips I found at Target, because West Elm doesn't want to sell matching ring clips with their brass curtain rods.
Another exciting update is the new pillows that Megan gave me for my birthday.  Aren't they a beauty?  She purchased them from Furbish and they are large and in charge.  Much more comfy than the gold ones that Corey despises because he has daily fights with the sequins.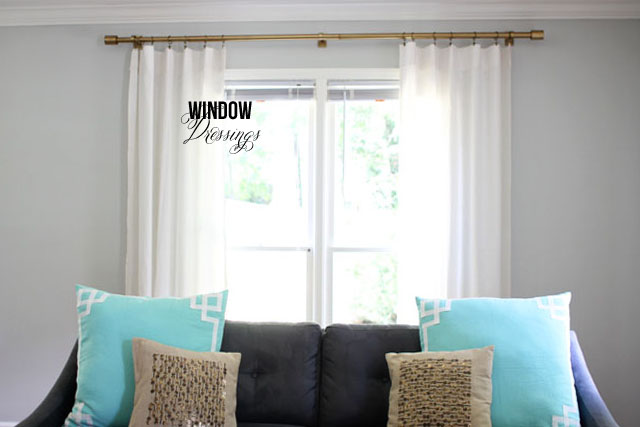 Also, my gallery wall in the same room is happening.  Definitely soon.  Still need to fill in some holes with mini frames I will have to pick up from Ikea this week.  My living room is their current home.  Hopefully Pica doesn't jump on them since I was too lazy to pick them back up during the planning process.