After the traveling we did this summer, one thing that Colleen and I definitely learned to appreciate is the importance of a good bag.  Truth be told, it can make a huge difference in the ease in which one can travel or even function on a daily basis.  Bags&Totes is a beautiful hand crafted bag company on Etsy that has great options for overnight bags, totes, and even cosmetic and hand bags.  All of their bags are created using 100% cotton fabric that is hand block printed by artisans in India. Due to its handmade nature and the art of block printing every piece is unique.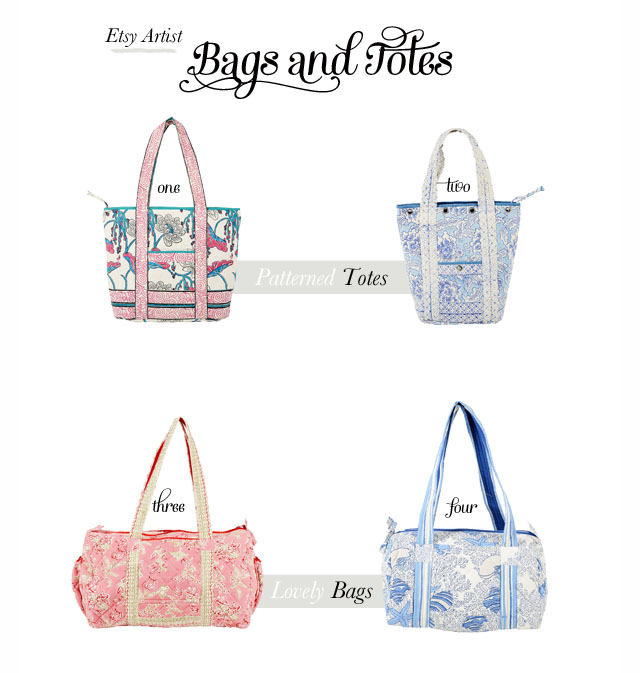 Angel, one of the owners of Bags&Totes who is a complete doll (and also lives in Charlotte!), kindly agreed to give away one of their sweet brush and pencil cases to one of our lucky readers.  It is 100% cotton, hand block printed and has lovely bead work.  Also, it is brand new and hasn't even been added to her shop yet.  How fancy is that?

Angel is also looking for some feedback about her bags so she would love to know which ones you like best.  To enter the giveaway all you have to do is:
1. Like Bags&Totes on facebook
2. Visit Bags&Totes on Etsy and leave a comment below with which bags/patterns you like best.  Make sure you remember to leave a comment so you are included in the giveaway.
Then you have the chance to win that precious brush and pencil case for free!  Not bad for a Tuesday, right?
We will leave the giveaway up through Tuesday, August 6th at which point we will choose a winner and contact you via email.  Good luck everyone!!
P.S. Hey guys, if you left a comment and can't see it below, please let us know through email (twodelighted@gmail.com).  There may be some commenting issues.  Thanks for your help!