Happy 4th of July/Independence/Fireworks day people!  I hope everyone has fun and fancy plans for the day.  We have planned a rather low key day and will mostly be keeping our fingers crossed for no rain.  What is the deal with all the rain??  Anyways, I wanted to give you guys a break from trip pictures today and share something I did over the weekend.
I was at Anthro a month or two ago and noticed these really cute painted letters that they were selling.  And I thought, well that is such a great idea.  I think it would be a perfect idea for a birthday present for someone.  Buy a big letter and paint it with their favorite things/colors/etc.  My friends and I occasionally make things for each other for our birthdays and I always think it is so nice.  So I picked up a big letter at Hobby Lobby to test it out.  There is no doubt that the one from Anthropologie was painted by a significantly more talented artist than myself.  But theirs also costs about $50 and mine cost a grand total of $3 so I would say it all evens out.  I decided I wanted to paint a London scene and also make it a little more illustration-y than painterly.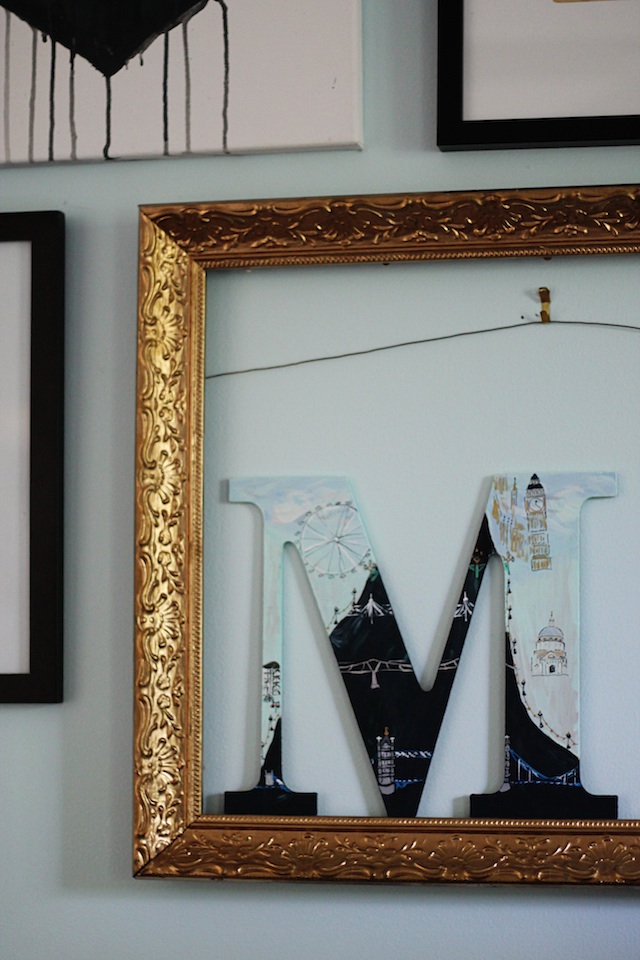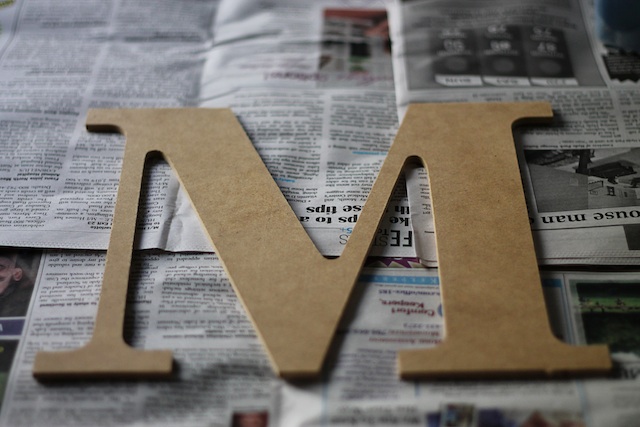 Here is my Hobby Lobby letter. I actually liked the simplicity of the letter shape from Anthropologie better.  I found these 12″ letters that are more similar to the shape of the Anthro one online but didn't want to wait for them to ship.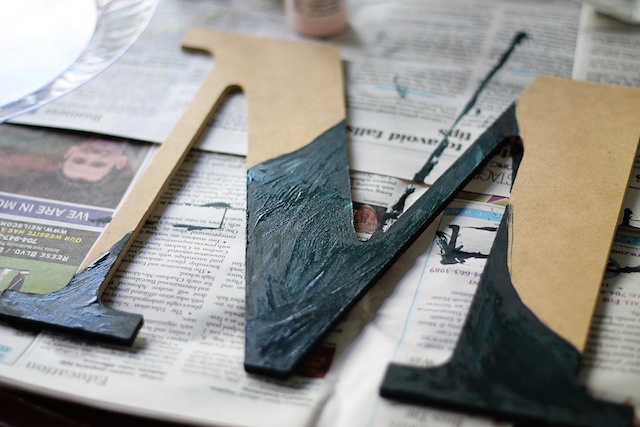 I painted the Thames.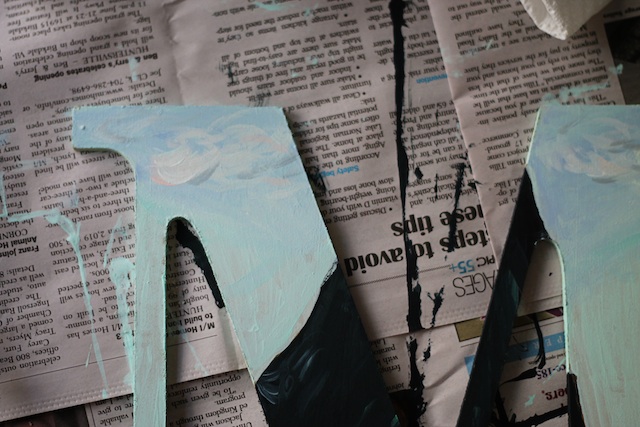 Then the sky.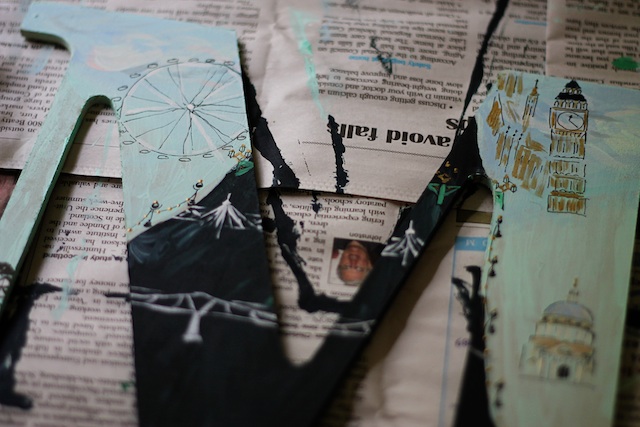 I used a pen to sketch in the buildings and then painted around the ink.  This reminded me that I seriously need some better brushes.  The situation is dire.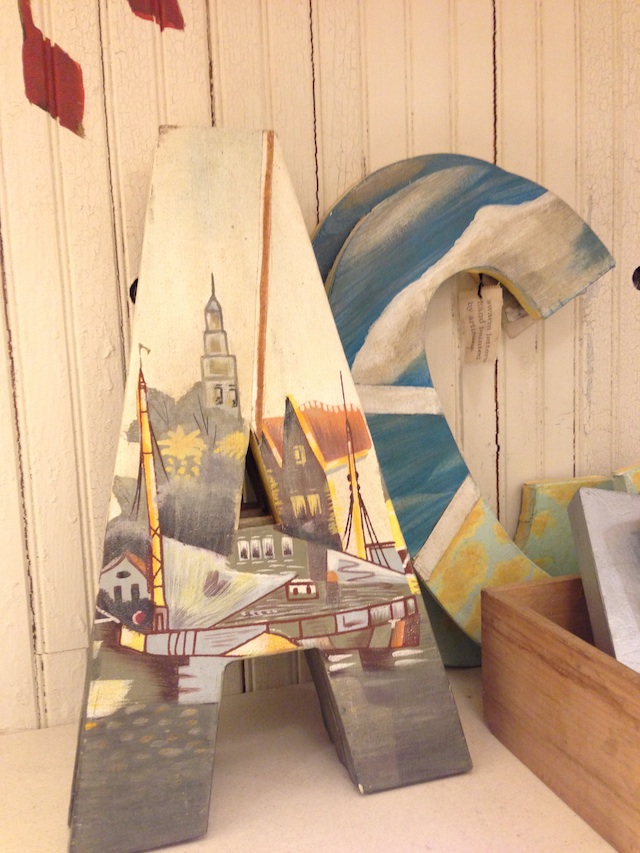 Here is Anthro's.  Super pretty right?  Some of them had scenes and some just had colors and designs.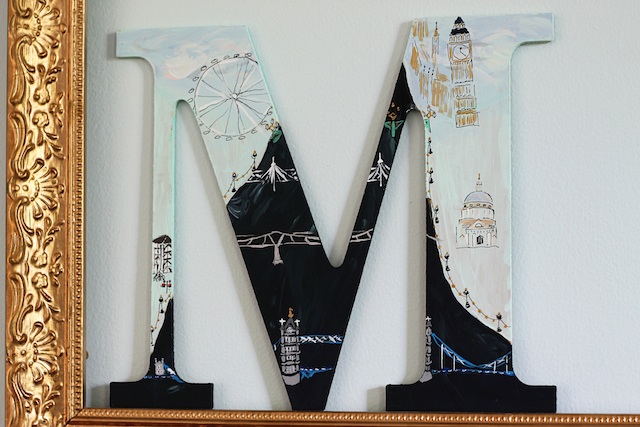 And here is mine.  I thought it turned out pretty cute even  though no one will be giving me any artist awards anytime soon.  I chose my favorite places from London along the river.  A few bridges (Tower Bridge, Millenium Bridge, and two more whose names I don't know) along with Shakespeare's Globe, Paul, the eye, and Big Ben and a faded Parliament ( I didn't feel like drawing all that),  I also included the lampposts and bistro lights that lined the Thames because I really liked those.
My friends need to be aware that they can expect some of these for future birthing day presents from me.  Sorry to ruin the surprise.
Hope everyone has a safe a wonderful 4th of July!!!