My makeup routine is about as simple as it gets.  Powder, maybe some very neutral eyeshadow, and mascara.  On a really good day, I'll add on foundation (before the powder, obviously), eyeliner, and a tinted lipgloss.  I'm pretty happy with the products I use, but I always use the same ones.  My makeup rut is so severe that when I know a big event is coming up, I start to get panicky about the fact that I won't be able to do my makeup.  I look up all these tutorials with hopes and aspirations that I will look like someone that can do my makeup well.  Then I'll pretty much ignore them day of and do the same boring thing I always do.  One thing that I've been wanting (but been too scared) to try is lipstick.  In particular, red lipstick.  Since my eye makeup is so simple, it would be the perfect thing for me to add to make me look a little different than the everyday.  But y'all I'm scared I will look like a clown.  I know when I get to France I will feel like a frumpy mcfrumperson no matter how hard I try to look chic, so I feel like now is the time for me to step out of my comfort zone and purchase my first red lipstick.  It's now or never I think.  The world sometimes tells me that I can't wear red because I'm a redhead, but I say screw em Angus.  So here we go.  Now which one to choose?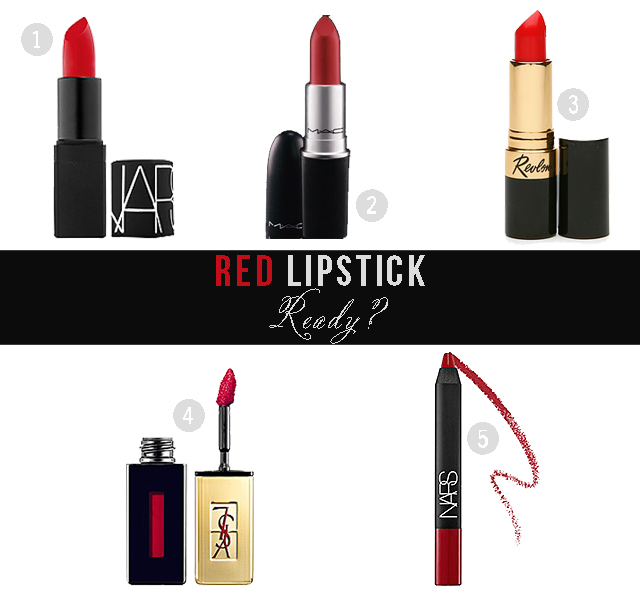 Lipstick options to make me glamorous:
1) Nars Jungle Red is one of those lipsticks that gets really good reviews and is supposed to look good on everyone.  Looks a little orangey to me.  I don't know if I'm supposed to go orangey or bluey but for some reason bluey sounds better.  But I should probably try it anyway.
2) MAC Ruby Woo is supposedly the go to red.  This is a must try.
3) Revlon Super Lustrous Fire and Ice  has apparently been around for forever (like our grandmas probably used it) and is way cheaper than the other options.  I can't try it before I buy it like I can in the fancy stores, but it is less than half the price of the next cheapest option so maybe I should just purchase for the heck of it?
4) I'm still pretty scared of lipstick.  I have literally never worn it except to play dress up when I was little.  So if I chicken out, maybe this Yves Saint Laurent lip stain will be an ok replacement?
5) Normally I would never even think of wearing a lip pencil but Jamie from Ann Street Studio, who I am kind of in love with, mentioned that she uses this Nars Velvet Matte Lip Pencil in one of her posts that I can no longer find.  The Sephora reviews are pretty great too, so maybe it's a winner?