When I was growing up, every once in a while I would come home to my mom making freshly baked banana muffins.  Not for any special occasion.  Just because we had some particularly ripened bananas or she felt like baking.  I may be biased, but I think mom's banana muffins are the best.  Especially when chocolate chips are included.  This weekend I called her early Sunday morning for the recipe because I just couldn't rest without them.  I'll be honest – I don't think they were quite as good as when she makes them, but Corey reassured me that they were delicious.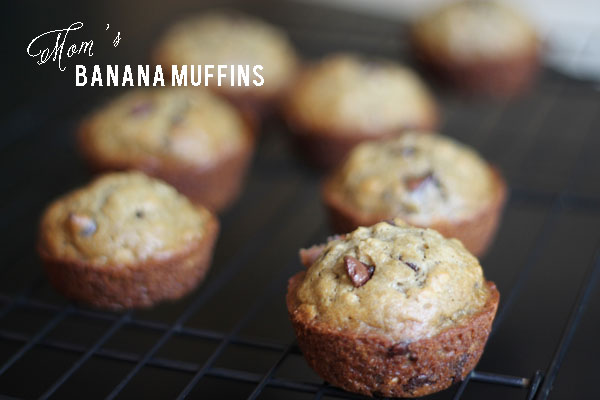 Crunchy Mixed Grain Banana Bread (I find this name to be highly questionable but for some reason that is what they are called.  Just disregard it because it makes the whole thing sound less delicious.
Ingredients:
– 1/2 cup softened butter (Mom said she uses applesauce but I didn't have any so I just used butter)
– 1/2 cup packed light brown sugar
– 2 egg
– 1 cup sifted whole wheat flour (I used regular because I didn't have any fancy whole wheat flour.  Ok I lied I totally did but it was expired because I never used it.)
– 1 cup regular or quick oats, uncooked
– 1 tsp baking soda
– 1/2 tsp salt
– 2 or 3 ripe bananas
– 1/4 cup milk
– 1 cup of nuts or chocolate chips or other delicious mixings (I made this up.  I just poured in a bunch of chocolate chips til the amount seemed adequate, but 1 cup seemed like a nice round number.)
Recipe:
1) Throw butter, banana, egg and sugar in a food processor and puree.  Mix flour, oats, baking soda and salt separately.
2) Mix all ingredients together, add in milk.  Once milk is incorporated, add chocolate chips.  Lots of them.  Muffin mixture should be the consistency of pancake batter.  Scoop dough into muffin cups until they are 2/3 full.
4) Bake muffins for 20-25 minutes at 350 degrees.