I had pinned a confetti filled balloon on Pinterest in preparation for Megan and Caitlin's party a pretty long time ago as another easy DIY idea.  When I finally got around to making them, I discovered a couple of problems.  First, I realized that I would need helium in order for the balloons to float, which I didn't feel like I wanted to give people money for.  Second, when I actually put the confetti in the balloons, it all sunk to the bottom, which was really pretty unimpressive looking.  The first problem was solved by deciding the group the balloons together with twine and hang them from the bistro lights.  Corey solved the second problem by being a craft genius and telling me to put glue inside the balloons so the glitter would stick to the sides.  Duh.  I hung them onto the bistro lights over the table as a sort of "balloon chandelier."  I thought these were super fun, even if my hands did get covered in glue while I was waiting for the cake to bake.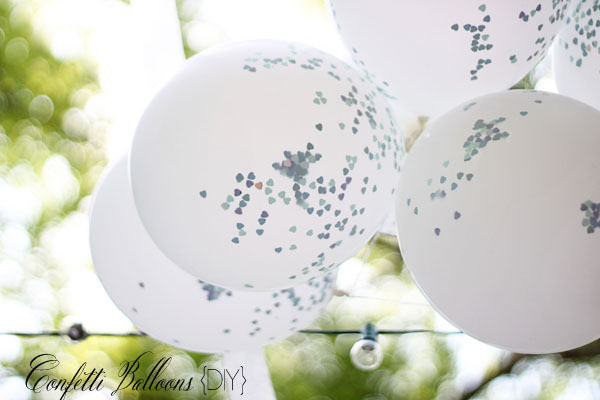 What you'll need:
– White balloons
– Confetti, or use card stock and hole punch to make your own (husbands or friends are particularly helpful in this task)
– Craft glue (I used the Martha Stewart glue in the white bottle with the blue top)
– Twine
What you'll do:
1) Prepare confetti and figure out how many balloons you want in your "balloon chandelier"
2) Pull the inside of the balloon out and put glue over as much of the surface as possible.
3) Use a teaspoon to fill the confetti into the balloon.  You can also get someone to help by holding the balloon open a little more.  I was able to fill them by myself whilst watching Crazy, Stupid, Love.  That movie gets me every time.  Shake the confetti around inside the balloon so the glue can spread.
4) Blow up the balloon.
5) Once you have all of your balloons prepared, use a knife to cut an opening in the end of them (the part below the knot) and thread twine through each of the openings.  Tie the balloons up on a tree, a chandelier, bistro lights, or basically anything hanging overhead.  Admire the beauty.