I've been having a rough few weeks at work.  Ok that is an understatement; I have been miserable, and unfortunately it will be continuing through most of spring and summer.  To top off my week last week, I was in a four car accident on the way home from the city I have been traveling to for work, which totaled my car.  Corey really hates to see me when I am so down, so he has been acting as super-husband recently.  One particularly gruesome day, I came home to find freshly baked cookies and a sweet note.  Another day, I came home and he had painted our little sitting room off of the bedroom.  Finally, last Thursday, he made this delicious blueberry coffee cake that I wanted to share with you guys.  Even on the roughest days, I feel oh so fortunate to have him.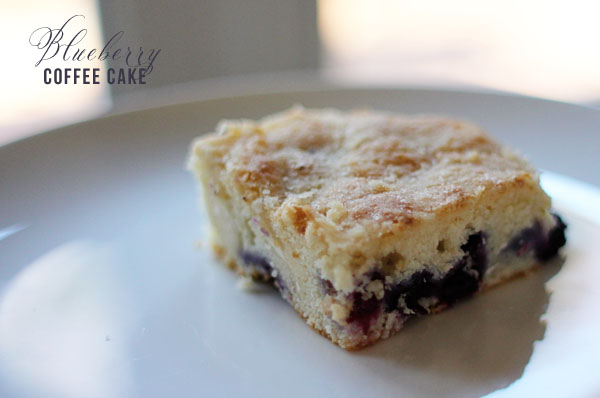 Ingredients:
– 1/4 cup butter, softened
– 2/3 cup sugar
– 1 egg
– 1 cup plus 2 tablespoons all-purpose flour, divided
– 1/2 teaspoon baking powder
– 1/4 teaspoon salt
– 1/2 cup milk
– 1 cup fresh or frozen blueberries
– 1 package (3 ounces) cream cheese, cubed
Topping
– 2 tablespoons all-purpose flour
– 2 tablespoons sugar
– 1 tablespoon cold butter
Directions:
1) Cream butter and sugar until light and fluffy in a large bowl.  Beat in the egg.  Combine 1 cup flour, baking powder and salt and then gradually take turns between adding flour mixture and milk to creamed mixture.
2) Toss blueberries with remaining flour.  Stir blueberries and cream cheese into mixture and then transfer to a greased 8 inches square baking dish.
3) For topping, combine flour and sugar in a small bowl.  Cut in butter until crumbly and sprinkle over batter.  Bake at 375 degrees for 40 to 45 minutes or until toothpick comes out clean.  Cool on a wire rack.