As I told you guys last week, I have been doing quite a bit of research trying to the find the most perfect gray for our family room (I guess that is what we are calling it?) and dining room.  And by research I mean typing "best gray paint" into google and seeing what it gives me.  Apparently finding a true gray is super difficult because they all typically turn out blue or purple or green or some other crazy color when you actually put them in the wall.  I think Meg painted her bedroom Benjamin Moore's Bunny Gray and she felt like it was a little too blue.  I was really looking for a super light gray (almost white) and kept coming across the same several shades of Benjamin Moore paint.  The candidates included Gray Owl (recommended by Emily Henderson as "classic Ryan Gosling" so you know it's good), Stonington Gray, Revere Pewter, Coventry Gray, Horizon, and Tranquility.  I started out purchasing samples of Horizon, Tranquility, and Gray Owl and upon putting them on the wall, Meg and I immediately determined that Tranquility is basically the color that was already on my wall.  A nice sagey gray that just wasn't what I was looking for.  Horizon was way white and Gray Owl looked pretty darn good.  However, in true Colleen form I can't be satisfied until I research ALL of my options so I went back to Blackhawk Hardware and purchased samples for Stonington Gray and Coventry Gray (used in that gorgeous Jenna Lyons room with the great yellow sofa).  I was intending to purchase Revere Pewter but it was lookin real beige on the chip so I vetoed immediately.
After determining that Coventry Gray looked baby blue on our walls, the finalists were Stonington Gray and Gray Owl.  I was seriously agonizing over the decision until I finally just asked Corey what he thought and he said "um go Gray Owl because it is lighter and happier, obviously."  Obviously.
Y'all, I love it.  I am SO glad, because we literally spent all weekend painting.  Corey was the best little painter you ever did see, and he even patched these monstrous holes above our fireplace that were there from the TV setup the previous owners used.  Clearly, I need a beautiful mirror situation above our fireplace and not a TV.  So anyway, about the paint, I love it because it is light and crisp and airy, but still has a nice contrast with the moulding.  I would highly recommend it.  However, I think that you should definitely buy samples so you can paint swatches on your walls to find your perfect gray because some people have found Gray Owl to be too blue or too green.  Who knows.  Here are some more rooms with Gray Owl just bein real good lookin.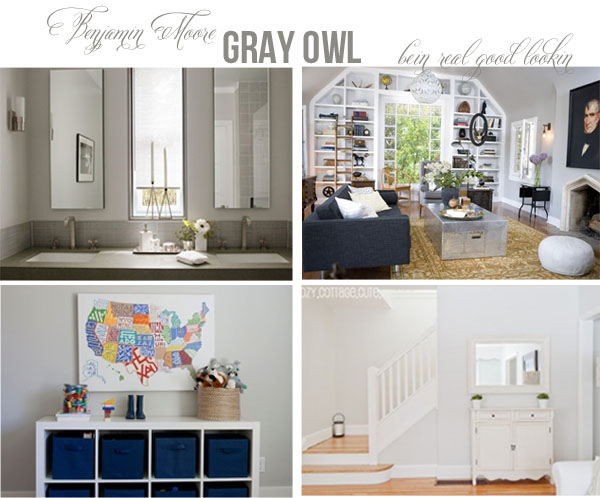 Image Credits : One  Two  Three  Four