First off, I am a little fuzzy on whether the correct spelling is "mantle" or "mantel" but I feel certain y'all know what I am referring to.  My fireplace has a very deep mantle that is also practically the first thing you see when you walk in my house so I always feel a serious pressure to make sure it looks good (not that anyone sees it except my cats, but still…).  Every year after the holidays, it looks very sad once I take my Christmas decorations down and I always struggle to figure out how to re-style it.  I am no styling expert but I typically know what I like when I see it so what I generally do is gather a bunch of crap I already have and try out different things until I am satisfied with how it looks.  I thought it would be interesting to take pictures as I went so you guys could see all my arrangements and help me decide which is best.
Yes, I left my Christmas wreath up.  I really like it and was hoping that I could get away with it as an all-season wreath. Right?  I also really want to use the gold mirror that I bought recently from an antique mall as well as my 2 cloches so you will see those feature in almost all my arrangements.
Switched it up just a bit by adding the picture.
Maybe a little color?
Three frames.  Hate.  This is right next to my gallery wall and this arrangement made this room look like the place where frames go to die.  No thanks.  Also I took down my wreath just to see and I felt like the top of the mirror looked sad.
I was trying to use my fancy old timey scales of justice but I am not sure they belong here.  To me this just looked crowded when I put them on something, they were too high.  When they were in front of the mirror without something behind them, they looked kind of weird.  I feel like it was either the mirror or the scales and I liked the mirror here more.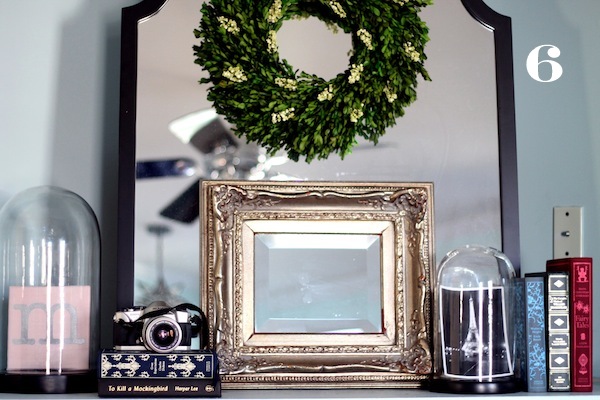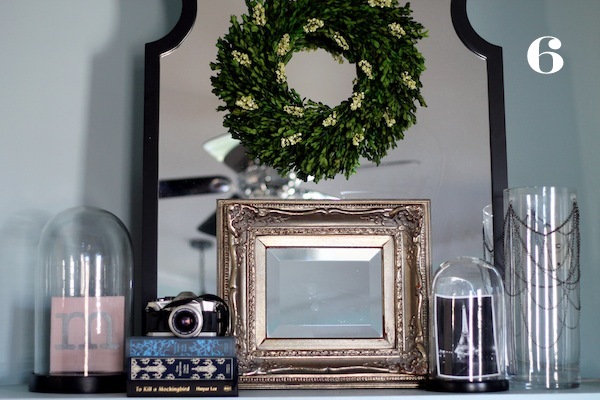 So, in the end I think I like number 1 and number 7 best.  What do y'all think?  Do you have any favorites?  Is there a better arrangement that I didn't try?