So we finally put up our Christmas tree this weekend and it is real pretty (but kinda smushed in beside where my table usually goes).  I always have this internal debate with myself about when we should get it.  Everyone goes right after Thanksgiving.  But if we do that, it feels like the tree gets all old and dry and less pretty, which is not what I want to happen.  So we wait until a couple of weeks later.  But then I start to have anxiety about the fact that I am missing out and everyone else has their tree. Does anyone else go through this or am I just crazycakes?  Anyway, so we just put up our tree, but with my attempt to keep things streamlined, I haven't really done any Christmas crafts yet.  Lucky for us, all the other bloggers have been out being geniuses (genii??) so we still get to benefit.  Here are some of my most favorite Christmastime crafts from around the interwebs.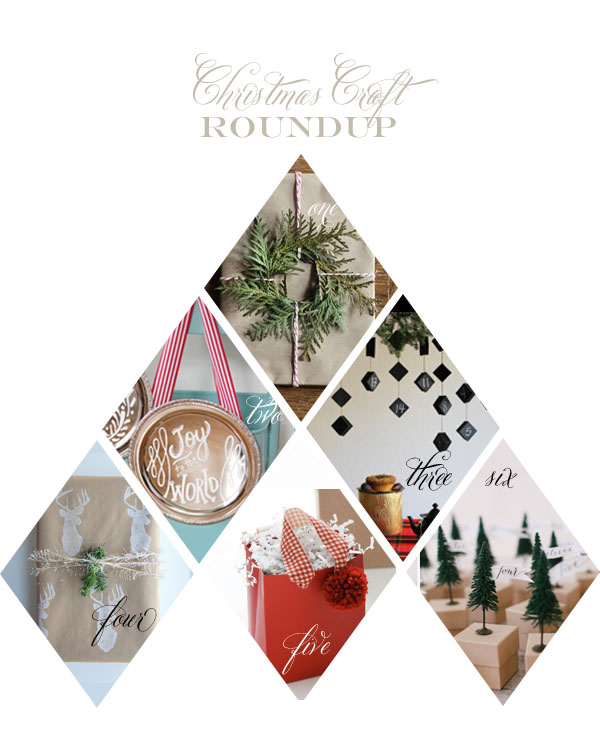 1) Love this idea of creating a mini-wreath to spruce up your gifts.  Green makes everything better I think.
2) Heather from the Lovely Cupboard made these festive holiday plaques which are fun but still classy.
3) This hanging chalkboard advent calendar from Hank and Hunt combines my most favorite things.  Chandelier like properties, chalkboard, and a place to stuff chocolate that I will eat later.  Will 100% be making this next year.
4) I'm going to be honest.  I don't think I'm quite capable of carving this genius stag stamp for wrapping purposes like Chelsea from Poppytalk, but I can still ogle the gorgeous images.
5) As always, Ez from Creature Comforts is bringing it with the pretty.  These little fabric handle gift bags are such a special touch.
6) I feel certain everyone has seen this mini-tree advent calendar from Oh Happy Day, but it seemed like a crime not to include it.  And the little car with the tree on the top?  Just stop.