I have one spot in my house that I have been having some difficulty finding a Christmas decorating direction for.  I decided that it needed a piece of Christmas artwork instead of another figurine or sparkle house. (My sparkle house collection has gotten a little out of control, y'all.)  As I have previously mentioned, I am a nut for typography art.  I decided to use my typography canvas DIY technique and take it up a notch by making it sparkly and lit up for the holidays.  I am sure many of you are familiar with this DIY  that has been floating around the interwebs for a few years now.  I borrowed their idea and altered it to fit my needs.
What you'll need:
– blank canvas- I used a 14X14
– spray paint- For your main canvas color.  I would suggest a darkish color for this to provide greater contrast for the white letters to stick out.  I ended up thinking the pink was a little too light, which is why I outlined my letters in black.  If you picked a dark enough color, you could skip this step.
– Cardstock and printer- For forming letters.  You could also use pre-cut sticky letters if you would like
– A strand of white lights- make sure there are enough individual bulbs on your strand to fill out the letters with lights.  I calculated how many holes each of my letters would need and purchased accordingly.  I needed around 80 little lights on my strand.  I think most regular lights strands would do.
– A drill with a small bit attached.  You will just have to measure based on how big the heads of your lights are.  I started small and worked my way up with the bits to make sure the hole wasn't too big.  I have also seen people say to use an awl to poke through the canvas, but I don't think I have one of those.
– Spray adhesive
– Craft glue and paintbrush for glue
– Glitter
– Paint and a stiff paint brush or a q-tip- Only if you end up outlining your letters too
What you'll do:
1.  Print out your message on the card stock.  You can figure out how to make your own by experimenting with how big the font needs to be.  Or you could just use our template and print out.  Remember my canvas was 14×14 so the letters were made to fit a canvas around that size.
Cut out all the letters you have printed.
Lights All Aglow template- lightsallaglow8.5×11
2.  Lay your letters on your canvas to figure out around where you want to glue them.  Use your spray adhesive to spray the back of the letters and place them on your canvas, making sure to push all parts of the letters down.  Sometimes it is easier to let the letters dry for a few seconds and get sticky so they stick better.  Let dry for about 15-20 minutes.
Once dry, use your spray paint to spray over the letters and cover your canvas with the main cover.  Let spray paint dry.  Remove your letters.  They can be a little sticky and leave a residue but this doesn't matter.  At this point, your letters should be white and your canvas your spray paint color.
3.  Take your drill or awl and poke holes in your letters.  I kind of determined how many lights each letter would need and tried to be consistent with the same letters in the message.
4.  Now it is time to paint and glitter.  Like I mentioned earlier, outlining the letters is optional.  I only did it because I felt like the lettering needed more contrast to show and the pink seemed a little too light.  If you use a bright color as your main color, this would not be an issue.  If you do want to outline, I used a q tip and black craft paint.  Then I realized I didn't like how thick the line was with the q tip and switched to an old crusted paint brush that made it easier to make a thinner line.  I also thought about using a sharpie but didn't have one.  Let paint dry completely.
5.  To glitter, I used glittering glue because I had it, but craft glue or elmer's would probably work fine.  I used a paint brush and painted along some lines I had sketched with a pencil to make the shape around the wording where the gold glitter is.  I then filled in the rest of the space I wanted glittered with the glue.  After I applied glue, I went to town with shaking glitter all over it until my glue was covered.  Let dry completely and shake or blow off excess glitter.
6.  Now you can begin inserting your lights on your strand through the holes coming from the back of the canvas.  I would recommend applying some glue to the holes before you put each light through.  This way, when the glue dries, it will help the lights stay in the holes.  I did not do this and my lights have been sliding out because they are the small LED kind.  It has been fairly annoying.  Glueing them in would prevent this issue.  We apologize we have no pictures if this.  Once all of the lights have been glued in the holes, use some heavy tape like duct tape to run across the back of your canvas in rows.  This will help keep the strands in place in the back.  This will NOT look pretty, but it doesn't matter because it can't be seen in the front.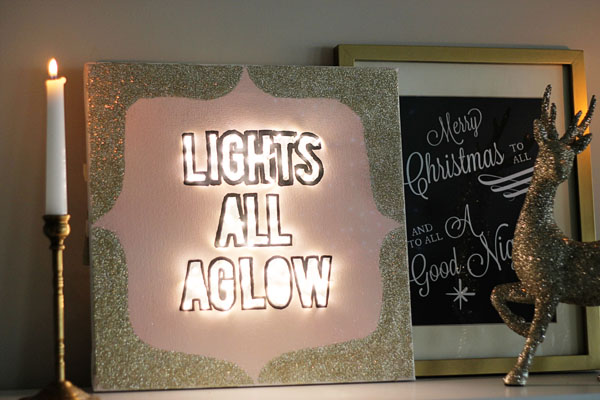 If you are dying over that "Merry Christmas To All" print accompanying the canvas as much as I am, then you should definitely come back tomorrow.  That is a free printable that my lovely sister made for everyone that we are posting on Tuesday.
Happy Monday!  Hope everyone has a wonderful week.