I have been wanting to buy a new cake stand for months.  I only have one, a clear glass one that always seems to be at Megan's house, and felt I needed a new one with a little more pizazz for when I make my valiant attempts at layer cakes (or easier endeavors.)    I was walking down the wood aisle in Michael's and realized that with the available supplies, it actually might not be that difficult to make my own.  So I decided to try my hand at it this weekend.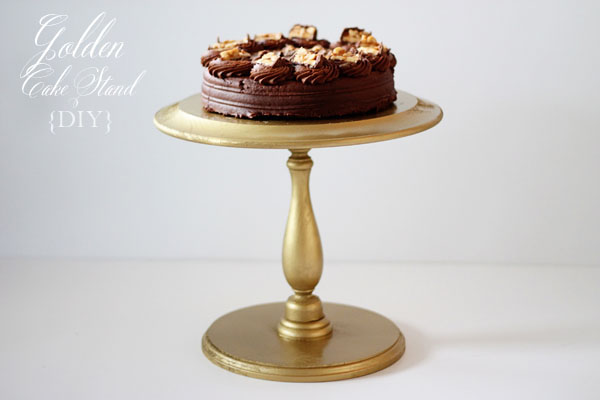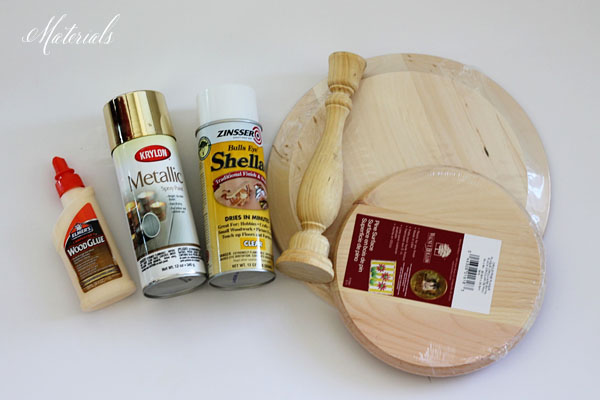 What you'll need:
– 1 large wooden plate, 1 small wooden plate, and a candlestick from the untreated wood section of Michael's.  Remember to bring a 50% off coupon for the large plate (went from $10ish to $5ish.)
– 1 can spray paint in your favorite color (I used a nice metallic gold)
– 1 can food safe shellac or other protective sealer
– wood glue
– If you're smarter than me, primer and sand paper
What you'll do:
1) Figure out how you are going to stack your plates and candlestick together.  Measure the diameter of the candlestick at the location that you will be gluing as well as the diameter of the plate, and then work your way in both vertically and horizontally on your plate surface so you can mark the outline of the candlestick on the plate.  You will want to do this on both the (bottom of the) top and (top of the) bottom plate.  This is considerably less confusing than what I just wrote.  Sorry guys.
2) There is a metal insert on the candlestick which is not the ticket for making the wood surfaces flush.  If I were at my dad's house, I would have used super fancy tools to saw this part of the wood off the way it probably should be done.  Instead, I used the biggest scariest knife I had to bring the edge of the metal insert up and slice it off.  See the beautiful result in the third picture.  Once your wood surface is pretty even, put a layer of wood glue around the edges and press firmly on the plate within the marked area.  Hold in place for 30 minutes to allow the glue to dry.  Repeat this step (minus the metal sawing) with the bottom of the candlestick to the bottom plate as well.
3) So if you want to be smarter than I was, you could sand and prime the wood to cut down on spray painting time.  Or, you could spray approximately 57 coats of gold paint like I did.  Either way.  Be sure to let the coats dry in between, and then spray on the protective finish.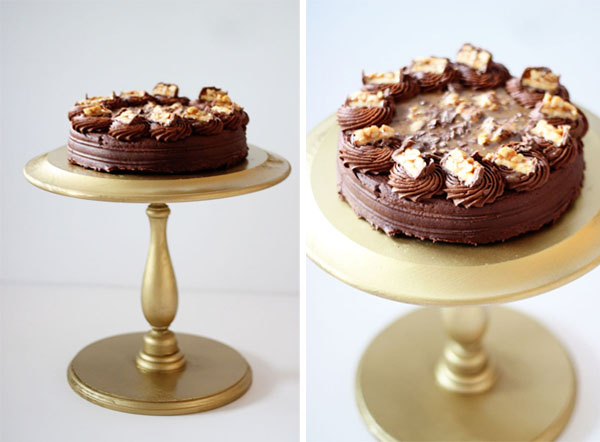 Not quite Martha, but I really like it and am excited to use it for all of the holiday baking coming up.  The fun thing is you can spray paint it any color you want without fear of messing it up.  Oh, and also, that cake is from a lovely little bakery by the name of Target.  Gotta keep it real around here.