Hi everyone.  We know you are probably super sick of hearing about Harry at this point but we felt funny about letting him go without spending some time talking about HOW we created him.  I always like to know how something was made when I see a finished product and we figured some of you might too.
1.  The walls – Colleen bought a roll of Flagstone Patterned Gossamer from a company called Shindigz to cover the walls after she saw it used in another Harry Potter party.  This made a HUGE impact in person.  We saw some cheaper options but they were all made of plastic and didn't seem up to par.  This was actually a thin fabric that was almost see-through which really helped it blend into the walls.
2.  The floating candles – We bought 24 battery operated candles off of Ebay because they were the cheapest option we found.  We got 12 for $30 and each bought a set.  The company who makes them is called Darice and the ones we bought were 6 inch candles and actually flickered like real candles.  We decided to position them around my chandelier so it would take up more ceiling space and appear more significant.  We used small clear command hooks on the ceiling and fishing line attached to the top part of the candle to hang them from the ceiling.  The fishing line pretty much disappeared when it was darker in the room.  The most annoying part was having to buy 48 batteries to make them work.
3.  The large portraits on the walls – I had several big empty frames and we wanted to find some images online that we could blow up and stick inside.  This was easier said than done, and Colleen finally found an art website that had larger jpegs, sized at least 1200 x 1200 pixels (which is essentially 4 inches by 4 inches in a good resolution.)  I measured how large the frames were and she resized the images on her mac to fit the frames (email if you are doing this and need help.)  We took them to Staples and had them printed as black and white engineering prints, which is significantly cheaper than color. It was less than $10 to print all 4.  We then used double sided tape to attach them to the inside of the frames.
4.  Snapes Potions Book –  This was really the centerpiece of the Potions area and I thought made things much more realistic.  Colleen shared the printable she made for the book last week.  Just print that puppy out and use a large hardcover book that you don't care about anymore (I used an old Biology book).  To make it look older, I spray painted the front cover of the book with black, and used watered down gold and brown paint to paint the edges of the pages.  I them trimmed the printable down slightly to fit the book and used plain old glue to insert the pages.
Polyjuice potion – So easy that it almost isn't worth mentioning but our "potions" were just food coloring in water.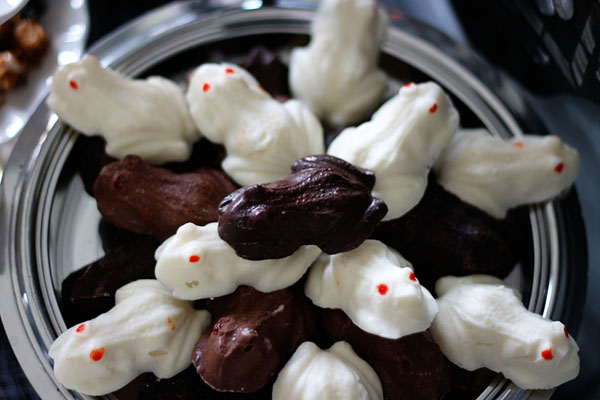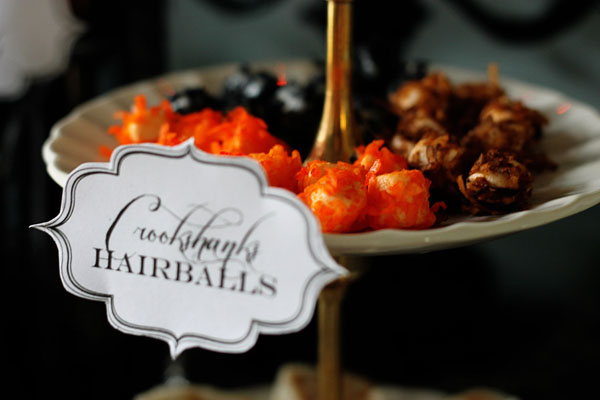 5.  Honeydukes Sweet Shop – We just used glass containers we already owned and found candy that would fit the known candy from Honeydukes.  We splurged on some real "Bertie Bott's Everyflavored Beans" from Amazon because it seemed completely necessary.  We bought this frog candy mold for our chocolate frogs because buying the "Harry Potter" chocolate frogs was ridiculously expensive.  Then we used Colleen's printable for the labels.  Mrs. G (Colleen's mother-in-law) then made the chocolate frogs in white chocolate and milk chocolate as well as the Hufflepuff Pinwheels and the Crookshanks Hairballs which were marshmallows with dyed coconut attached.  They were pretty awesome.
6.  The Bathroom Dementor – Was an old skull that I had attached to the stick of a broom.  I used a stick from outside and stuck it through a hole in the top of the broom to create shoulders and then took a sheer "Creepy cloth" like what you find at Target and draped it over his face.  I then put an old cheapy hooded cloak from last year over his head.  Once I tied his tie around his chin he looked pretty good.  We actually bought nothing to make him because we were feeling very cheap at this point.  The breathing sound we bought on itunes and played on repeat on Colleen's ipod and her portable dock hidden in the shower.  We also wrote "Expecto Patronum" on the bathroom mirror for an added touch.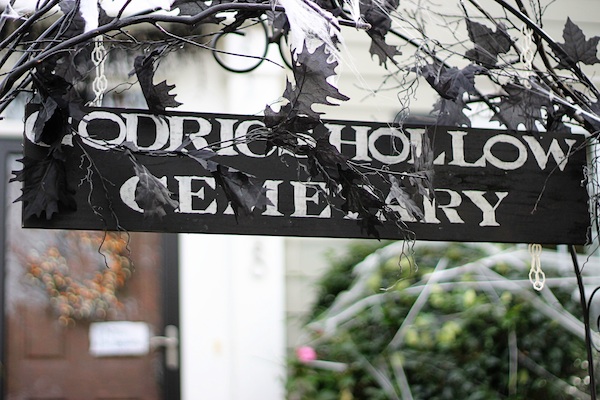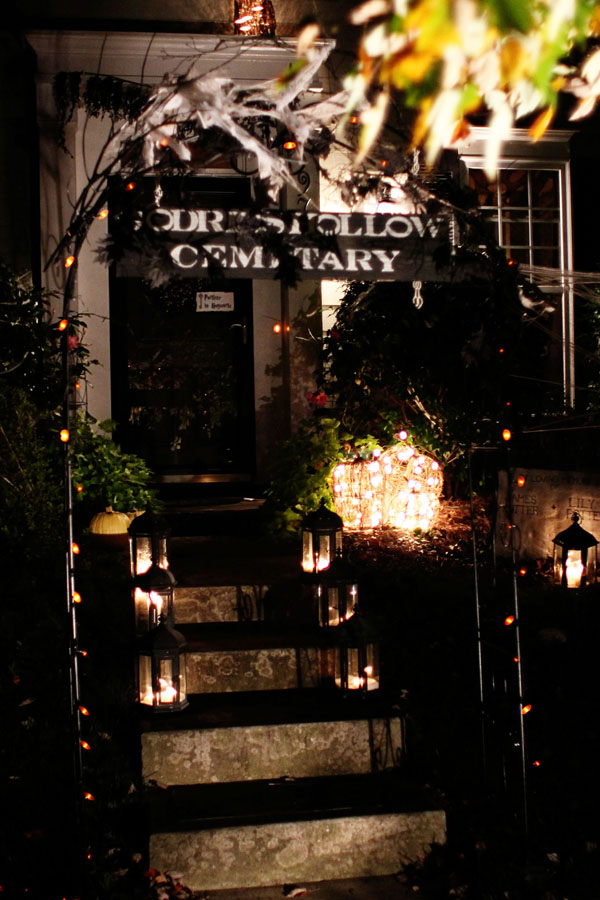 7. Godric's Hollow Cemetery sign –  I bought the archway from Lowe's on clearance at the end of the summer ($30, originally $90) and then I made the wooden sign by using stenciled letters that I printed out on cardstock like I discussed here.  I stenciled them on a wooden board that I purchased at Lowes and had them cut to size for me.  I hung it with a chain and attached sticks I found and sprayed black, spider webs, etc. to make it look spooky.  I also wrapped a black leaf garland from Party City around it.  I wrapped some subtle orange lights around it to make sure it wasn't so dark.  The lanterns lining the steps were leftover from Colleen's wedding.
Colleen shared some other details including drink recipes and most of her printables in this post.
Pretty much all of the other decor items were things we owned already like antique items that I have collected along with some dollar store birds from last year; lots of pumpkins and black candles, and other items that seemed "old" or "spooky."  One can also never underestimate the power of lots of draped and holey cheesecloth and black and gray "creepy cloths" that are available everywhere during the Halloween season very reasonably.  I would say Party City has the best selection in our area.
If anyone has any other specific questions to ask or printables that you noticed at our party that Colleen did not post, feel free to ask.  And that will conclude posts about our Halloween party.  Most likely.  We promise.
Harry Potter Halloween Party Part 1
Harry Potter Halloween Party Part 2