As we've already said (probably too many times), we think one of the easiest ways to make an event special, or in the case of a Harry Potter party, authentic, is with good signage.  I spent a ridiculous number of hours over the past month making all of the signs for the party, from the Honeydukes candy labels to Snape's Potions book.  I would hate for them to just sit on my computer now that the party is over so I picked some of my favorites to give to you guys as printables (because if I posted them all you would be asleep by the end of the post.)  Many thanks to the incredible Graphics Fairy.  Her blog is a fantastic source and I used it for some of the clipart, such as the skull on the Dark Mark Cocktail sign and the key on the Portkey sign.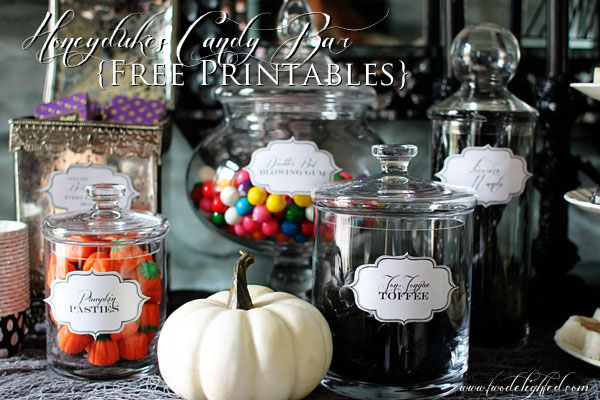 Honeydukes Candy Bar Printables:
I included labels for all of the candies we used in our candy bar, including Ton-Tongue Toffee and Bertie Botts Every Flavored Beans.  Print them on 8.5″x11″ cardstock, cut out, and use as you would like.
Honeydukes Candy Bar Labels Printable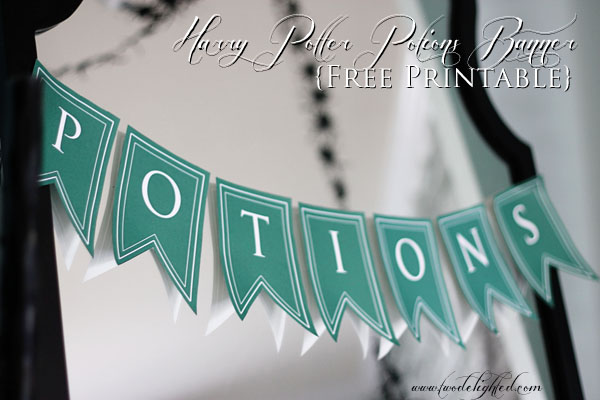 Potions Banner Printables:
This printable comes in four pdfs, with two letters on each.  Download and print all of them on cardstock, cut out, and then tie the letters together with string or ribbon.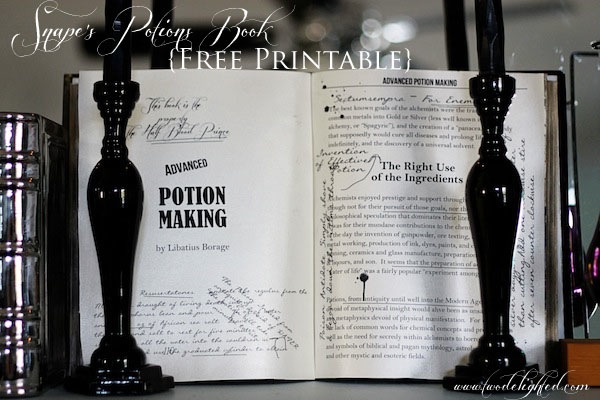 Snape's Potions Book Printable:
We wanted to make the mantle over Megan's fireplace our "Potions Classroom," and realized that to have a classroom you really need a book.  So I designed two pages to look like the inside of Snape's potions book.  I took special care to include "Sectumsempra" and "This book is property of the Half Blood Prince."  However, I can't vouch that all of the text will make sense because I kind of got to babbling random nonsense.  But it looks cool though, right?  Print both sheets on 8.5″x11″ and then glue (or tape) into the inside of an old book.  As long as it stays open, no one will be the wiser.
Portkey to Hogwarts Sign:
You might remember from our second party post that the front of Megan's house was actually decorated as Godric's Hollow Cemetery, while the main room inside was Hogwarts.  If you are crazy like we are, you might take issue with the fact that that is not possible in terms of the Harry Potter world.  Godric's Hollow is no where near Hogwarts!!  So to make it a little bit more realistic, we made the front door a portkey.  Working too hard?  Probably.  Cute nonetheless.  As with the others, print on 8.5″x11″ cardstock.
Butterbeer Sign:
To spice up our drinks stations, I made signs for each of the cocktails and we then put them in 8×10 frames.  Pretty frames make everything better.  The butterbeer was a huge hit and was completely delicious.  We used this recipe.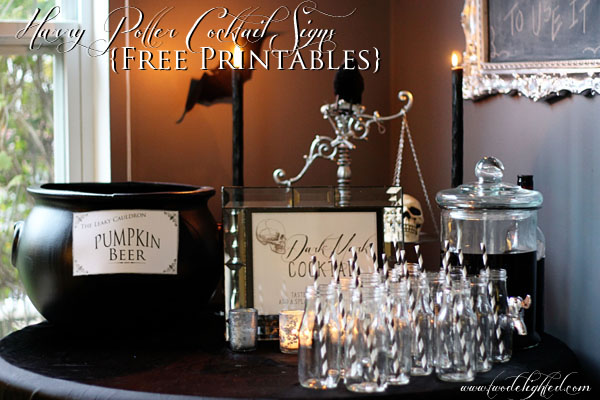 Harry Potter Cocktail Signs Printables:
Just like with the Butterbeer sign, we place the Dark Mark Cocktail in a frame as well. For the Dark Mark Cocktail, we used this recipe from Martha and then placed in a glass dispenser, but you are welcome to use whatever recipe you would like.  The Pumpkin Beer sign is a little bit smaller than the others, which is better for sticking on the outside of a container.