My lovely husband who is quite the film aficionado wanted to make you guys a list of his top 10 horror films. My apologies for any nightmares you guys have as a result of these.  Particularly the Descent, which makes me want to hide under the covers.
When I overheard Colleen and Megan discussing a top ten list for Halloween movies, I hijacked their idea and told them that I would handle this one.  Anyone that knows me knows that I live for movies.  Not only do I mark my upcoming calendar for when movies will be released in theater, but I also usually associate my memories with what movie I watched that day.  For instance, the day I asked Colleen to be my girlfriend, we were watching Lord of the Rings:  Two Towers.  You would think that I would like this movie since it is associated with such a good memory, but no, that could not help it.  Anyways, I love the horror genre and consider myself a bit of a scary movie snob, and am therefore quite knowledgable in this category.  I had to take it upon myself to prevent Colleen and Megan from contaminating the list with happy and fun Halloween movies (i.e., Hocus Pocus). Editor's note: Hocus Pocus is awesome.  So if you are looking for a movie to terrify you, you are reading the right list. I present my top ten.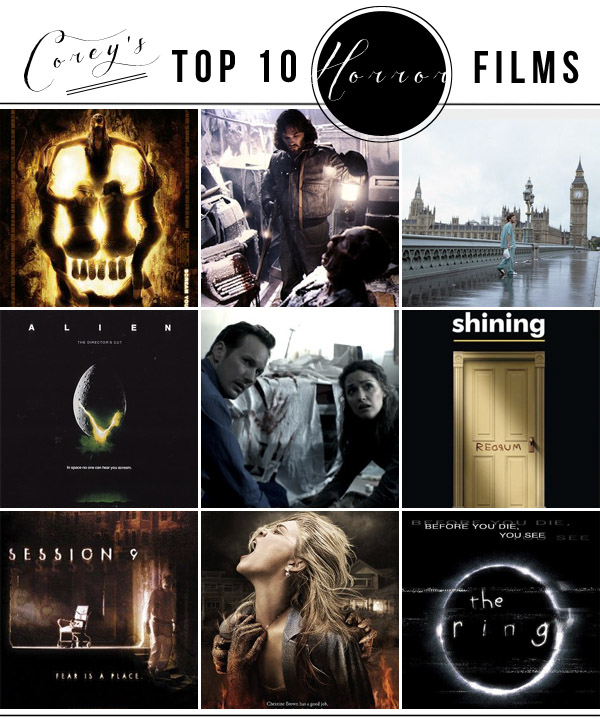 All images from IMDB
1.  The Descent – I did not know what I was getting into when I first started watching this movie.  This slow burner really speeds up in the 2nd half, if the 1st half does not already have you paranoid enough.  Editor's note: This is my favorite horror movie.  I was shaking in the theater.  I loved that it was a psychological thriller as well as a gory monster movie.
2.  The Thing (1982) – This would be considered one of my favorite classic horror movies. if you haven't seen it, SEE it; plus its got Keith David.  Look him up.
3.  28 Days Later – A personal favorite of mine (on my all time top 10 movies list).  An added bonus is that its got Cillian Murphy who is one of our favorite actors.
4.  Alien – Your classic slasher flick put into a space setting with the monster being an alien.  This movie does not go wrong.
5.  Insidious – The newest movie that is on the list.  I have only seen it once, but boy was it terrifying.  Director James Wan really knows how to make original (not recycled) horror movies.  Other movies by him include Saw and Dead Silence.
6.  The Shining – Who hasn't seen this?  The setting alone is enough for me to say "no way."  I mean would you spend a winter with only two other people in a giant, old mountain resort in the middle of nowhere?
7.  Session 9 – Remodeling a closed down/abandoned mental hospital, what could go wrong?
8.  The Brood – First let me say this is a David Cronenberg film, so it may get a little weird, but if killer children freak you out, then get prepared.
9.  Drag Me to Hell – Saw this with my sister in theaters and I think we were shielding ourselves from the screen a majority of the time.
10.  The Ring (2002) – I have a feeling that most everyone has seen this one, so I don't really need to say anything about it (dead body in the closet).
Honorable Mentions:  30 Days of Night – (Josh Hartnett fights vampires); Texas Chainsaw Massacre (2003) – (Meat hooks!!!); House on Haunted Hill – (Crazy ghost doctor); Spoorloos (The Vanishing) – (Terrifying for anyone who is married or has a significant other); Martyrs – (This is not in the top ten because I have a feeling that most people could not stomach this, be careful if you choose to watch this.)
Thank you, I expect to take control of all movie posts in the future.  If Colleen and Megan sneak one in without my approval, I expect people to stick by me and boycott.