One day, I was casually browsing Anthropologie's website, as I have been known to do, when I noticed a pretty fantastic looking vase.  And then I noticed that the price was $198 which puts it about 10 times outside of my price range for vase purchases.  When I looked closer at it, I thought to myself, "Why Megan, that looks like tiny command hooks with chains hanging from them.  I bet I can figure out how to hang chains from a hook."  I sent the link to Colleen and we decided to give it a go.  To be clear, we know that Anthropologie's version is probably a fancypants blown glass vase with blown glass hooks and million dollar beauty chains and that is why it is so expensive.  Ours is not quite so fancy.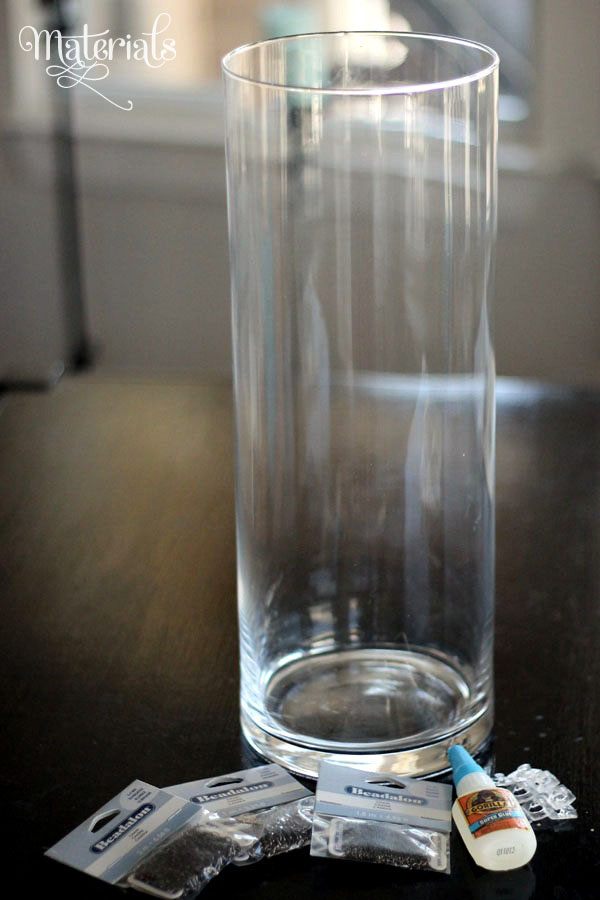 What you'll need:
– A glass vase- mine was purchased from Homegoods for $10
– Chains- I purchased mine from Michael's and they were made from a company called Beadalon.  They were 3.7 MM Figaro,  2 3.4 MM Elongado, 5.1 MM Stamp chains.
– Jump rings- I bought a little pack of varying sizes.  These are also in the jewelry section of Michael's.  Some big and some small.
– Super glue- I used Gorilla glue
– Tiny command hooks (3)
– Tweezers
What you'll do:
1.  Place glue on the back of each command hook and place them along the rim of the vase about an inch down at about equal distance from each other.  I had to hold each hook in place for 30 seconds to a minute before they would stick.  Then let all hooks dry completely.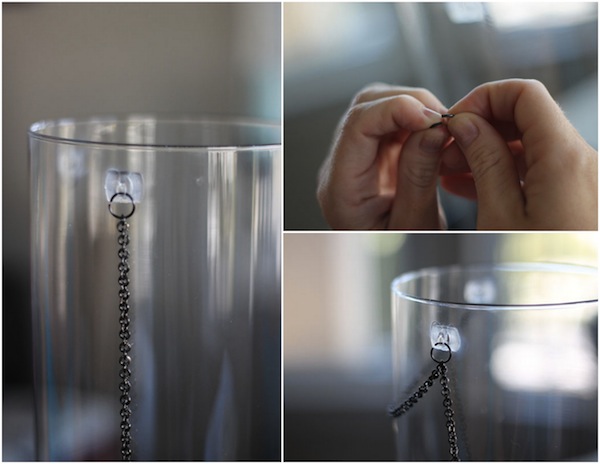 2.  Take 3 large jump rings, open them slightly by pulling, and hang one from each hook.  Place the end of a chain on one jump ring.  Being cognizant of how long the chain is and how low you want it to hang down, swag the chain around the vase and attach a link to each ring as you go until you run out of chain.  The first chain I used was the shortest and I was able to get all the way around with a little left over.  I used the spare section and attached it using a small jump ring to part of the chain that looped down.  This may sound difficult but it is demonstrated below.
3.  Continue with each new chain by attaching it to a large jump ring in the hook and swag it around in different lengths, attaching links to large jump rings as you go.  I also continued to attach sections to other parts of the chain with small jump rings as well.  A few small sections that were leftover I just let hang down unattached at the ends.
4.  Go through and close up all your open jump rings.