In our original inspiration board for my wedding, we had this image pinned.  Because can you really ever have enough sparkle lights and/or mason jars in your life?  The answer is no, obviously.  Since we weren't able to use the idea for decor at the wedding, we decided that we must use it for Lindsay's shower, regardless of the theme.  Luckily, the whole Cape Cod idea went right along with our mason jar sparkle light action.  Stain the jars blue and throw some christmas lights up in there, and voila, instant centerpiece with no need for flowers.  Also, since I still had a bunch of mason jars laying around, this project was free.  Yay for free.  Towards the end of the night, when the lights in the room went dark, our little centerpieces created quite a bit of magic.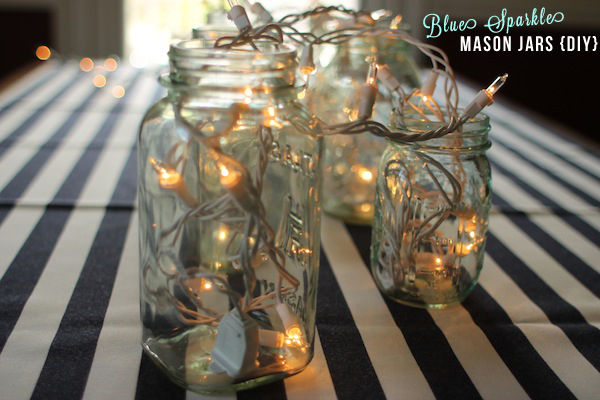 What you'll need:
– Mason Jars (obvs)
– Mod Podge
– Blue food color
– Christmas lights
– Sponge paint brush
What you'll do:
1) Mix 1 teaspoon mod podge, 1 1/2 teaspoons of water, and 3 drops of blue food color.  For some of the jars we tried to add more blue food color and there wasn't a huge difference.
2) Use spongey brush to paint the mixture on the outside of the jars.  Work quickly so paint doesn't dry before you finish.  To be honest, I'm not sure you could mess this up.  I was slow as molasses and not very thorough, and my jars turned out the exact same as Megan's.  Let dry.
3) Set the mason jars on the table, varying sizes if possible.  Stick some christmas lights in there.  Plug in and marvel at their beauty.