When Colleen and I saw the fantastic tent featured in Anthropologie's latest catalog, we knew it would be fun to plan a pretend party around it.  The party will obviously have to be pretend because we surely don't have the 9 grand it would cost to purchase it for an actual party.  So while we are pretending, we figured we should just go ahead and let ourselves go bananas with our fictional bank accounts.  This is our beach party for millionaires.  We are renting out a private beach in Bali as our setting.  Sound good?  We thought so.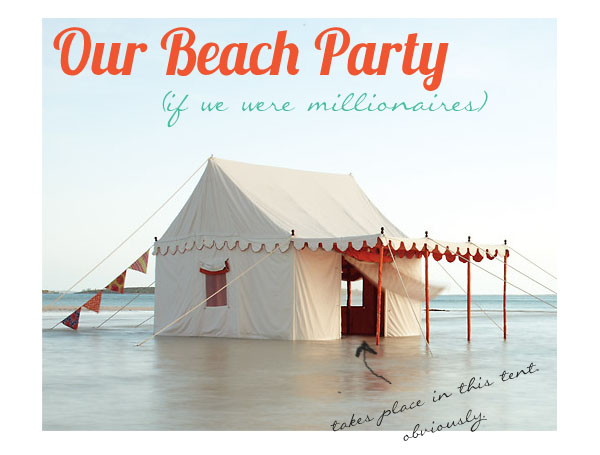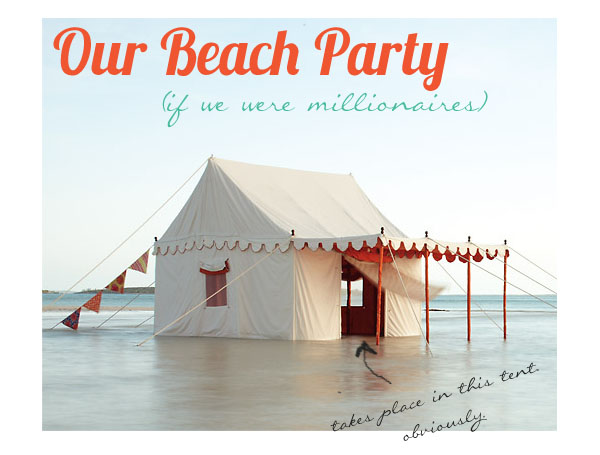 Super dreamy Anthropologie tent .  Please do not neglect to call us if you are thinking of purchasing this tent.  We are coming to live with you.  Tomorrow.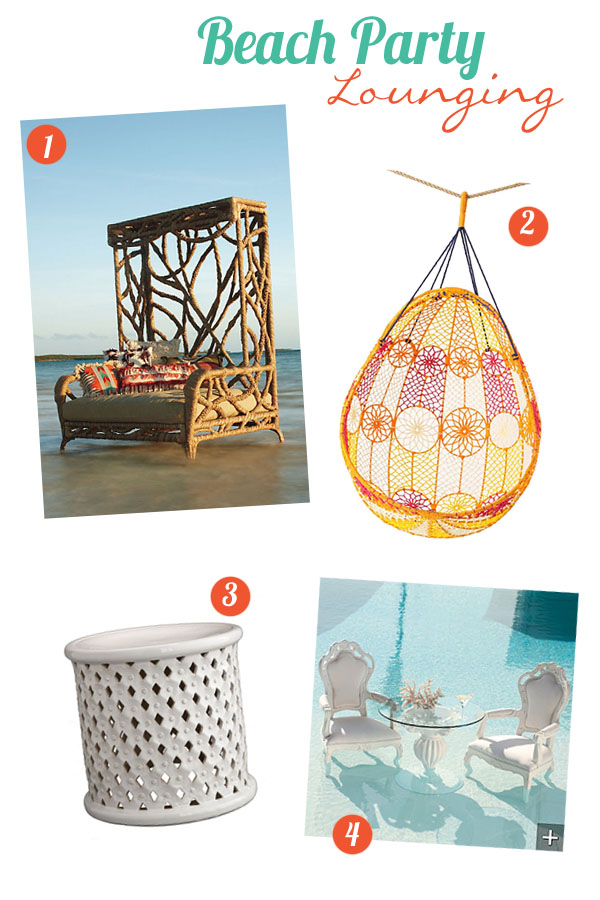 1.  Manzanita Bench.  For snuggling up with wealthy suitors and gentleman callers.  Go ahead and spill your red wine. We'll just buy a new one.  We're millionaires.
2.  Knotted Melati Hanging Chair.  You surely can't have that tent without having this swingy chair.  Times 20.
3.  Diamond Pattern Stool.  For placing cocktails during conversation.
4.  Donatella Outdoor Collection.  Millionaires need fancy Frenchy looking chairs at all times.  Actually, so do I.
5.  Gold Flatware.  Millionaires like gold things.
6.  Cascade Chandelier.  We would have these hanging around throughout the ceiling of the tent.
7.  Trina Turk Flanged Outdoor Pillows.  Strewn about on each chair and lounging area.  Millionaires need comfy pillows.
8.  Newport Coper Bowl.  On each table with beautiful ripe tropical fruit.
9.  Goodly Whale Bottle Opener.  Not strictly for millionaires but too cute not to add.  Great little present.  Go buy one quick.
10.  Mod Dot Setting.  At each place setting.  Because millionaires need to have plates that match their tents.  Duh.
Excellent.  I'm glad we got that worked out.  Now we just need to develop a plan for making our millions.  Any ideas?