As I have mentioned previously, I have recently been trying to decorate my bedroom.  Right now it is white and black and gray all over.  Boring.  I have also added a few subtle pops of emerald and blush pink.  Next up I want to paint my dresser (not shown below but it is currently white) green and reupholster the ottoman that sits in front of my bed.  I have been looking at fabrics and have been having a little bit of a difficult time finding the colors I want.  I went into Calico Corners a few months ago and saw that they had a new line by Charlotte Moss and the colors were exactly what I was looking for.  Now I just have to decide which fabric I want to use.  I think I want to trim the ottoman in emerald green and add buttons and tufting when I complete it.  Here are my fabric options that I have at this point along with pictures of my bed and wardrobe.  The green color in the option shape is the color I am thinking of for my dresser.  I am thinking that I want the fabric to be a nice pop of color as the rest of the room is so neutral.
 Option 1 is a nice colorful paisley print.  I am infatuated with paisley.  My only concern about this one is it being busy with the trellis print on my dust ruffle and shams.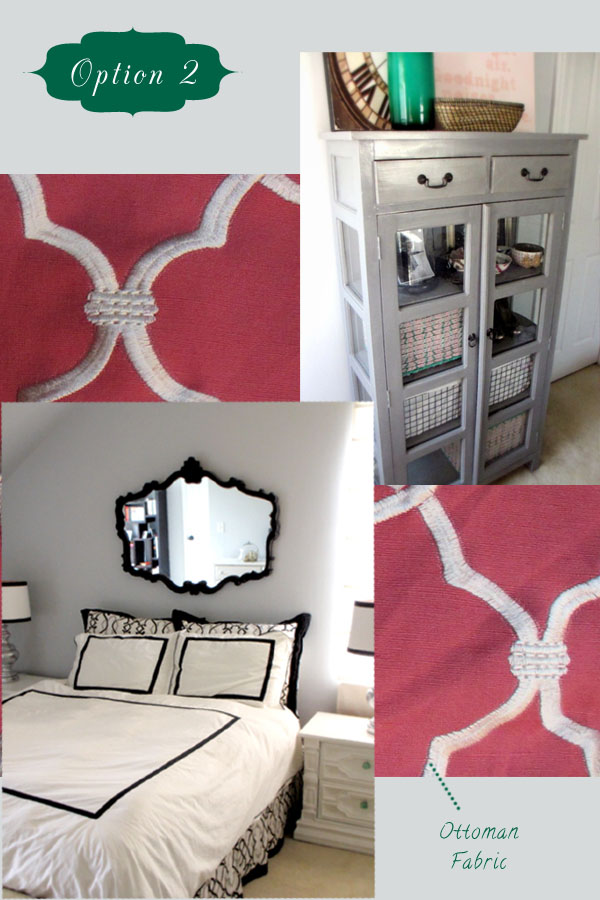 I like that this one is a nice bright color and I like the quatrefoil print but is it too close to the trellis look I already have?
Wide stripes are classic but is it too boring?
 Same thing with this one except it is even more neutral and soft.
What do ya'll think?? Which fabric will look best on my ottoman?  Do you guys know of any other fabrics I should be considering?