Lately I have been obsessing over baby's breath.  In particular, I have been ogling baby's breath wreaths that are so popular in the wedding blogosphere.  Although I surely have no weddings to speak of in my immediate future, I thought to myself, why can't I just have one for purposes of beauty in my house?  So I proceeded to make one.  It was quite an easy project and only took about an hour or so from beginning to end.
Let me begin by saying that if you are worried about making your baby's breath stay alive, you may want to use a soaked floral foam wreath and insert the baby's breath in the foam like this tutorial from Martha and then refrigerate.   I made mine with the purpose of letting it dry out for use over an extended period of time.
What You'll Need:
1) A wreath form.  I use a styrofoam form that was between 11-12″ in diameter.
2) thin wire or floral wire
3) Ribbon for hanging your wreath
4) Snippers for snipping
5) Baby's Breath.  I used two types.  One has tiny little flower heads and is more green.  One had big, fluffy flower heads.  All in all, I used 3 packages of baby's breath from the grocery store to fill in my wreath.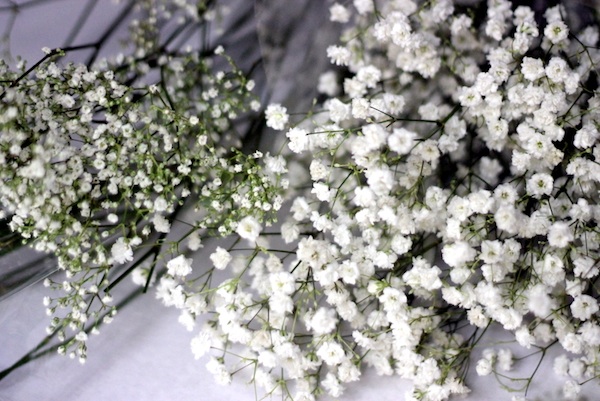 What You'll Do:
1) Snip some pieces of wire that are long enough to wrap around your wreath form.
2) Snip off little sprigs of baby's breath, making sure to leave the stems attached and at least a few inches long.
3) Start to place the sprigs in the wreath.  Make sure to both cover the wreath form and also have baby's breath hanging over the side.  Because I knew I would have to do two layers, I started with the smaller baby's breath.
4) Once you figure out where you want a few sprigs to be placed, take your wire pieces and wrap them around the stems and the form, twisting tightly at the back of the form to attach.
5) Work your way around the wreath until you have completed the first layer.   
6) Start your second layer by beginning in one area and adding more baby's breath to fill in empty spots and add more depth to the wreath.  I used the bigger fluffier baby's breath for the second layer.  I was frequently able to use the wire that had already been attached for the second layer.  I did add some extra wires when needed, but I tried to place them under the other baby's breath.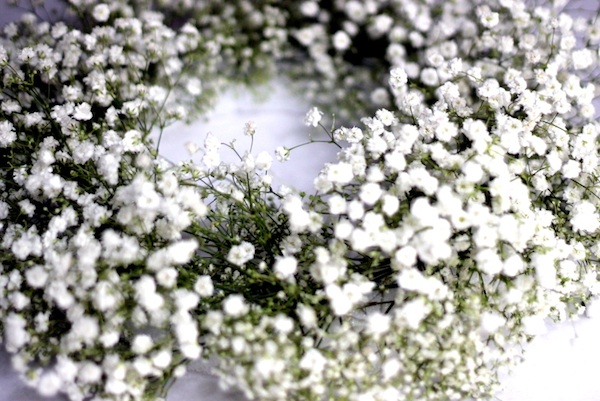 I used my ribbon to hang the wreath.  I also used double sided tape to attach a chipboard "m" to extra ribbon that I attached with tape down the middle of the wreath.  Does that make any sense at all??  Oh well, I bet you'll figure it out yourselves.  You're smart.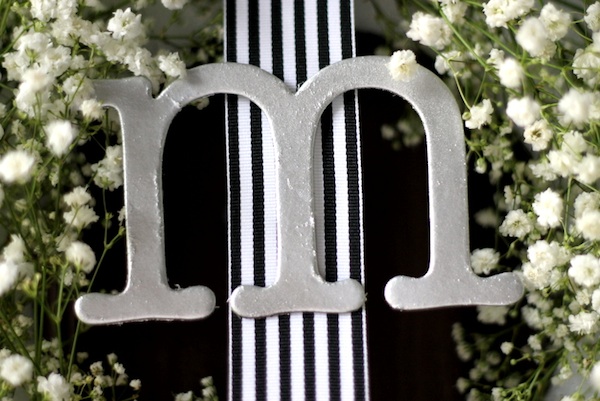 To keep the wreath filled in, I intend to add more baby's breath as it dries out to fill in any gaps that form.  I will let you know how that goes by updating this post later.  It has only been 24 hours and I can tell that it already started to dry some due to the heat outside, since I placed it on my front door. Hopefully, my pretty little wreath will still look good when it's dry.
*UPDATE*  I have been feeling guilty about not updating this for anyone who is curious so I figured I should do it.  Mrs. Limestone, I would say that if you want a fresh and new looking wreath for awhile, you should go with Martha's method.  I made a big mistake with my wreath when I put it on my front door, between the door and the storm door, because I basically cooked mine with heat.  Ooops.  It still looks good, but as I suspected, the baby's breath shrinks when it dries and turns a more ivory color.  I essentially dried mine out on super speed.  I got some more baby's breath with the purpose of filling in my wreath but I of course have been too lazy to do it yet.  I just left the baby's breath in the guest room (out of water) and it was pretty and fluffy and fresh for about 3-4 days before it started to dry out.  If anyone does do this, I would recommend you keep it on display inside and that will help your cause alot.  I am going to fill in my wreath some and then I will try to remember to take another pic and post.