Megan and I were so excited about The Great Gatsby coming to theatres later this year that we both recently re-read the F. Scott Fitzgerald classic.  We love the story, with all of its glamour and drama, and decided to use it as inspiration for a wedding story.  We apologize to Mr. Fitzgerald, but we felt it necessary to take some artistic liberties with the storyline.  In our story, Daisy and Jay obviously get married and live happily ever after.
Their wedding takes place in Jay's second mansion on the shore, a jazz band playing as the guests drive up the long and winding driveway in their classic cars.  Upon entering the extravagant foyer, they would pass all of the artifacts and art that Jay collected while longing for Daisy in their years apart.  He now displays them as a testament to their love.  The guests would be escorted through the back door to the courtyard where the ceremony will take place, and given champagne along the way.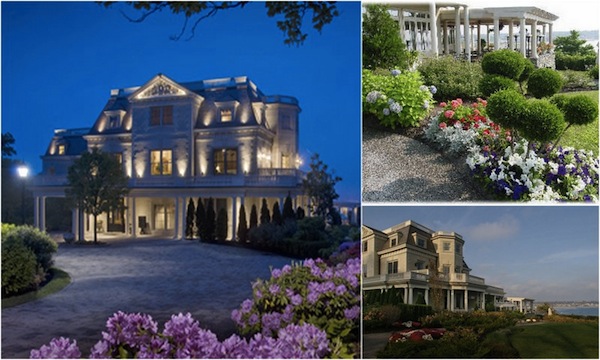 The ceremony would be in the courtyard beyond the house, with pillars wrapped in billowy fabric and gold napoleon chairs decorated with balls of babies breath lining the aisle.  The altar is decorated with extravagant crystal chandeliers and fluffy florals, and large gilded clocks are accents to the grand archways of the ceremony space.
Daisy would wear a breathtaking art deco sheath dress with beaded filigree cutaway accents, designed by the fabulous Temperley London, and comfortable enough to do the Charleston.  Her shoes would be shimmering and pink to match her lacy bouquet filled with ranunculus.  Daisy would wear her hair in loose waves, adorned with a flapper style beaded and delicately netted cloche.
Her bridesmaids would be flirty and festive with a feathered hair accessory, a swingy peach dress, and gorgeous feathered strappy sandals.  Other accessories would include a rose gold ring with a small pearl accent, gifted by the bride, and their soft white bouquets.
After the ceremony, guests would be escorted up the candle lined steps to a second tiered courtyard overlooking the ocean, and greeted by a stringed quartet to serenade the guests during dinner.  The tables are filled with luxuriant flowers and lined with gold rimmed stemware.  Twinkling lights are strung overhead, just as they were in Jay's many parties when he was trying to win Daisy's heart.
The wedding cake is elaborate with gold fondant appliques and a light pink accent ribbon lining the layers.  "Sidecars" are passed in cocktail glasses as the signature drink while guests marvel at the breathtaking views and whisper about the mystery that is Jay Gatsby.
The invitations would have a fun and carefree art deco flair, appropriately titled "Gatsby."  After a night of dancing under the stars, Jay and Daisy would make their getaway in a Model T Ford adorned with flowers in lush pinks and greens.
Image Credits:  1  2  3  4  5  6  7  8  9  10  11  12  13  14  15  16  17  18  19  20  21  22  23  24  25  26  27  28
Don't you just love happy endings?