I decided that I wanted to make a little treat last weekend for my Valentines.  When I was looking around for recipes that would be easy and quick, I came up with one for Cookies n Cream 4 layer bark from How Sweet It Is.  I felt that this sounded like a winner.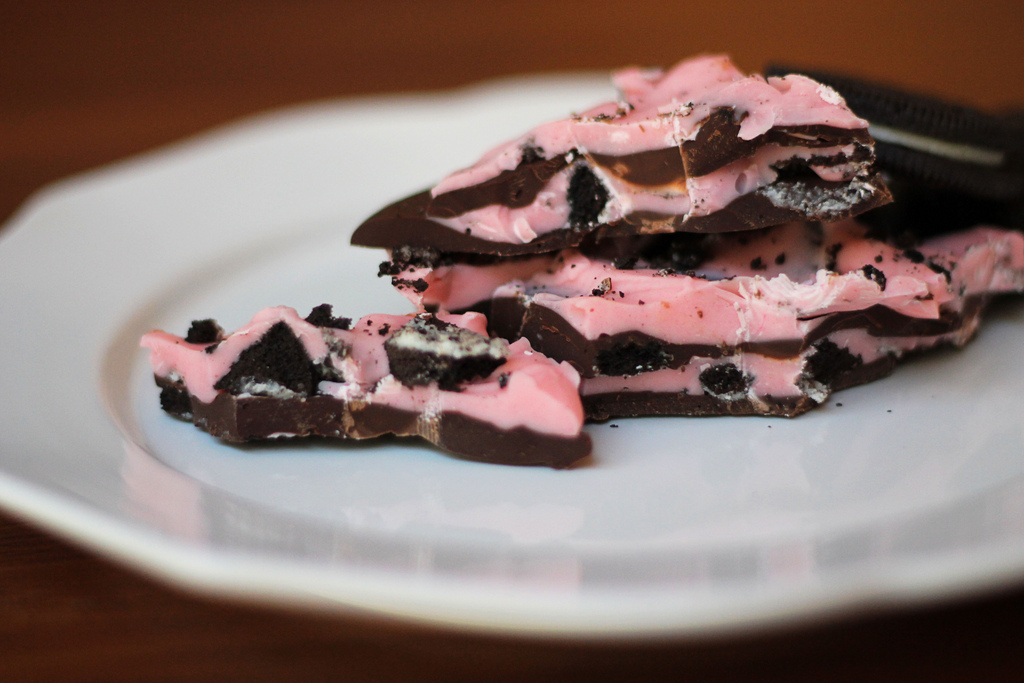 Cookies n Cream 4 layer bark
26 ounces high quality milk or dark chocolate
26 ounces high quality white chocolate
10 oreos, crushed- I actually added like 4 more
Food coloring if you would like to color the white chocolate
1) Start by crushing oreos and setting aside.  Then line a cookie sheet with parchment paper.
2) Melt 14 ounces of dark or milk chocolate in a double boiler or in microwave.  Pour onto parchment paper and spread out evenly towards the edges.  Sprinkle with crushed oreos while still wet and set in the freezer for 15 minutes to set.
3) Melt 14 ounces of white chocolate in a double boiler (or large metal bowl over pot filled with simmering water).  Stir in food coloring to desired color if you want to make it pink.  Pour it over the dark chocolate and crushed oreos, moving quickly and spreading with a spatula.  This will be more difficult than the first layer because of the bumpy oreos and the fact that the chocolate will harden quickly.  Sprinkle more oreo crumbles over the top quickly (before the white chocolate starts to get hard).  Put back in freezer for another 15 minutes.
4) Repeat again with dark chocolate and more oreo crumbles.  Put back in freezer 15 minutes.  Finish off with white chocolate (colored if wanted) and sprinkle your oreo crumbles at the very top.
5) Put back in freezer for 15 minutes before breaking up.  I just use a thick knife and push down where I want the chocolate to separate until it breaks apart.
Because I am giving this as a little gift, I wanted to package it up in a cute way.  I went to Michaels to visit Martha and see what she had in the way of treat packages.  I was actually expecting to have to get a boring box and fancy it up.  I was pleasantly surprised to see that she had some fantastic options in little kits all ready to go.  Then when she told me she would make me a deal and give them to me on clearance (she loves me), I was sold.
So I layered up some chocolate chip cookies I made along with cute conversation hearts and bark on top in the little pink boxes.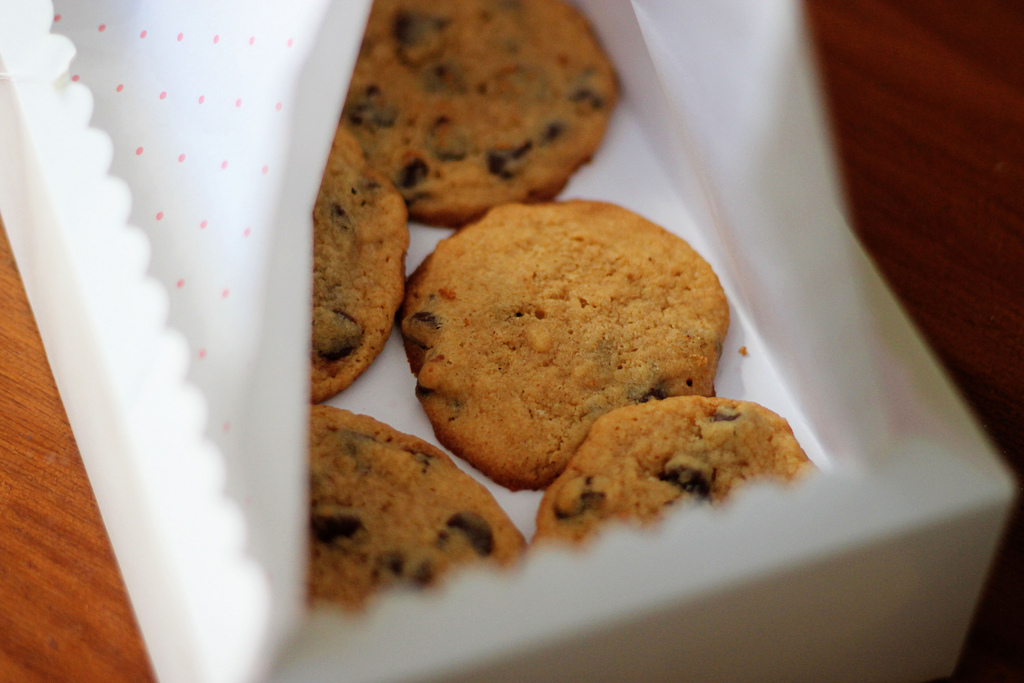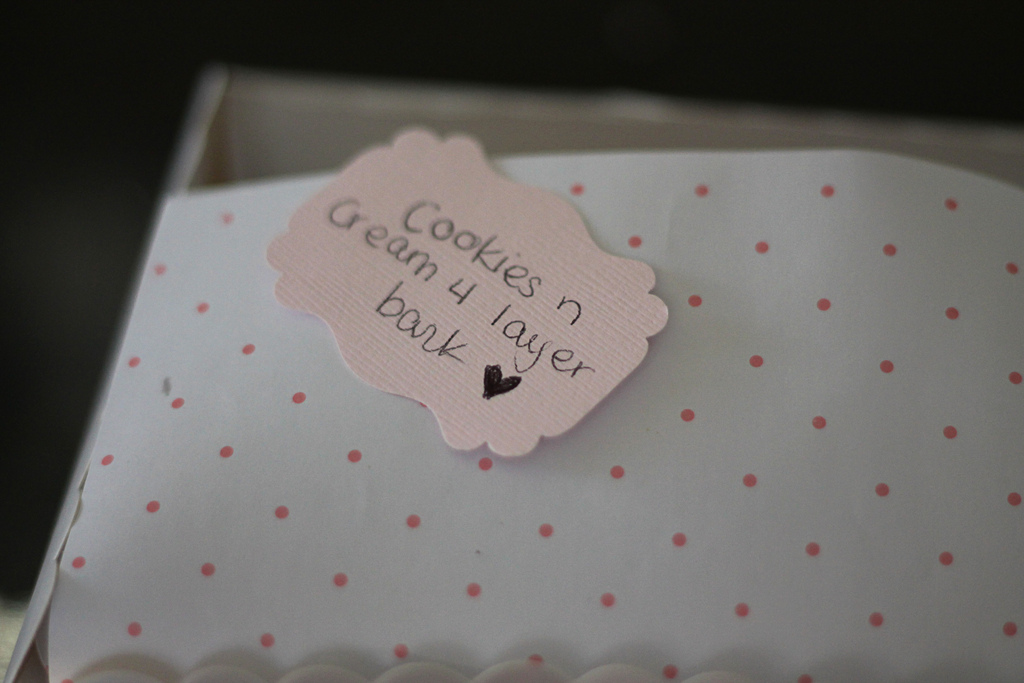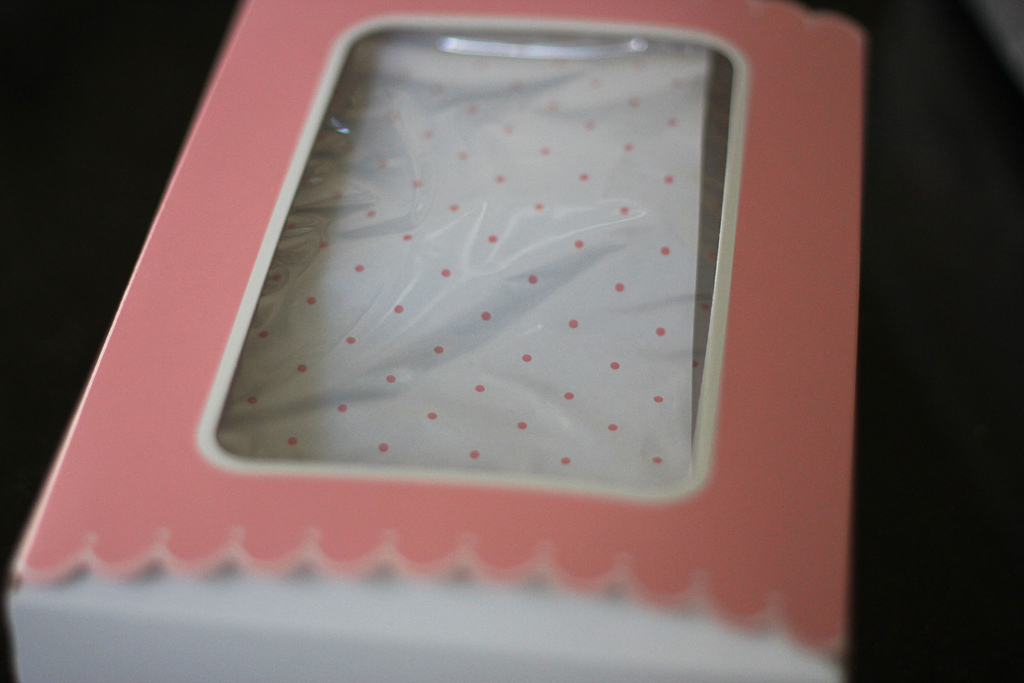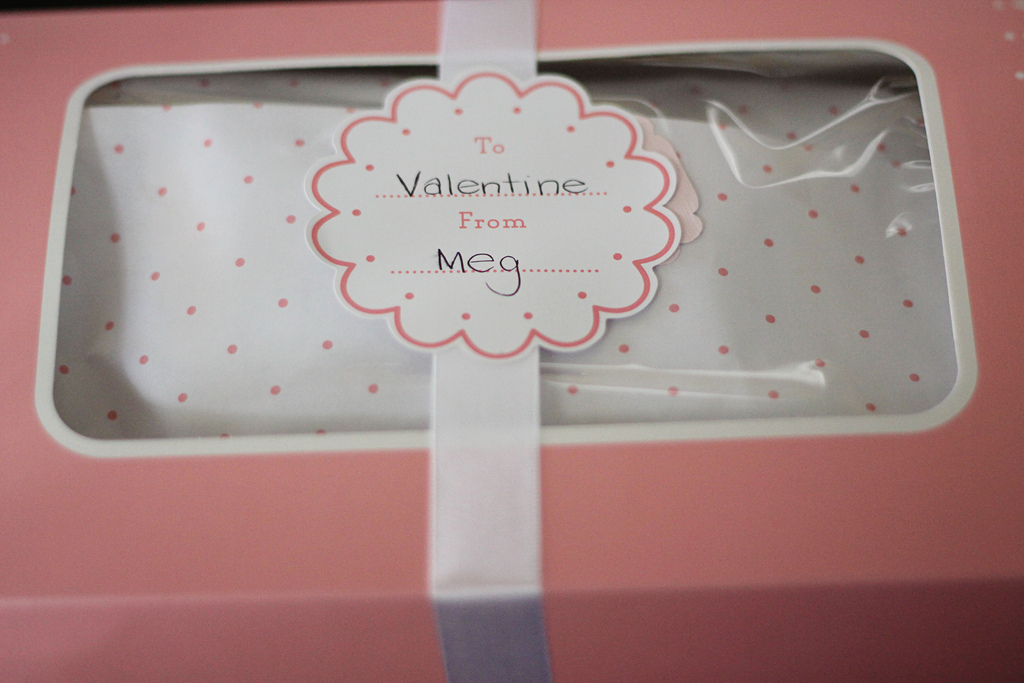 Happy Valentine's Day!  Hope it's sweet!