When I first received our invitations from the Aerialist Press, I really loved them.  However, I felt that they needed a little something extra.  We decided to make use of some of our craft supplies (and my computer) to fancy them up.  In this post I will show you how we did it.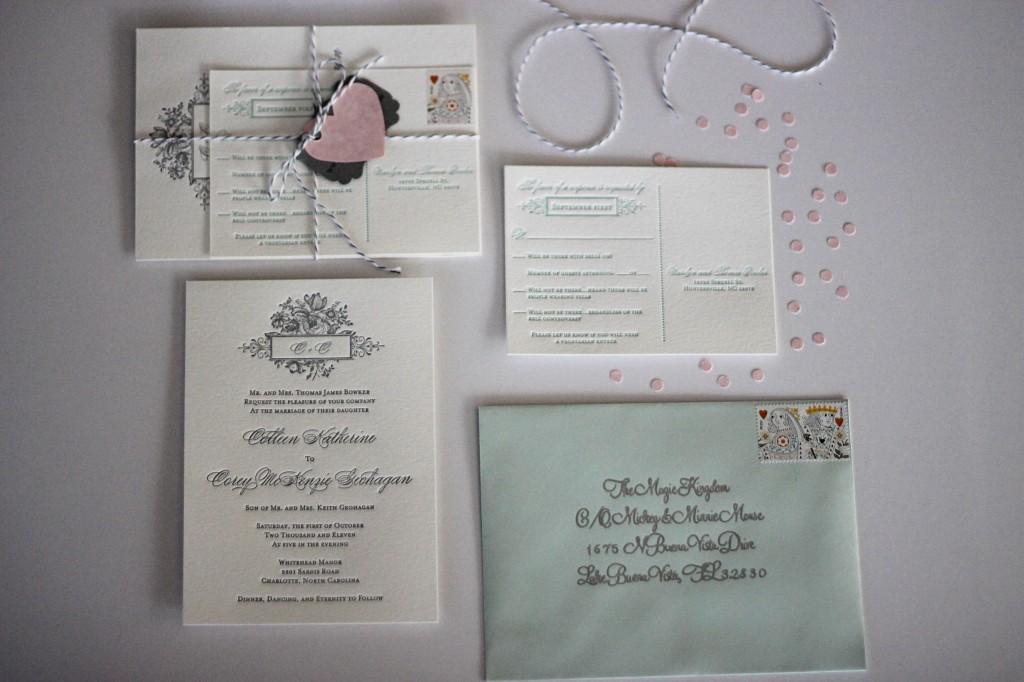 DIY Faux Calligraphy
After months of looking at all the beautiful calligraphy the world has to offer, I was desperate for a calligrapher to address the envelopes.  However, at $1-$2 a pop (maybe more?), it seemed pretty pricey for 100 envelopes.  After searching through weddingbee.com (a blog that every bride should be reading), I found several great tutorials for how to do your own faux calligraphy.  Here is a cliffs notes version.
What you'll need:
– Your invitation envelopes
– A marker (or thick pen) with the color of your choosing.  We used American Crafts Metallic Markers in Silver.
– Microsoft Word and a printer
What you'll do:
1) Pick a font that you really enjoy and install.  I preferred for the font to be somewhat scripty.  We used Feel Script, which is normally $99, and found it on 4shared.com for free:  http://www.4shared.com/file/JO_IzqQe/Feel_Script.htm.  There are also tons of great free options on dafont.com.
2) Measure your invitations.  Ours were about 7.5″ x 5.5″.  Go into Microsoft Word and adjust the page setup to match your envelope size (please leave a comment if you need help with this part.)  Type in the address in your chosen font and make sure to center it.  Also make sure the font is large enough and will be legible when you write over it.  I made the font a light grey since our pen would be silver and I wanted to be able to cover it well.  Cut a sheet of white paper to the size of your envelopes and try to print the address.  Make sure you know the correct way to put the envelope in the printer because you really don't want to waste envelopes by printing on the wrong side.  Once you get this right, you can start printing the addresses.
3) Write over the addresses in your pen or marker.  Be super careful because it is really sad when you mess up a letter and have to reprint.  Voila!  You're a calligraphy genius!
Tied up Invitation Suite
I wanted to make the actual invitation suite a little more special, so we decided to use our trusty punches.  You will see these a lot in the future because we use them for EVERYTHING.  Also, I had heard that many people lost our save the dates, so I wanted to remind people of the address for the wedding website without having it super visible.  Our solution was to put the website on one punch and cover with a pretty pink heart.
What you'll need:
– Paper punches of your choosing
– Colored card stock
– Baker's twine
– Your wedding invitation and RSVP card
– A hole punch
What you'll do:
1) Start in Microsoft Powerpoint and type in the message that you want to use.  Ours said "For additional information, please visit www.coreyandcolleen.com."  I think we used the font Baskerville Old Face.  Make sure the font is small enough to fit inside the punch that you will be using by looking at the ruler on the side of the program.  You can copy it multiple times on one sheet to save paper.  I think we had about 3 rows by 4 columns of our little message.  If none of this makes sense to you, email and I will give you a more in depth tutorial.  Print out your messages and punch.  Make enough to have one for every invitation you will be sending.
2) Punch out your pretty heart punches as well (if you are using them.)  Stack the heart on top of the little message and punch a hole in the two sheets of paper.  Be careful that you aren't too close to the edges.
3) Use the bakers twine to tie up the punches with your invitation and RSVP card like a little package.  This will take some trial and error to get the optimal configuration.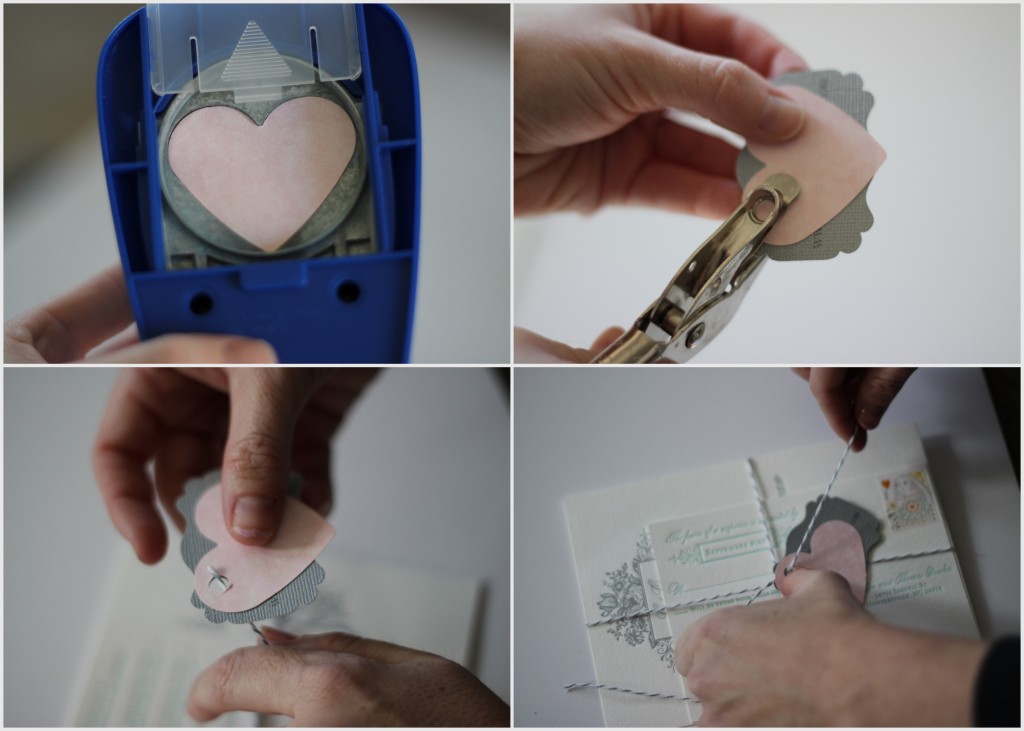 And that's it!  I will admit that our additions definitely made the invitation process a little longer, but I always think that special touches are worth the extra time.