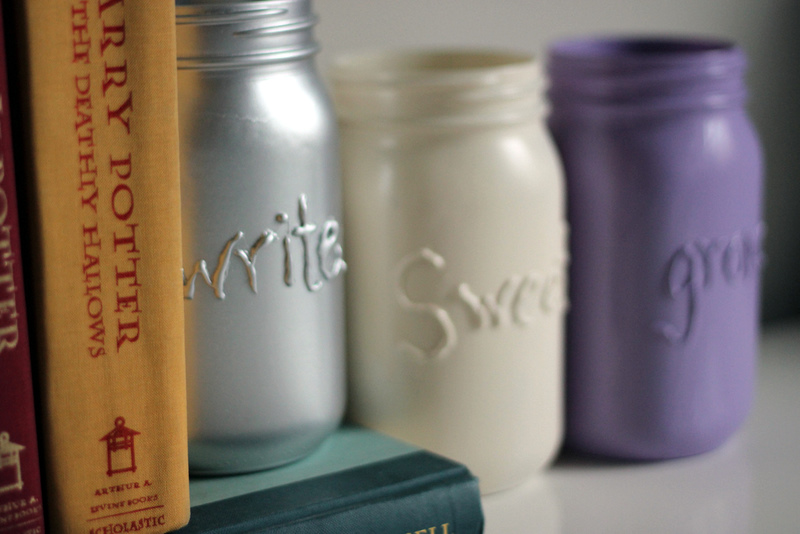 We have had our eyes on this DIY from a cute blog called Pure and Noble we found on Pinterest for some time now.  Due to the fact that we already had every item needed for it and didn't need to make any purchases (love that), we decided to give it a shot last weekend.  It seemed like a good idea for trying to make things cute and organized in our homes of disasterness for 2012.
What you'll need:
1)  Mason jars (we used ones Colleen had left over from the wedding)
2) Spray paint in the colors of your choosing.  Krylon really has the best color options in my opinion and can be bought at Home Depot and Hobby Lobby amongst other fine retailers.  Lowes does not carry Krylon, just an FYI.
3) A glue gun with glue sticks
4) A pen that will show up on glass.  This is purely optional as you can just freehand with the glue gun as well.  We used a red sharpie that we had on hand but found out that we had to use several extra coats of spray paint to cover the red.  Black might not be as bad.  The girl from Pure and Noble was more intelligent than us and used a white fabric pencil.
 What you'll do:
1) Use your pen to write on the jars.  We chose words that would correspond with what Colleen wanted to put in them.  We decided on "grow" to be used as a flower vase, "write" to store pens and pencils, and "sweet" for truvia and sugar packets to be kept in.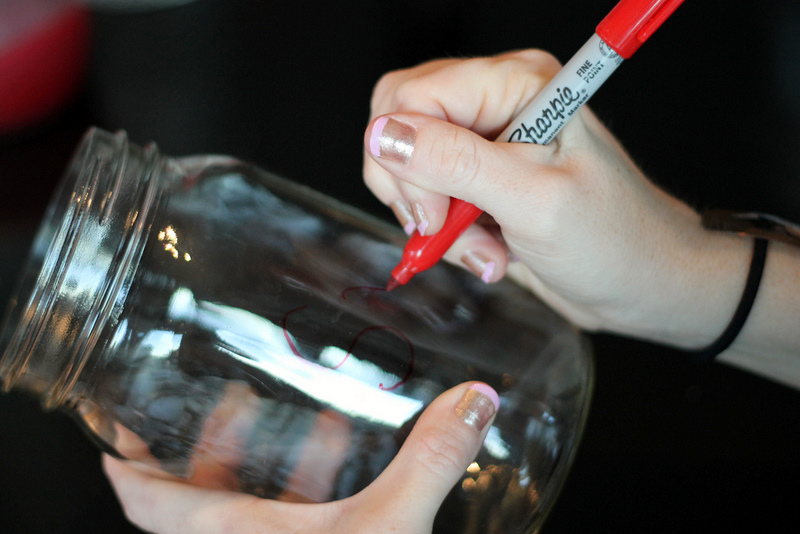 2) Heat up your glue gun and trace over the words already written.  My hands were particularly shaky (weird. coffee imbalance??) on the day we did it so I had to go over some areas twice.  Let glue dry and remove all those obnoxious little stringy things to the best of your ability.
3) Take outside and spray paint each jar by using short bursts and keeping the can at least 12 inches from jar.  It is better to do several thin coats.  The glass surface makes it drip and pool very easily.
We figured out pretty quickly that it works better to paint the front of the jars when they are laying down.  Just take our word for it.
Let dry and you're done.  How great is that?  It turned out quite cute despite my questionable glue gunning skills.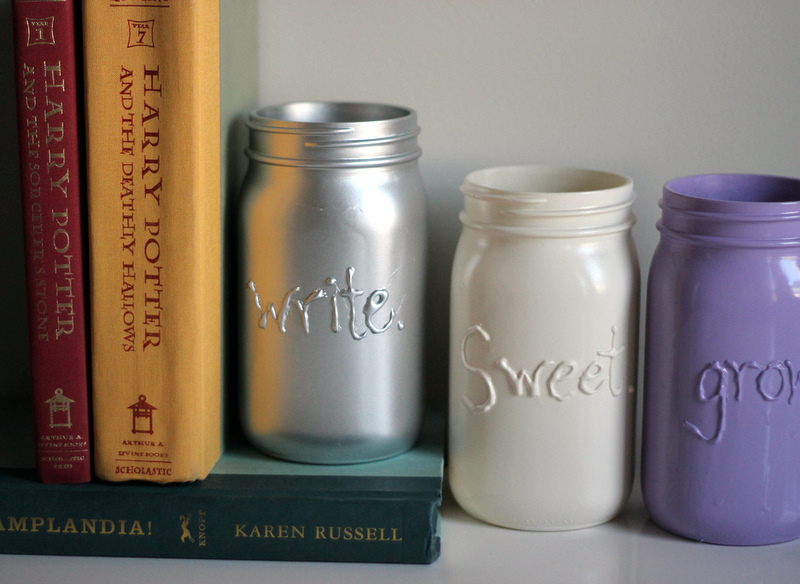 Colleen is keeping these and I have been feeling quite jealous about it.  I think I am gonna have to make some of my own.