I have been a bit of a tree hugger for as long as I can remember.  I try to do my part by keeping my carbon footprint as small as possible, but I am still a girl who likes pretty and sparkly things.  It is a difficult balance to strike, as I do eat meat, drive a non-hybrid car, and have more cardigans than you can shake a stick at.  However, I really think that what is important is being cognizant of little every day decisions that can make an huge impact.  I wanted to give you guys some ideas on how to make Christmas a little bit more eco-friendly, since I know it is the season of wrapping paper, artificial trees, and plastic decorations from Target (which I LOVE, such a moral dilemna!!).
1) Presents and wrapping paper.  Since I mentioned them already, and Meg did a beauty post last week on all the ways you can make them pretty, I will start here.  Don't worry, I am not going to tell you to only wrap them in newspaper (which I actually do plan on trying this year).  Some options for greener gift wrapping are using recycled wrapping paper (see Fish Lips, Endo Prints, and Etsy shop Sophia Victoria Joy for some adorable versions) or wrapping with those reusable decorative boxes and bags.  If you do use wrapping paper, you can recycle it (please!) or reuse it for other decorative purposes.  An idea I love is to reuse the wrapping paper and make little bows for later presents as shown below.  I might do this too!!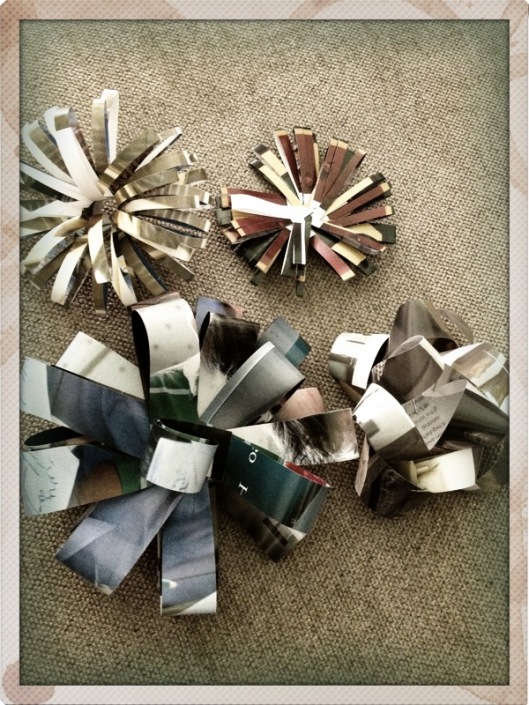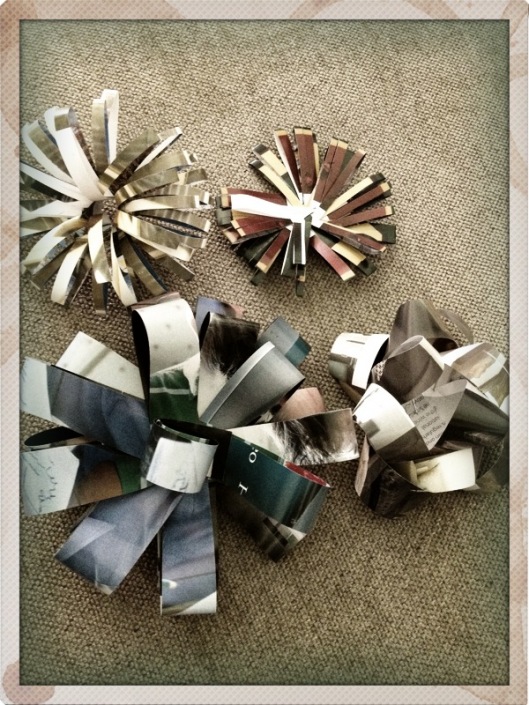 2) Christmas Trees – So a couple of Christmases ago, I did an extensive google search on whether it was more eco-friendly to use a real tree or a fake tree.  The answer given by the green community was that neither are eco-friendly and so you should not use a tree.  Well, this was not an adequate response for me so my decision is to use a real tree (preferably from a local source) and then recycle the tree afterwards.  If you are super fancy and have a wood chipper you can even make your own mulch.  See Earth911 for local places to recycle your tree.
3) Gift giving – I would be a major hypocrite if I told you to not buy any electronics or clothing items for gifts, as I have already bought Corey a Macbook for Christmas (it's ok, he knows).  However, some options for fun yet "green" gifts include homemade items, such as a delicious tin of cookies or an adorable self-sparkled ornament.  My mother-in-law gave Meg a knitted blanket and I think it is one of the coolest homemade gifts I have seen.  Cookies, candies, and fudge are also great ideas when you are trying to pinch your pennies, since we all know the economy is not booming right now.  I think it is really special to give someone something you made yourself because it shows you put the extra time in to make something just for them.
3) Party Throwing – It is holiday party time and I have just been reminded that I need some mistletoe!  Don't you just love the warm glow of your family and friends in Christmas-themed clothing with delicious foods everywhere?  Well there are some really easy things you can do to make your party just a smidge bit more eco-friendly.  I know, I know, you want to use the paper plates because then you don't have to clean them up.  Well, I have good news.  There are some awesome biodegradable disposable products that you can use and I won't even yell at you.  Also, look at Seventh Generation products for fantastic recycled napkins, paper towels, and other household products.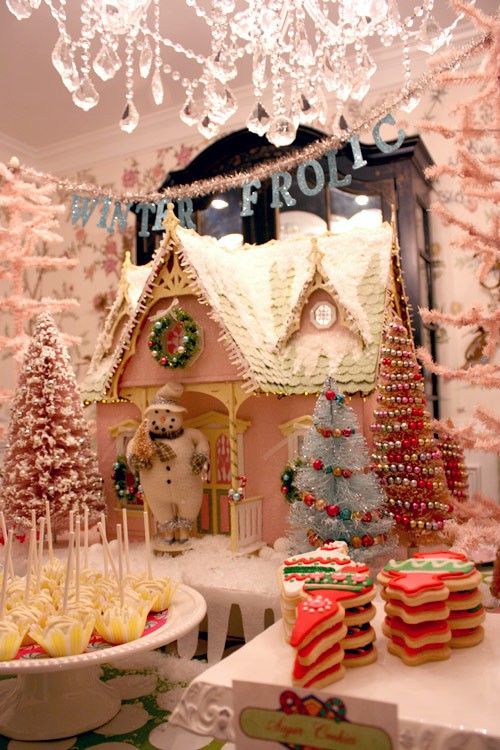 4) Christmas lights – Oh Christmas lights.  How I love thee.  You make my life so shiny and new.  I always had major tree hugger guilt about using Christmas lights until LED lights started becoming readily available.  Now I feel significantly less guilty because they use very little energy and will last much longer than normal lights, meaning less waste.  I know there is a stigma against LED Christmas lights because they can look a little bit blue, but they have warm white LEDs now as well.  They are a little bit more expensive, but will last so much longer than normal Christmas LEDs that I think they are worth it.  Even if you aren't a tree hugger.
5) Thermostat – Here is an easy one.  Turn down your thermostat a couple of degrees and just wear a sweater around the house and it will make a huge impact on your carbon emissions.  Okay, I know Megan is glaring at me because she really hates how cold my house always is.  How about just turn the thermostat down a couple of degrees at night and use a really snuggly blanket?  Apparently, if you adjust the thermostat by just two degrees, you will lose the equivalent of losing 2,000 pounds of carbon emissions annually and almost $100 in energy costs.
There are lots of little things you can do to make a difference, and I have really just brushed the surface.  Does anyone else have any ideas?  I would love to hear them!
Lots of love, Colleen
Image Credits:   1    2a  2b    3    4    5    6