Hi friends!  Hope everyone had a lovely weekend!  We filled ours with some of our favorite fall traditions and I may just have found a new and incredibly delicious one to add on to the list.  Do you guys like chicken pot pie??  If so, do I have a treat for you! One of the Halloween magazines I picked up this year had a recipe in it for something called Leatherface Chicken Pot Pie.  I made it this past week for dinner with friends and while it was somewhat labor intensive, it was super fun and also seriously tasty.  I venture to say it is the best chicken pot pie I have ever had.  No joke.  I didn't really take any pictures when I was making it but I did make a few small changes to the original recipe that I think may have made a difference in the flavor that I wanted to share with y'all because man oh man.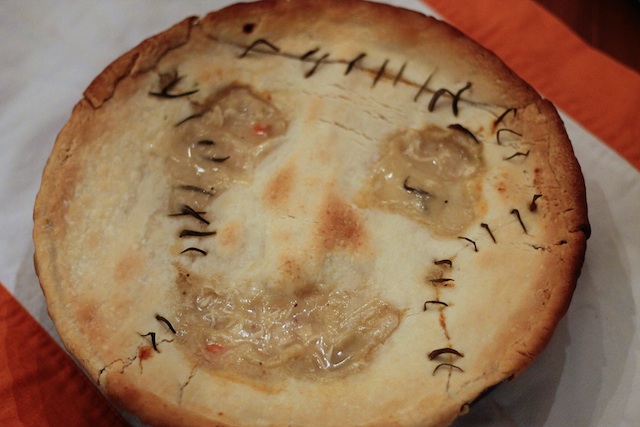 Here is a link to the original recipe from Taste of Home which I am currently too tired to type out here.  When I was making mine, I actually completed the first two steps the night before (boiling the ingredients in the pot to make broth and then removing the ingredients, separating the chicken from the bone and breaking it up a bit along with using a sieve to drain the junk out of the broth.  Then once I finished doing all of this, I put the chicken pieces and the veggies back in the broth and let everything sit in it overnight.  I am pretty sure this added flavor to the chicken.   In addition to this, when I went to complete the rest of the steps to finish the pie, I sauteed an extra small onion, carrot, and stalk of celery in olive oil with a little salt and pepper and covered it up until I was ready to use it.  Then I mixed most of it in.  The original recipe didn't seem to have enough veggies.
In order to make the rosemary stick in the crust, I used a knife to poke little holes to stick them in.  I have no idea why my pie juice started seeping out of the eyes and mouth I cut but I figure I just have to let that go cause it still looks pretty cool.
Here is what he looked like before I put him in the oven.  He is ever so yummy.
Here are some other quick pictures from our perfect fall weekend…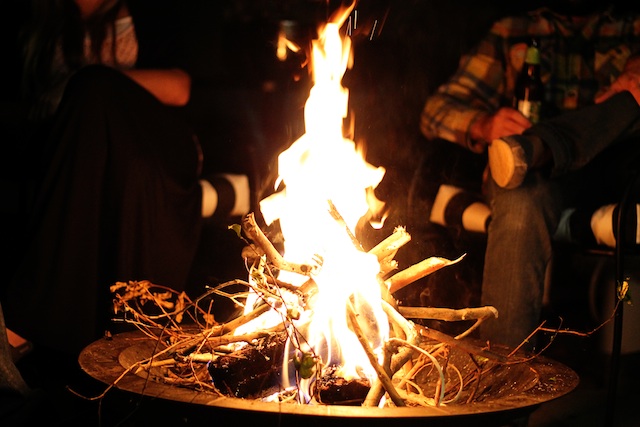 My buddy Roo made a splendid fire for pre-Leatherface pie enjoyment.
We went Saturday night to a farm that has a sincere pumpkin patch, cute animals, a cool rock quarry with a beach area that makes you feel like you may just be in a teen movie, and a seriously inventive and creepy haunted trail complete with corn maze.  We were in heaven…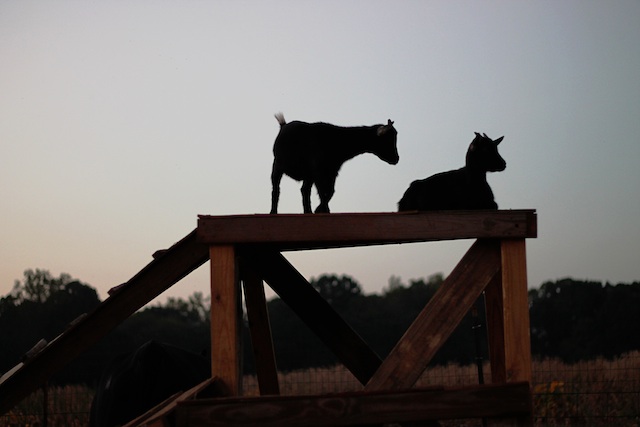 Hi baby goat siblings.
Hi Wilbur.  You're terrific!
The pumpkin patch would definitely have received Linus' seal of approval.  So would the sunset, I think.