Sometimes, on a Sunday when I am kind of beat up from a busy weekend, baking something nice, easy, and delicious seems like the only appropriate option for an afternoon activity.  Since this past Sunday, I also easily determined that driving the 5 minutes up to the grocery store didn't even seem like something I would be remotely capable of, I scoured my pinterest files until I found a simple muffin recipe that I already had all of the ingredients for.  Score.  Not to mention I had pinned it twice which I feel is the deciding factor in determining whether or not to make your pinterest find.  I have even pinned things 3 times before.  Truthfully, I am not entirely sure these taste like cake doughnuts.  They have a nice flavor for sure and are enjoyable to eat but it is pretty hard to compete with Krispy Kreme which is my idea of the perfect doughnut.  Dunkin is a sham.
Okay so here is the deal…I am gonna let you guys know right off the bat that I was not entirely thrilled with the way these came out.  I am kinda a muffin and cake snob and these were not quite as moist as I would like them to be.  I am gonna tell you what I think could be done to make them better and what I did to mess them up somewhat so that your muffins can be perfect.  I am also going to try these again soon and see if my modifications allow greater muffin success.
Glazed Doughnut Muffins
pinned from My Baking Addiction, originally from King Arthur's Flour
Muffin Recipe
1/4 cup butter
1/4 cup vegetable oil- I would add an additional 1/8 to 1/4 cup oil to these to increase moisture if I was y'all
1/2 cup granulated sugar
1/3 cup brown sugar
2 large eggs
1 1/2 teaspoons baking powder
1/4 teaspoon baking soda
1 ¼ teaspoons ground nutmeg
1 teaspoon cinnamon
3/4 teaspoon salt
1 teaspoon vanilla extract
2 2/3 cups all-purpose flour
1 cup milk- you could substitute a part of this with buttermilk or cream and I think that would help the muffin consistency. It probably didn't help that I used skim milk
Creamy Glaze
from Betty Crocker
This is the recipe that I should have used because it would have crusted better and made more glazed doughnuty doughnut muffins.  I will instruct that you ignore the directions from the original recipe and use this instead.  This is the most delicious creamy glaze that we use yearly on our Christmas cookies and it never fails us.
1 1/2 cups powdered sugar
2 tablespoons unsalted butter
1 teaspoon vanilla
1 to 2 tablespoons warm water
Mix until creamy and smooth
Directions
1) Preheat the oven to 425°F. Grease or line 12 muffin cups
2) In a medium-sized mixing bowl, cream together the butter, vegetable oil, and sugars till smooth.
3) Add the eggs, beating to combine.  Then add the vanilla.  It never hurts to put in a touch extra.
4) In a separate bowl, mix the flour, baking powder, baking soda, nutmeg, cinnamon, and salt.
5) Stir the flour mixture into the butter mixture alternately with the milk, beginning and ending with the flour and making sure everything is combined.  Here is where I think I messed up due to issues related to photography… Make sure you only mix these together until just combined.  It doesn't even really matter if there are some lumps cause that will work itself out while it is being baked.  If you over-mix it messes up your muffin consistency.  Don't mix too much like I did.  Your muffins will be sad.
6) Divide the batter between the cups, making sure to fill them almost full.
7) Bake the muffins for 15 minutes, or until they're a pale golden brown and a cake tester inserted into the middle of one of the center muffins comes out clean.  I didn't even bake mine 15 minutes and I think I should have baked them less.  When the tops form domes and set up so a toothpick comes out clean, they are ready.  I was worried because mine weren't golden which caused me to cook them too long.
8.) In a medium bowl, prepare the glaze.
9.) When muffins have cooled slightly, dip the muffin crown into the glaze and allow the glaze to harden.   I made a second batch of the glaze after this and glazed them again.  They need it, believe me.
10.) Eat them as soon as possible.  They won't be nearly as good one or two days later.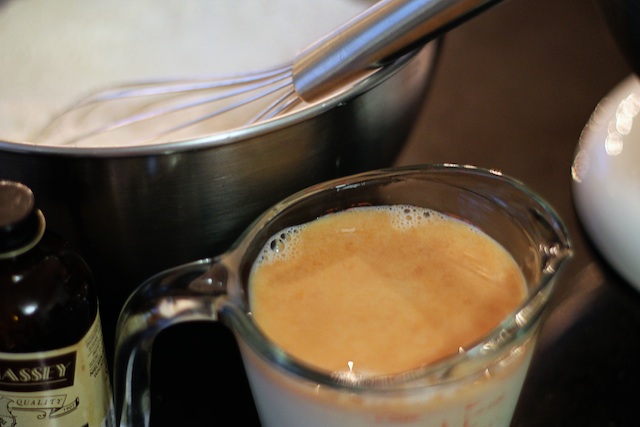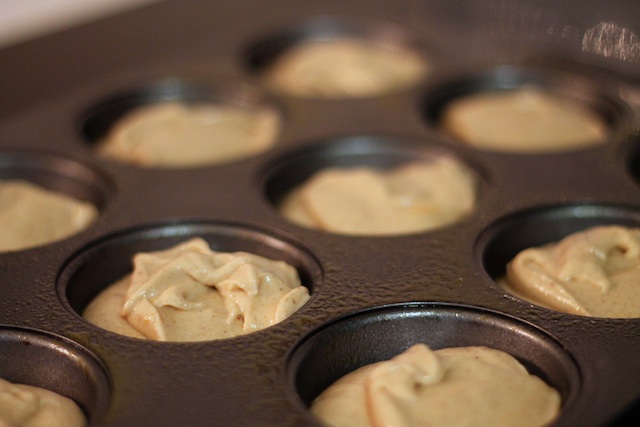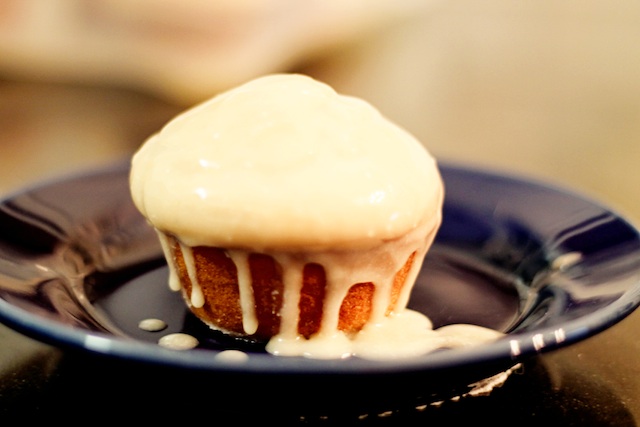 I will let y'all know when I make these again to say whether my modifications worked.