Looking for a super easy but delicious and refreshingly light summer dessert that also looks so fancy that people who see it will think you are a Martha Stewart type goddess?  Look no further than one of our old family favorites…the pudding trifle.  I decided to make one of these bad boys for Colleen on Friday night as she has been working like a maniac lately and she recently mentioned having a craving for it.  I am not lying to you when I say it took only 30-45 minutes all said and done.  Plus it is pretty skinny compared to most dessert options.  Crystal trifle dishes borrowed from your mother really make the presentation complete.
Pudding Trifle

– 1 store purchased angel food cake
– 2 packets of instant vanilla pudding
– 4 cups skim milk
– 1 tub cool whip
– 1 package of strawberries
– heavy cream, 2 tsps of sugar, and a splash of vanilla (to make whipped cream topping) OR 1 more tub cool whip depending on what you want and if you feel like fussing with homemade whipped cream
Directions:
1.  Pour both small packs of instant vanilla pudding mix and 4 cups skim milk (per box directions) into a large bowl and whisk until pudding thickens.  I also put mine back in the fridge for a few minutes to help with this
2.  Mix in 2/3 of a cool whip container into pudding and mix together until it lightens color of the pudding.
3.  Rip small pieces of cake off and put them in the bottom of your trifle dish to form the first layer.  No need to skimp on the cake layer here.  The fact that it is angel food makes it okay to eat as much as you want.
4.  Then pour a layer of the pudding mixture over the cake.  I cover it until I can barely see pieces of cake sticking out of the pudding.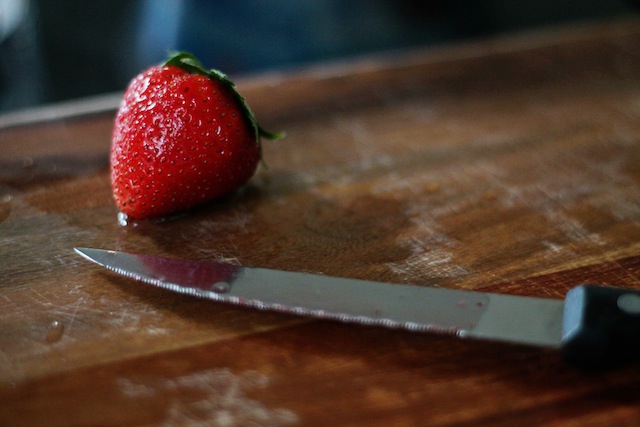 4.  Wash and slice up all your strawberries.
5.  Add a layer of strawberries over your pudding mixture.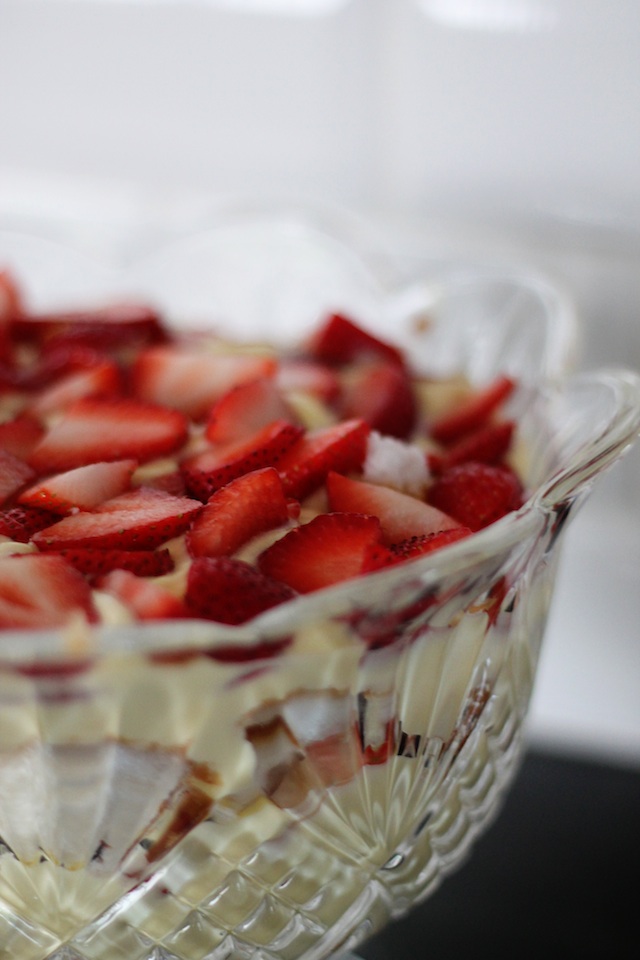 6.  Repeat your layers until you have filled your dish.  My dish was rather small so if you have a larger dish, you may want to make/buy more of each item.  I had half the angel food cake left and some pudding but used all of my strawberries.
7.  Make your whipped cream  to top it off by using an electric mixer to mix heavy cream, a little sugar and a splash of vanilla until peaks form OR spread cool whip on the top.  I find that the extra few minutes used to make homemade whipped cream really puts the icing on the cake.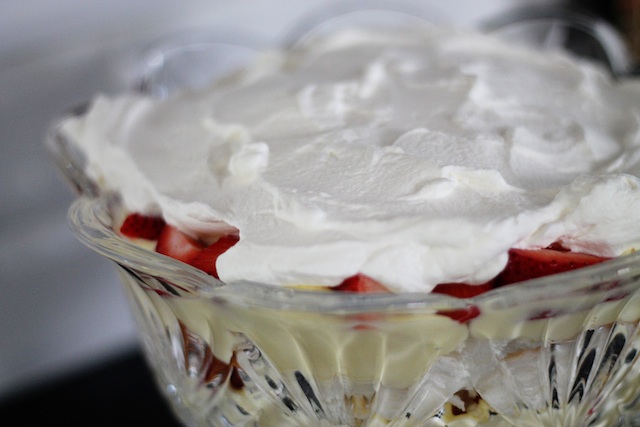 I toyed with the idea of adding a few strawberries on top but didn't want them to de fluff my whipped cream with their juiciness so I left it simple on top.  I suggest that you make one of these sooner rather than later.
Happy Monday friends!