Maybe it's because of how much we love movies, but a pretty heavy percentage of our favorite songs seem to be from movie soundtracks.  Whenever I hear a song from one of my favorite films, it always takes me back to how I was feeling when I was watching it – happy, sad, wistful, or content.  I hear Tiny Dancer and I instantly visualize the band from Almost Famous singing on the bus.  In Your Eyes, which is actually Corey and my song to which we danced our first dance, makes me thinking of John Cusack, ever the romantic, holding a boombox over his head.  La Vie En Rose makes me remember how sweet Wall-E was with Ev-a, always trying to keep her out of harms way.  To hopefully invoke a little nostalgia, we put together some of our favorite songs from films for you guys to listen to.  Did we miss any really good ones?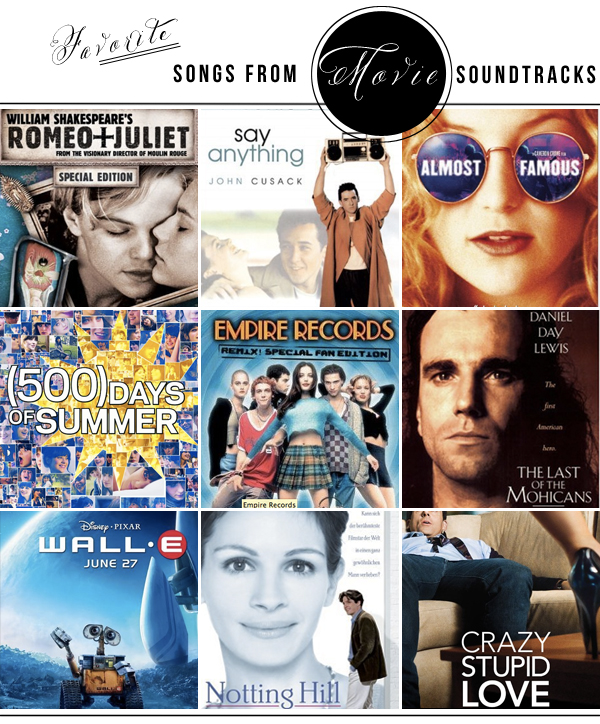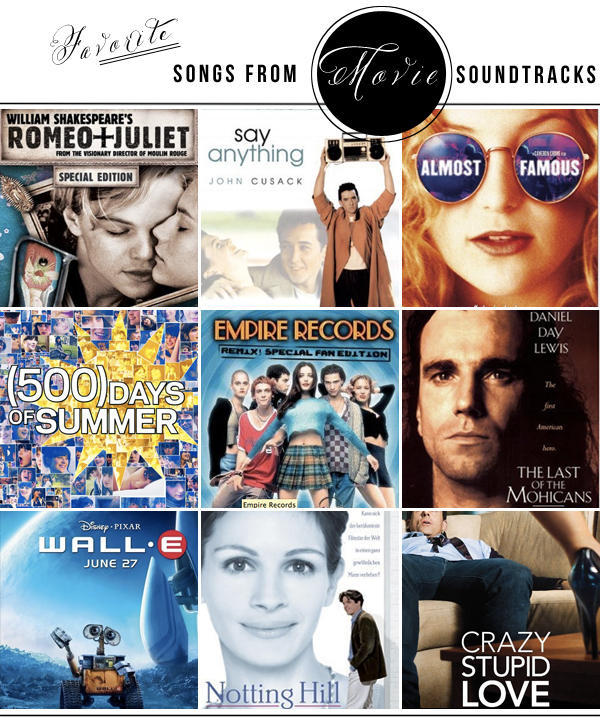 All images taken from IMDB
(try clicking refresh if no playlist shows up)
Here is a link to the playlist for listening on mobile devices.
Romeo and Juliet – Radiohead "Talk Show Host"
Vanilla Sky – Peter Gabriel "Solsbury Hill"
Almost Famous – Elton John "Tiny Dancer"
Last of the Mohicans – Promentory (part of the score)
Say Anything – Peter Gabriel "In Your Eyes" (the song Corey and I danced to at our wedding)
Crazy, Stupid, Love – The Dead Weather "I Can't Hear You"
Jerry Maguire – Bruce Springsteen "Secret Garden"
Empire Records – Gin Blossoms "Til I Hear it From You"
500 Days of Summer – Regina Spektor "Us"
Garden State – Frou Frou "Let Go"
Beaches – Bette Midler "I Think It's Going to Rain Today"
13 Going on 30 – Pat Benatar "Love is a Battlefield"
Sunshine – John Murphy "Adagio in D Minor" (one of Corey's favorite movies along with one of his favorite scores)
Ice Age – David Newman "Send Me on My Way"
Juno – The Moldy Peaches "Anyone Else But You"
Dazed and Confused – Aerosmith "Sweet Emotion"
Wall-E – Louis Armstrong "La Vie en Rose"
Notting Hill – Allison Krauss "When You Say Nothing At All"