Well folks, a New Years miracle has occurred and I have finally hung my gallery wall.  I have been planning on doing this for probably about two years now so I kinda feel like I deserve some major awards since I finally did it.  For whatever reason (probably my hoarding tendencies), I have had a surplus of frames laying around for years.  Because of this, I was really just needing some art to put in them and I would be good to go.  I have previously discussed my propensity for finding/making cheap art options.  If I ever find some art that I completely fall in love with, I will be happy to invest in it, but in the meantime I don't see the point in spending a bunch of money on things I only feel so so about.   This requires that I get creative.  A few pieces of the "art" in the frames is just filler art until I find something I really want.
In order to figure out placement, I used this method that I had read about where you cut out pieces of paper the sizes of your frames in order to easily arrange them on your wall before nailing any holes.  I have several giant rolls of brown paper that were left here by the men who put my floors in when I first moved in to my house.  These have been exceedingly helpful over the years and that is what I used when I traced my frames.
Then once you are happy with your placement, you measure on the frame where you would need your nail, picture hanging hook, or monkey hook to go and measure again and mark it on your paper.  It worked quite well for me.  Once you are done and know your pictures hang how you want them to, just rip the paper off around the hooks, etc.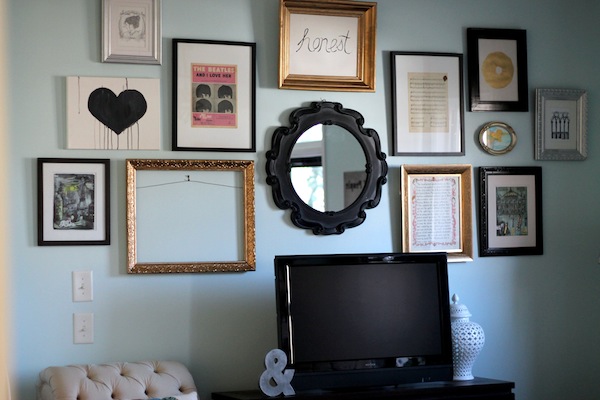 I bought some vintage Beatles sheet music on Etsy and this was the cover.
This BEAUTIFUL illustration was done by our friend Rox from By Bun.  I love love it and you are all in luck because she is working on opening up an Etsy shop to sell her art.  Pretty awesome, right?
There is the funny little dripping heart art I made along with a page that I ripped out of a Madeline book and framed.  I have always loved the illustrations in that book.
This is some original art that I found for pretty cheap ($25) from my favorite antique mall.  It is a hand written description of a carousel.  I guess that is a little strange but I just thought it was cool.
Another page from the Beatles sheet music and some gold circle thing that I copied from something I liked on pinterest.  That will probably be the first thing to go when I find something else I like.
That little oval abstract colorful art is also from the antique mall and I believe it was like $12.  It is also original art and is called a Fairy Ink Painting which is done with alcohol ink.  On the back it says, "This medium tends to have a mind of its own as if fairies were creating the picture."  Sounds good to me.  I like fairies.  That little black and white thing is a quick little painting I did to fill that frame for now.  I am obviously no artist.  I copied this little ceramic piece that Colleen brought me back from Venice.  It is supposed to look like the architecture from the Doge's Palace.  I like that it is kinda imperfect and also fits in well with the other art but that will also be hitting the bricks soon I am sure.
Also, I do realize that one of my frames is empty.  I just loved the frame so I will find something to go in it eventually.  I know that is kind of backwards but that is just the way I do things around here.