The title of this post could also be "More Kindergarten Art By Megan."  I have been gathering things together for a gallery wall in my family room for a few months now.  I already had a lot of frames so I basically just needed things to put in them.  When I started to put all of my random things in frames, I realized I needed something bold and graphic to add.  I have always like the heart prints I have seen like this one by Warhol and this one by Alexander Girard and I had an extra canvas laying around so I thought I would try my hand at making some heart art for free.  After all, I have had many years of doodling practice and hearts are generally involved so I felt pretty confident in my heart drawing abilities.
If you would like some kindergarten art too, here is a quick run through of what I did.
What you'll need:
– Paint- I used black, gray and white because I wanted a charcoal heart with some variations in it.  You guys only need one color if you want a solid heart
– Paintbrush
– Cup with water
– Plate for palate
– Canvas
What you'll do: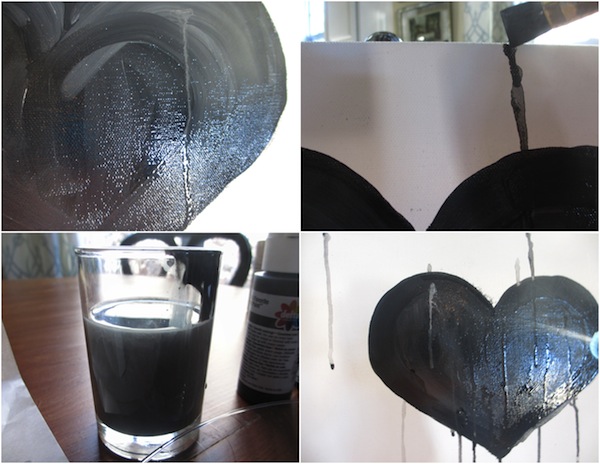 1.  Squirt your paint on your palate and mix around.  Paint your heart.
2.  Literally, the only important thing about this is that the dripping needs to be done when your heart is still wet.  Immediately, stick your brush in the water and get it completely wet.  Touch your soaking wet brush to different locations on the heart and let your water drip down.  Sometimes it will run straight down and sometimes it will go to the side and drip down the middle of the heart.  No biggie either way.  I wanted drips coming from the top of my painting too so I did some watery paint drips up there.  I even stuck my brush in white paint then back in the water and did some lighter color drips.
3.  Become frustrated that your drips are taking more than a minute and a half and grab your spray bottle filled with water that you spray your cats with when they are misbehaving.  Put it on mist and start misting your heart too.
Are you amazed by my technical art talent?  My dear Rox, if you read this, please don't judge me.
I wish I could show you the finished product in my gallery wall instead of just sitting on my kitchen counter but life is imperfect and that jazz is taking what feels like forever to figure out.
Here it is in my gallery wall.