Several months ago, our friend Blair  from the adorable blog Blairadise asked us if we would help a little with the planning of her 30th birthday bash. We love her to bits so obviously we said yes, but the tricky thing is that she lives in South Africa.  So cool right?    She decided to make the theme a tea party and wanted to include all her friends in the States (she went to high school with Megan) so she came up with the sweetest idea to send them all a note/invitation to join her in a cup of tea along with a little tea bag.  For the invitations to the actual party, she used these gems from Paperless Post.  I used the same design with Blair's wording to create an invitation that she could print and send to her friends abroad.  When my invitation arrived a few weeks later, I cannot tell you how excited I was.  I feel like getting mail from South Africa makes my cool points increase exponentially.  Aren't all the colorful stamps fantastic?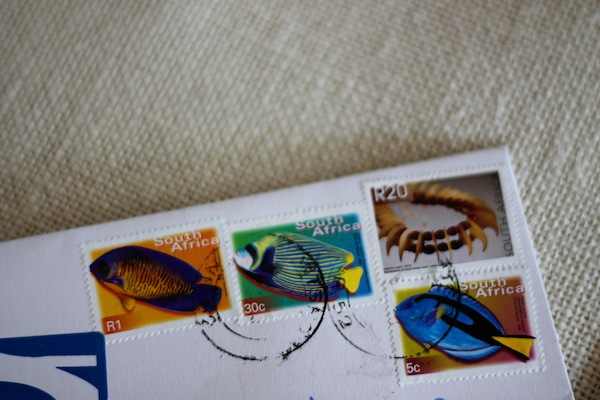 I couldn't really figure out a way to make them into printable invitations that you guys could use, so I just left them blank so you could create little note cards?
Also, just wanted to mention that we changed the subscription emails to only come once a week instead of flooding your inbox with every post like we did previously.  We figured you guys might like it better that way?  Let us know if you want us to change it back.