So as you guys might know by the blinking happy birthday sign, Corey's birthday was on Friday.  In an effort to be a loving wife, I decided to make him a delicious birthday cake.  But here's the deal folks, I am not making another one of those monster layer cakes by my lonesome for a while.  That is a to do, and I am no Deb, who is able to weave together masterful concoctions with the twinkle of her nose.  Me, I can just barely make cookies.  So I may or may not have googled "easy cakes."  You know what I found?  Icebox cake.  It is essentially just wafer cookies layered with whipped cream that magically turns into cake overnight.  You don't even have to bake!  The fact that Deb made one solidified the icebox cake as my choice because she really never steers us wrong.  Normal icebox cake is just chocolate wafer cookies and whipped cream, but I wanted to add a little more pizzazz because Corey is really only happy when his desserts are chocolate and are super rich and/or have a million other flavors.  Exactly the opposite of me, who is perfectly content with a nice vanilla.  This little gem of a recipe from Barefoot Contessa caught my eye, so I decided to combine it with the one from Smitten Kitchen.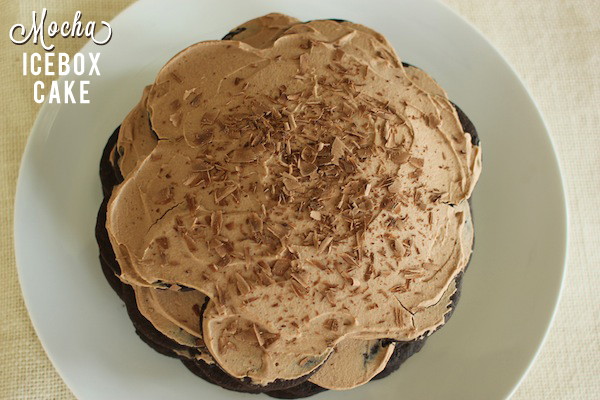 What you'll need:
– 2 cups cold heavy cream
– 12 ounces Italian mascarpone cheese
– 1/2 cup sugar
– 1/4 cup Baileys Irish Cream (Barefoot Contessa used Kahlua)
– 2 tablespoons unsweetened cocoa powder
– 1 teaspoon instant espresso powder (I ground some espresso beans for this part, wasn't sure if this was what the recipe meant)
– 1 teaspoon pure vanilla extract
– 2 (9-ounce) packages Nabisco chocolate wafer cookies (found them in the ice cream aisle instead of the cookie aisle.  sneaky.)
– Shaved semisweet chocolate, for garnish
What you'll do:
1) Mix together the heavy cream, mascarpone, sugar, Baileys (or Kahlua), cocoa powder, espresso powder, and vanilla in the bowl of an electric mixer with the whisk attachment on low speed to combine.  Slowly raise the speed until soft peaks form.
2) Assemble the cake on a flat serving plate by arranging 7 cookies side by side in a circle, keeping one in the center.  Spread 1/2 cup whipped cream mixture over the cookies making a 7-inch circle.  Place another layer of cookies followed by another layer of whipped cream, until you have 11 layers of cookies ending with a layer of cream.  Cover with plastic or a cake dome and place in the fridge overnight.  In the morning, there will be cake!
3) Place either chocolate shavings or cocoa powder on top to fool people into thinking that the cake was difficult to make.
Believe it or not, it totally tasted like cake.  I don't know man, can't get much better than that.  Cookies that turn into cake.  Genius.