When we were planning our Striped Spring Tablescape with Drew from Coral Cafe, we decided that we needed some sort of light fixture situation to finish things off.  Since our table was outside and we knew we would be hanging bistro lights, we thought, why not see what we can do to a round paper lantern?  I have always loved paper lanterns because they are cheap and very versatile.  We have even crafted a sparkly lantern with one for New Years.  Admittedly, this DIY is so easy, it almost shouldn't be considered a DIY.  In order to make the lantern understated, but beautiful, we decided to watercolor one.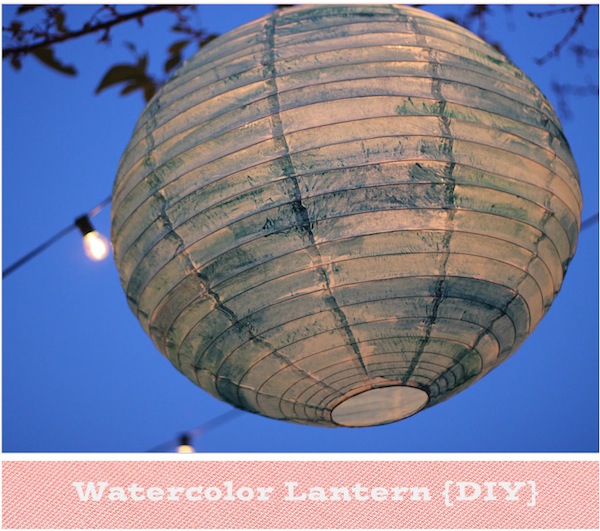 What you'll need:
1) A large round paper lantern.  We used one that was 20″ that we bought from Pier 1.
2) Cheapy acrylic paint in a variety of colors of your choice.  We used a few different colors of blue in the same palate.
3) Paintbrush- medium size is probably easiest
4) Glass full of water
What you'll do:
You need two people to do this because someone will have to hold the lantern open and taught.  Editor's note: Possibly three if the designated holder is a weeny (like Colleen) and their arms get tired so they ask their loving husband to take over :).  
1) Squirt out your paints on a plate.  Dip your brush in water and then your paint.  Make sure the paint is very thin on your brush and watery and then go to town baby.  I moved from the middle out to the sides, making sure to vary the paints light to dark in different areas as I moved.  You don't want a big block of the same color in one spot.
Let him dry (make sure to hang it in the air while it is drying) and string him into his decorative position.  Marvel at the beauty.
This is a perfect idea for if you would like to use a colorful paper lantern but you are picky like us and can't find the color you want.