Jim and Corey have been best friends since they were born.  Jim is really special to both of us so we were thrilled when he met his match in Elyse several years ago.  I always joke that she is a Swedish model because she is so breathtakingly beautiful, but she is also funny, down to earth, and one of the nicest people you will ever meet.  When they got engaged and said they would be having a quick Vegas wedding due to the time limited citizenship process (she is Canadian), I'll admit I imagined a small chapel with a singing Elvis.  Instead it was beautiful, heartfelt, and truly a reflection of Jim and Elyse's personalities.
Disclaimer: I tried to take as many pictures as possible, both because I knew I would be blogging about the wedding and because I knew how thankful I was for any pictures taken by guests at my wedding.  The more I try to take "good" pictures, the more respect I have for actual photographers.  My apologies in advance for images that are out of focus.
The ceremony and reception took place at the Victoria's Family Wedding Chapel.  The ceremony space was simple and elegant, I particularly enjoyed the chiviari chairs and the altar.
Jim's parents Cathy and Rick (bottom left and right) are like family to us.  Isn't Cathy stunning in the purple dress?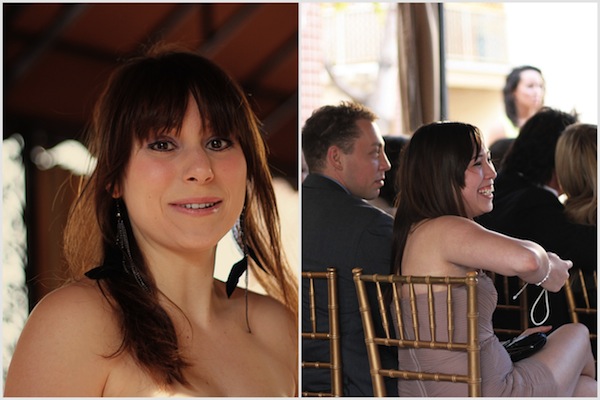 Jim's brother Ricky was another one of the "photographer" guests.  This was a very well documented wedding.  Here he is striking his best GQ pose.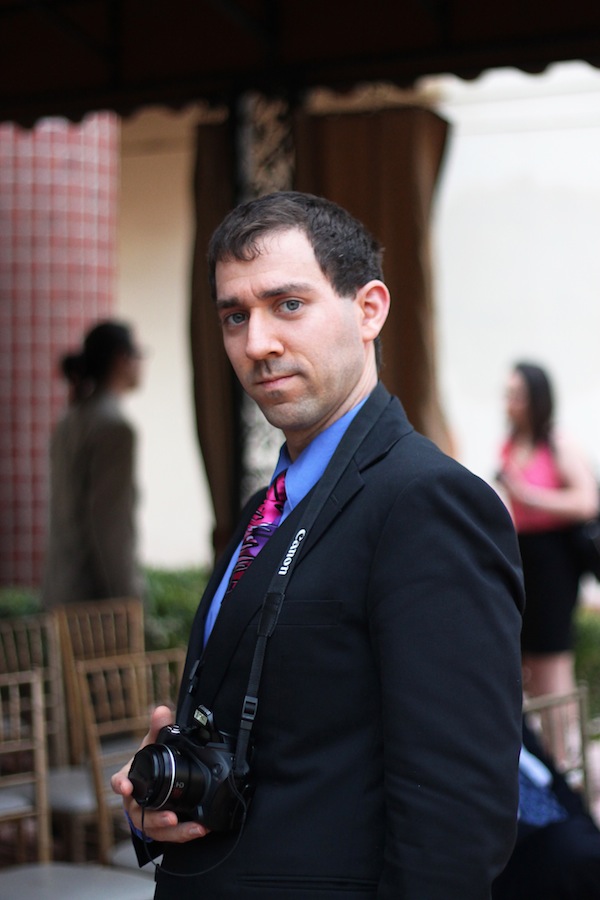 Jim and Corey, who was the best man, were waiting patiently for the ceremony to start.
Elyse made her entrance to an orchestral version of "Zelda's Lullaby" from The Legend of Zelda: Ocarina of Time.
How cute is she trying to pull the veil out of her face?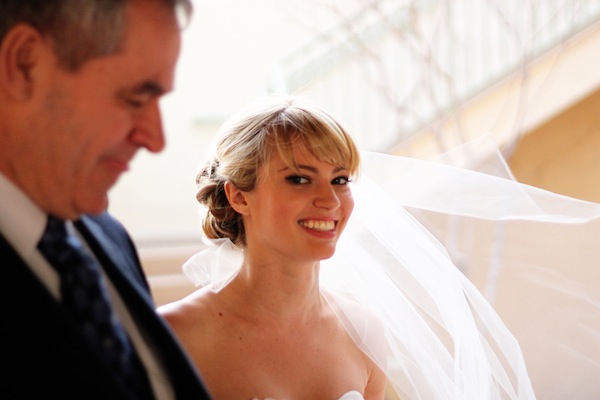 Their ceremony was short and very sweet.  As Jim told us (maybe several times) during the weekend, they opted out of the unity candle and rose ceremony, which I think was probably best, since they both have fairly informal personalities.  I always think that your wedding should reflect who you are, not what you think it is supposed to be.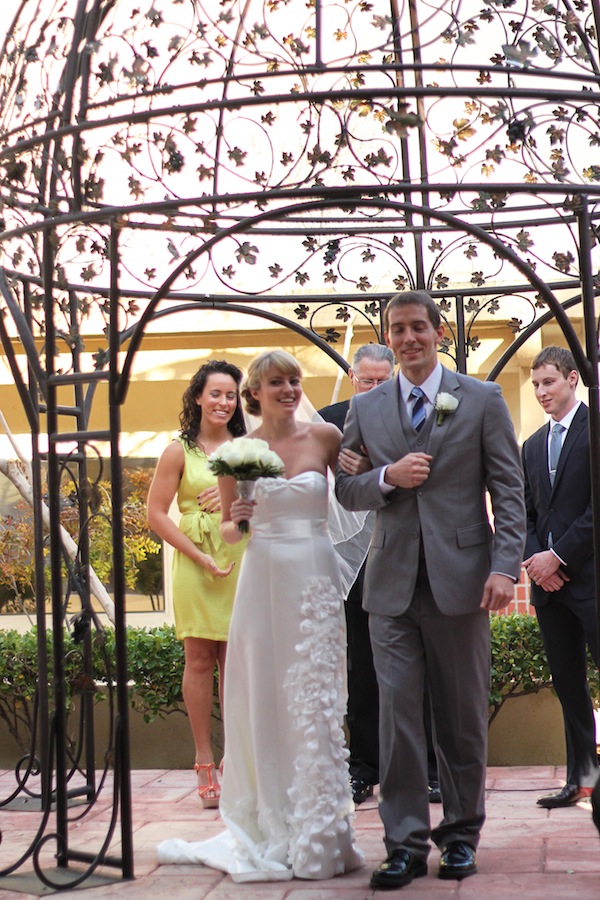 Unfortunately, I didn't get any good pictures of their first kiss, despite the fact that they had about three.  It was pretty adorable.  They walked back down the aisle to "Queen Bitch" by David Bowie.
After the formal portraits, the photographer took the bride and groom to take more pictures.  I am ashamed to say that I interrupted to ask if I could take some as well.  I am pretty sure the professional photographer was less than thrilled.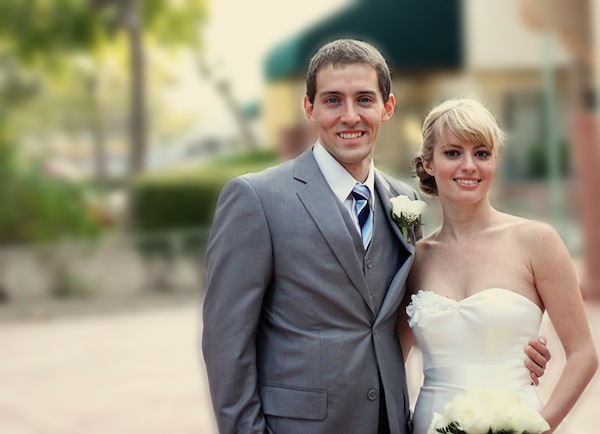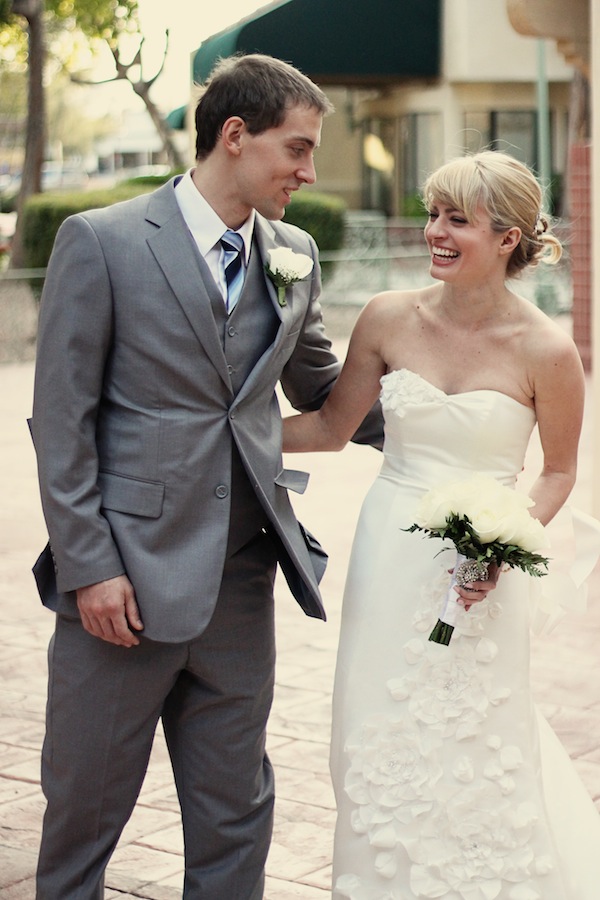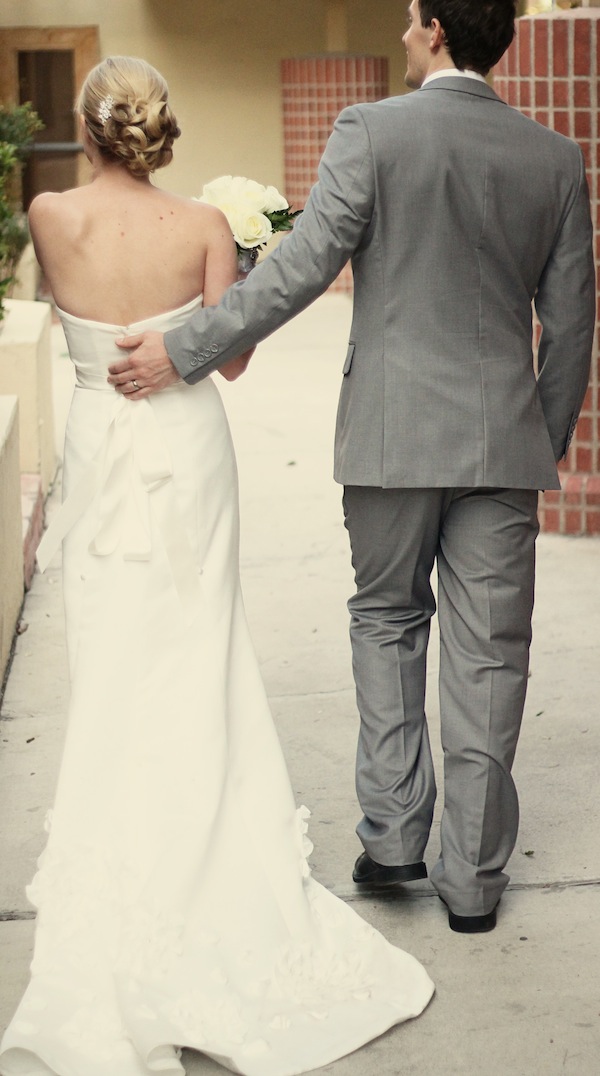 I also made sure that we got some pictures of our family.  These are three of the only four pictures I have of myself from the entire trip out of approximately 800 pictures taken.  Whoops.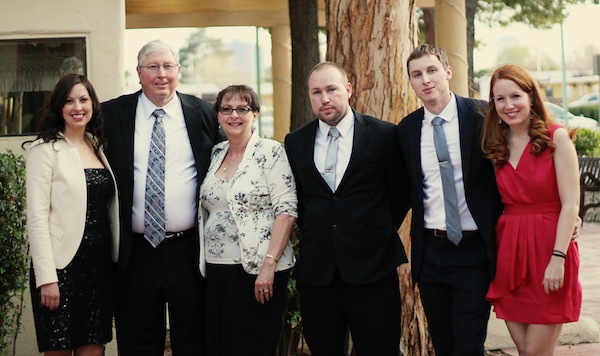 After the ceremony, the guests walked into the reception hall and were greeted with passed hors d'oeuvres.  They were also greeted by the cake toppers, which undeniably said "Jim and Elyse."  Sailor Moon and the Green Ranger.
After a little while, Corey was asked to give his speech.  He is not the world's best public speaker, but his speech was funny and eloquent.  I was very proud.  He got some laughs for the bit saying Jim got his wit and sense of humor from his lovely mother and beautiful father.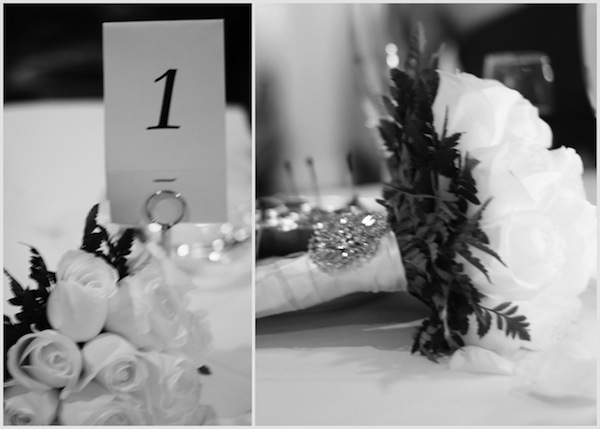 Elyse's maid of honor gave a speech that made the whole room teary eyed.
Jim and Elyse's first dance was to Rainbow Connection by Kermit the Frog.  They sang the whole song to each other.
They combined the mother-son father-daughter dances.  Cathy almost made me cry she was so sweet.  I love this picture.
My final picture of the night was of Corey, Jim, and Chris, who is a friend from high school.  After that I was too busy dancing.  And my feet still hurt.  You can already see the remnants of some partying in Corey's undone tie.
Congratulations Jim and Elyse!  We couldn't be happier for you!