So I think it is a well known fact that Megan and I are crazy.  Just a little.  The events of  last Friday evening took this to a whole new level.  One day last week, I called Megan and told her I felt we needed to make a cake.  She said, "Why yes of course!  A cake!"  So, with watering mouths, we began to plot and plan said cake (that we were making for no purpose other than to stuff it in our fat faces) and decided that we wanted to attempt a four layer purple ombre almond cake.  With purple fondant letters on top.  Crazy.  Let me re-iterate that this was just for us gluttons.  So Friday night, we proceeded to make our delicious creation, starting at 9 pm and finishing at 3 am.  Normal people are out drinking til 3 am on a Friday night.  We are making cakes.  But really though, isn't she a beauty?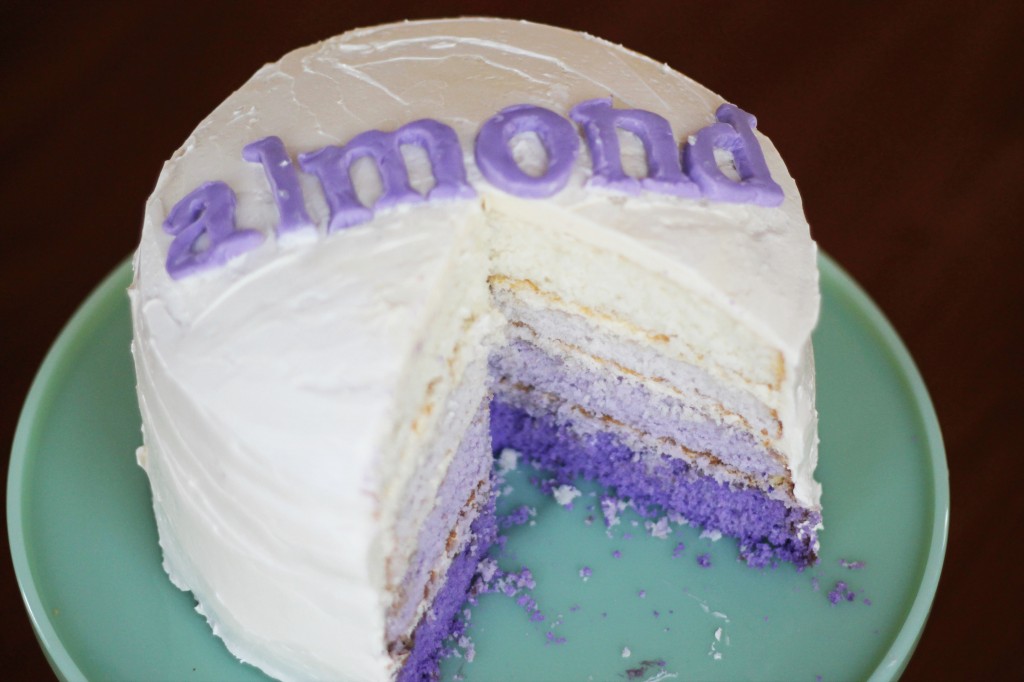 Is she making you re-think your Friday evening plans??
We got the recipes for the cake and frosting from one of our favorite food blogs, Smitten Kitchen.  Thanks for being awesome Deb.  Really and honestly, we have used countless recipes from her and they always turn out delicious.
Cake Ingredients (this recipe is for a 9-inch triple layer cake but we made four thinner layers):
– 4 1/2 cups cake flour (who knows what the difference is from normal flour)
– 4 1/2 teaspoons baking powder
– 3/4 teaspoon salt
– 2/3 cup prepared almond paste (7 ounces) (we actually found it at Harris Teeter, amazing)
– 2 2/3 cups sugar
– 2 1/2 sticks unsalted butter, softened to room temperature
– 1 tablespoon almond extract
– 10 egg whites (!!)
– 1 1/2 cups whole milk
Making the cake:
1) Preheat the oven to 350 F.  Cut pieces of parchment paper for each of the round pans.  Spread butter on the bottom of the sides of the pan.  Press the parchment paper down.  Then butter the top of the paper.  Also go ahead and separate the egg whites from the yolks while you are thinking about it.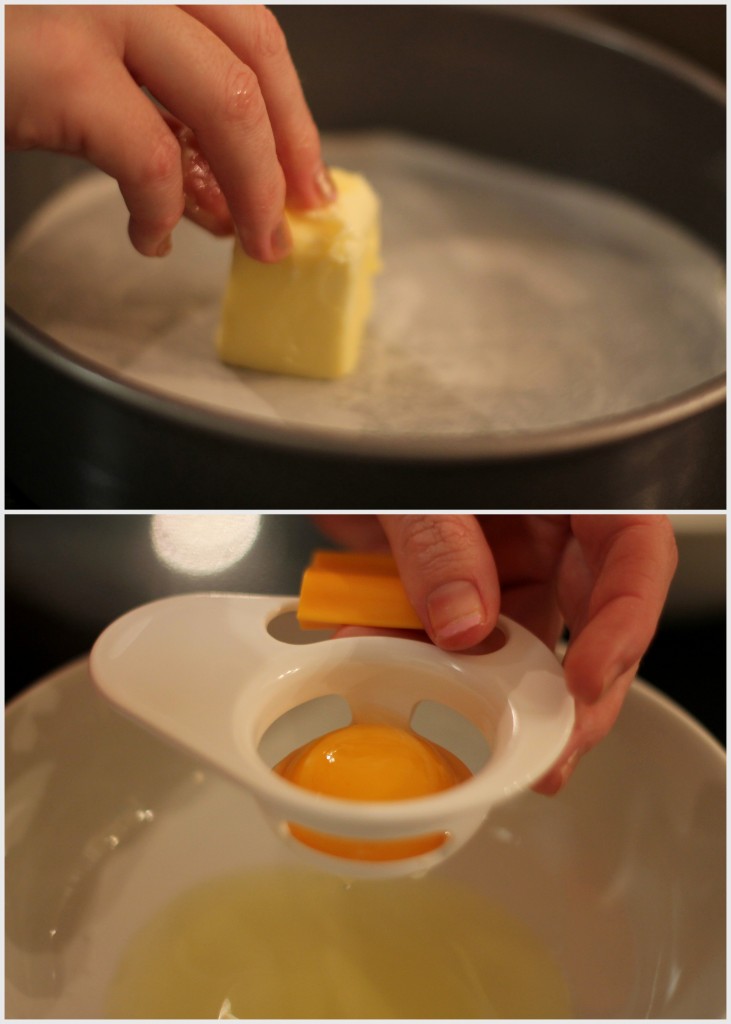 2) Sift together the cake flour, baking powder and salt in a medium bowl.  We did not sift and came out with slightly lumpy cake batter.  Whoops.
3) Place the sugar in the bowl of a mixer with a paddle attachment.  Cut up the almond paste into small pieces and place in the bowl.  Cream the mixture on low speed until almond paste pieces are broken up and then increase speed to medium until broken into fine particles.
4) Add the almond extract and the butter and beat well.  Then add the egg whites, a little bit at a time.  Beat just long enough to allow it to become completely mixed.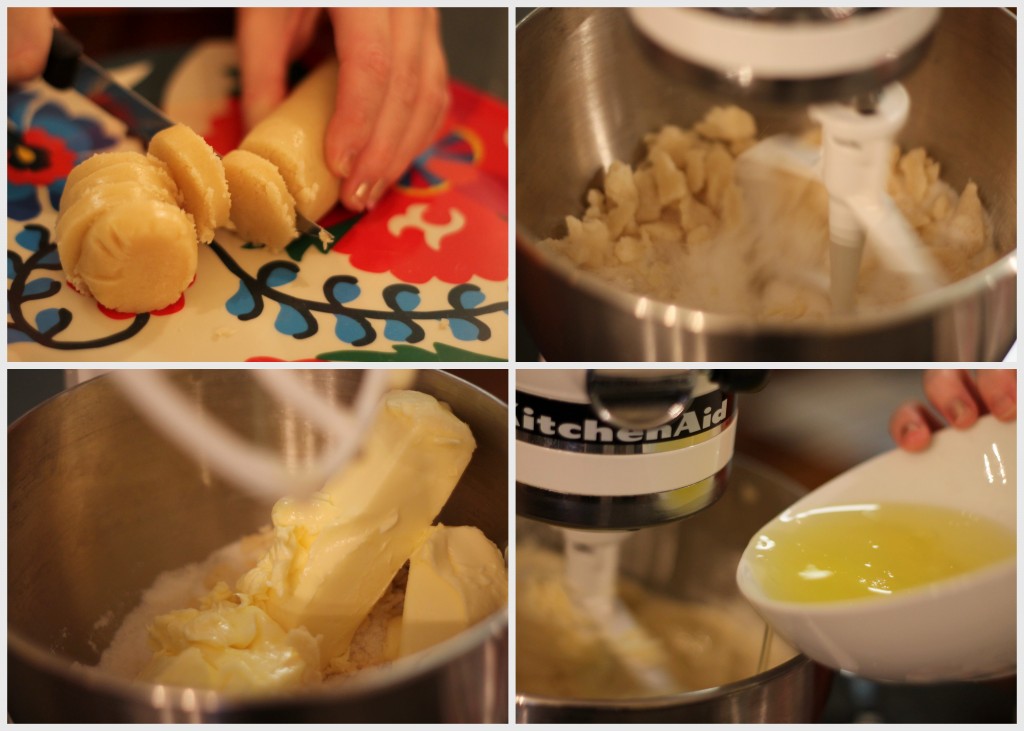 5) This part seems nuts but Deb is a genius so we are going to go with her on this.  Dust about a third of the dry ingredients over the batter and fold with a large rubber spatula until just mixed.  Mix in half of the milk.  Fold in half of the remaining dry mixture, then the rest of the milk.  Then fold in the rest of the dry ingredients just until no streaks of white remain.  Do not overmix.  If you are not adding any color, go ahead and divide the batter among the pans and place in the oven.
6) If you are making a four layer purple ombre cake, put about 1/4th of the cake batter in one of the pans.  Add some purple food dye to the remaining batter and mix in.  This is the part where we screwed up all the gentle mixing in part 5.  Whoops.  We had a hell of a time getting any purple to show in the cake batter and probably used more dye than we have ever used before.  Once you get a light purple of your choosing, place another 1/4th of the cake batter in another pan.  Add more purple dye and pour half of the remaining batter in another pan.  On the last bit of batter, we added a lot of purple to make sure the color was nice and dark.  Basically, you are looking for a nice gradation of color.  Once all four pans are ready, place in the oven.
7) Bake for 25 to 30 minutes or until wooden toothpick comes out clean.  Let the cakes cool on wire racks.
Ingredients for the frosting (we used 1.5 times what the recipe recommends because it wasn't enough for our huge cake):
Swiss Buttercream
– 1 1/2 cup sugar
– 6 large egg whites (These chickens were working hard for the money tonight.  That is 16 egg whites!)
– 39 tablespoons softened butter
– 1 1/2 teaspoon vanilla
Making the frosting:
– Whisk egg whites and sugar together in a double boiler (or a big metal bowl over a pot of simmering water.)  Whisk until the sugar is melted and you can't feel the sugar granules between your fingers.
– Place mixture in a mixer and whip until it turns white and doubles in size.  Make sure that no water from the bottom of the metal bowl gets into the mixture.  This can mess up the egg whites.
– Add vanilla extract.  Then add butter a stick at a time while mixing.  This will take a while to become reasonable looking frosting so just keep whipping.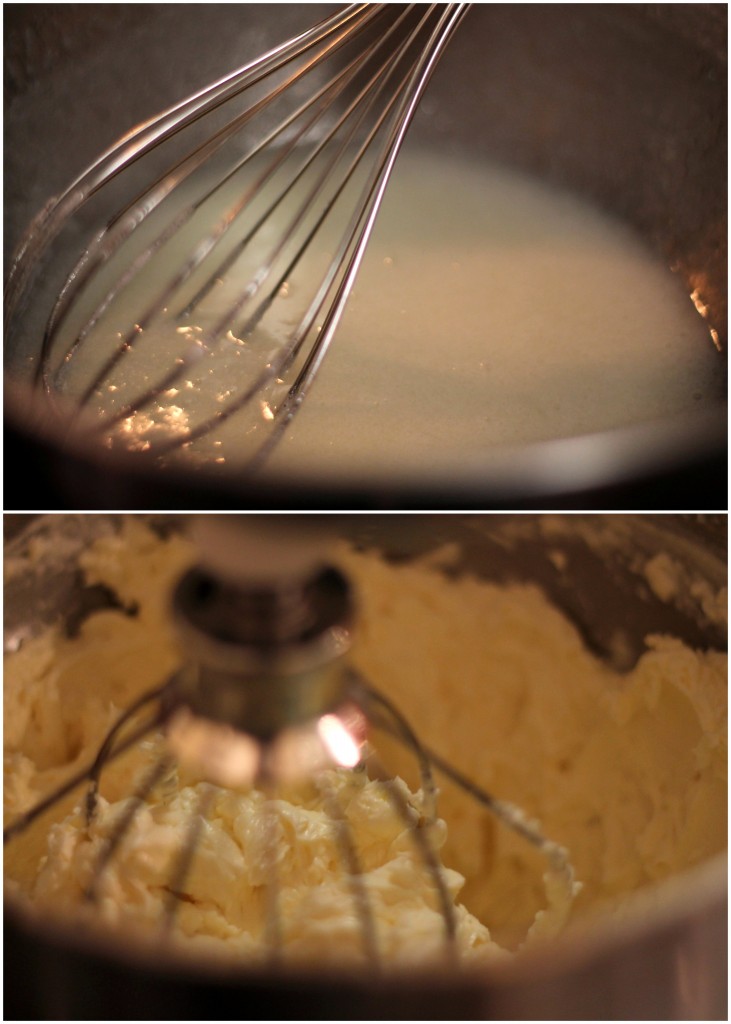 Fondant letters:
– Smush food dye into fondant until color is even.  This will take a while.  Roll with a rolling pin.  If you have alphabet cookie cutters, use them.  If not (like us), press chipboard letters into the fondant and cut around them with a knife to form letters.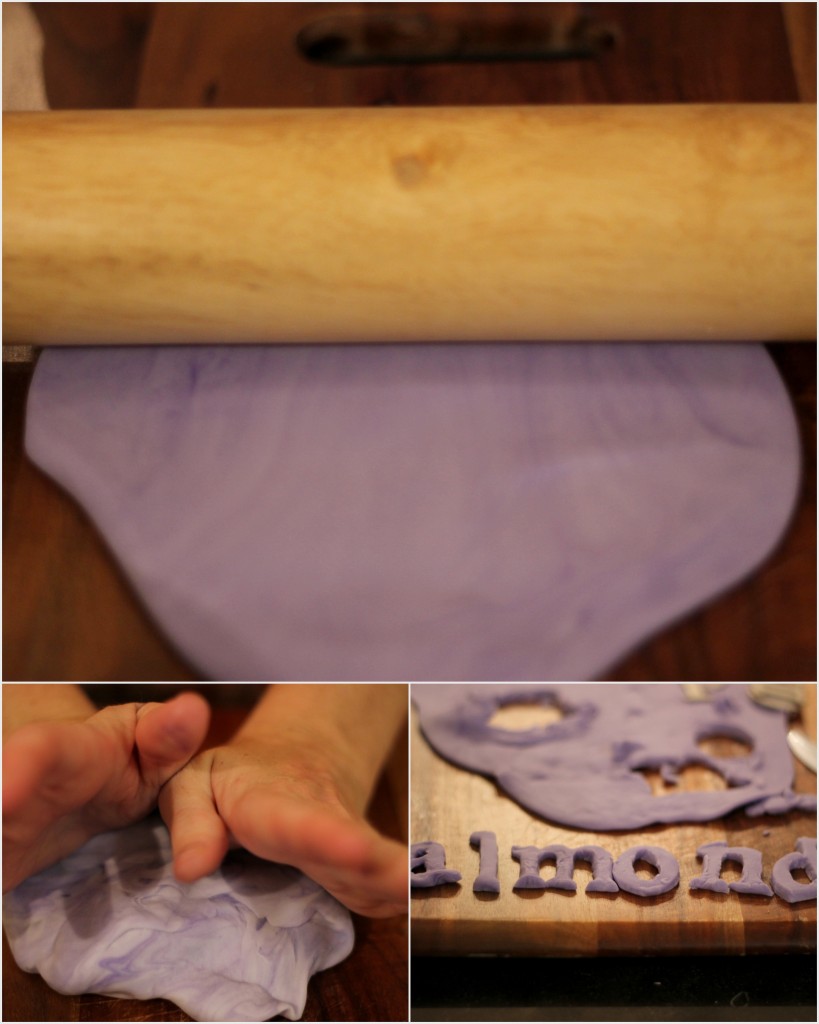 Putting the cake together:
– Take the layer for the bottom of the cake and use a knife to sliver off some of the roundness on the top of the cake.  Place the layer upside down on a cake stand.  Place strips of wax paper around the edges so the stand doesn't get messy during assembly.  Cover the top in a thin layer of frosting.  Follow with the other layers, trimming rounded tops off of layers as needed to help them stack flat. Apply layer of frosting between each.  Then cover the entire cake with frosting.
For more tips on creating a layer cake, check out this post also by Deb from Smitten Kitchen.  Can you tell we worship her?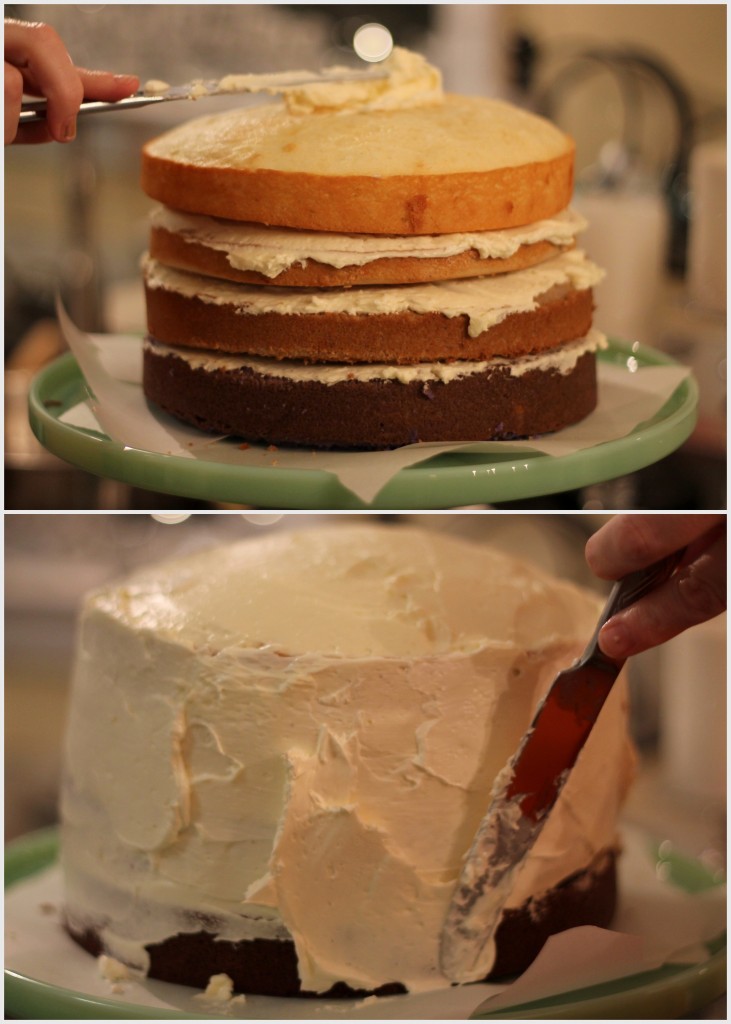 Whew.  Are you tired too?  That was exhausting.  We were staggering around like sugar crazed zombies by the time we were finished.  But it was soooo delicious.  And even better for breakfast the next morning.  Did I really admit that?  You won't tell right?